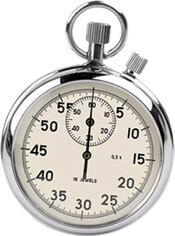 As i'm sure we're all well aware Christmas is only just around the corner! The lights and trees are up, and the weather certainly knows that winter is here!
Due to the nature and size of the goods we supply we always encourage our customers to order as early as possible leading up to Christmas, as we use specialist couriers to transport these good who may only have limited runs around the country. This year our delivery runs are filling up faster than ever, so if there is a product you have been looking at on our website now may be the time to start finalising your decision.
To help you out, products which we know we can still definitely still get to you before Christmas day will have a countdown timer on the product listing showing how many days / hours and yes seconds you have remaining to order before our delivery runs are full. You can also identify these in our product lists as they will have the number of days remaining listed like this:

This means you can order online will full confidence that you can be enjoying your new pool table, arcade machine or other games room equipment on Christmas day!
However if there is a product you really really want before Christmas day, and the countdown has expired, if the product says it may still be available then please give one of our sales advisers a call free on 0800 612 8180 who depending on your location can liaise directly with our specialist couriers and try their very best to fit you on.
7THZHDGPYS5V