The Queen's jubilee – love it or hate it you can't argue with an extra day off. If you fall into the 'love it' camp and feel like celebrating all things british this summer then why not make use of that extra day off to play one of our great British themed pieces of games room equipment?
There's plenty of Union Jack tat doing the rounds at the moment, but here at Liberty Games some of our most popular products actually come in a Union Jack themed design, so you not only get the style but also the quality!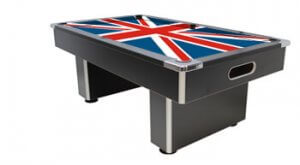 Union Jack Pool Table
Product: Slimline Pool Table (with custom cloth)
Like pretty much most of of range of slate bed pool table, the slimline (seen right) can be ordered with a bespoke cloth. Now these are anything from beer logos, to your football teams colours and crest – to this time the Union Jack!
We think the slimline looks great with this colourful cloth and it's sure to be a talking point in your home!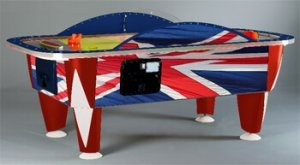 Union Jack Air Hockey Table
Product: Sam Yukon Air Hockey (Union Jack Model)
The Yukon range is one of our biggest selling ranges of air hockey tables, and the Union Jack model is no different!
Not only does it look really cool but the Yukon is actually one of the latest models of air hockey table out there, with the latest technology in play surfaces as well as striking design features.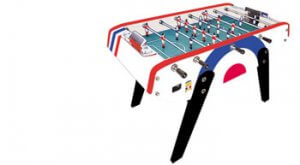 Union Jack Table Football Table
Product: Bonzini Cool Britannia Foosball Table
As far as foosball tables go, Bonzini are one of the most recognized tables around – but what many people don't know is they make this cool Union Jack / retro cool Britania model!
Manufactured to the usual high Bonzini standard – which means you can also have many aspects of the table customised to you liking (i.e. your own football team's colours on the players).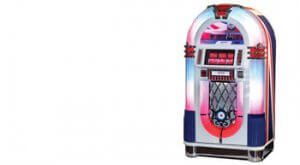 Union Jack Jukebox
Product: Juke Britannia Jukebox
One thing even we didn't think we'd see was a Union Jack jukebox – that was until the launch of the this cool little number!
The Britishness jsut runs straight through this awesome limited edition jukebox!
So if you're looking for something to add an extra touch of Britishness to your home this summer then we home our showcase above has given you some inspiration! Don't forget we offer a great product customisation & corporate branding service so if there is something that absolutely has to have the Union Jack on it (or anything else for that matter) then just give one of our trained sales advisers a call free on 0800 612 8180.