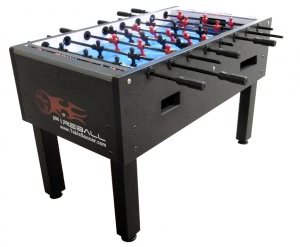 We've got some great news for all our table football fans today! We've managed to secure some great footage of one our most popular table football tables, the Fireball ITSF Competition. However not only do you get to see this great looking and more importantly great playing table in all its glory, GB Foosball Team member Alex Shovelton takes to the table to show us some great moves!
We've managed to get Alex to show us some of the classics like the pull, the tic-tac and the snake. If these names don't mean anything to you at the moment, then watch the video, the speed and accuracy that Alex manages to get are truly awesome, you can see how he made the cut for the GB team!
Whilst the moves may look a little difficult at first, we can assure you that with time and importantly a good quality table you can be impressing your friends with a bank shot or two!
That's why here at Liberty Games we recommend the Fireball tables. The Competition model is ITSF approved, meaning it has been sanctioned by the International Table Soccer Federation for match play meaning the same table you can now own at home is the one that is played on at the very top levels of competition (here's the proof).
The competition tables is known for its responsive play, good looks and above all stability – the ITSF don't just allow any old table in to the world cup!
For such a sturdy and good looking tables we think that £895 (including free delivery) is a real steal.
Don't worry if you are new to foosball either, it's not like other sports where pro equipment is as good as useless for beginners, this table is suitable for all levels of experience – and the pro's all recommend to start on the best to really give you game the best chance of developing.
As always if you'd like to know more about this simply stunning football table, or any of our other range of table football tables please give one of our advisers a call free on 0800 612 8180.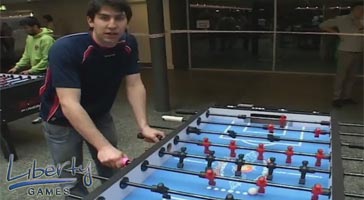 Click Above To See The Video!
Products Featured In This Blog Post: