Here at Liberty Games we never want to stop innovating, and we always like to be first to bring you the latest Internet shopping features and the widest range of product and options possible.
With that aim in mind our web development team have been working hard on our pool table section to make it easier then ever to select a table that's unique to you, by providing an easy interface to our widest ever range of pool table options.
First up you will notice that the way the products are displayed in the pool tables departments has changed slightly. Where there are now multiple options you can see a list of the most popular options on the section lists before you click into the products: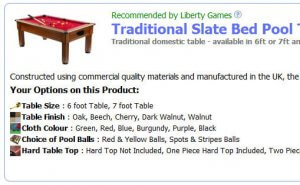 You can then select the product you like the look of, and using our one-of-a-kind service you can dynamically update the look of the pool table based on the options you choose. You won't find this anywhere else on the web! For example the Slimline slate bed pool table you might want to see it in oak finish and with a red cloth: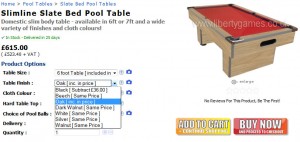 Or maybe with a white finish and a blue cloth: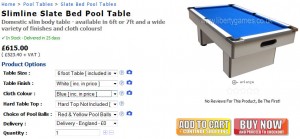 Using our new service you really can see exactly what your new table will look like!
Not only that but we now offer greater control and flexibility over other areas of your order, such as the bundled pool balls:

And don't forget that we've also included comprehensive help and advice on each of the options. If you need an explanation of what the option is, then hover your mouse over the ? icon:

And if you would like to see an image of the option you have selected, hover you mouse over the photograph image (please note we are still working hard to get images for all options):

We are really excited about the control our valued customers can now have over what is after all a large purchase and an important part of any games room. We'll be working to roll out these features across our range of great games room equipment. Please note that our games table customization service is available on nearly the entire range of our products, if you are interested in customising your product further please call one of our experts on 0800 612 8180.
If you have any feedback on our new listing style, or would like to see any features in particular please use our contact form.