Only the greatest movies make it in the world of video gaming.
But we've found six great movies that haven't.
Think you can beat Hansel* in a Walk-Off? Or compete with Ron Burgundy on the jazz flute? And who hasn't wanted to join Raoul Duke on a cruise through the desert in a rented 1971 Chevy Impala with no top?
Here are the Six Best Movie Arcade Games We're Still Waiting For, dreamed up by Liberty Games.
* – He's so hot right now.

Anchorman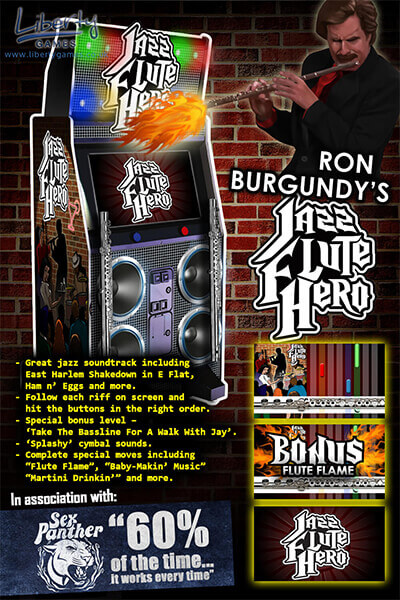 Get it goin' on with Jazz Flute Hero!
You're the flaming golden hawk in Ron's loins. Step up, and pull a genuine plastic imitation flute from the Jazz Flute Hero arcade machine. Complete special moves like Flute Flame or Baby Makin', or enter the Duet 2-player mode.
Jazz Flute Hero is pre-loaded with 15 fine jazz tunes, each engineered to sound like any other jazz track. Qualified jazz scientists used advanced number theory to create beard-strokingly good lab-grown jazz just for this game, which is approved by Mr Ron Burgundy himself.
Be a Jazz Flute Hero, and take the bassline for a walk…
* Jazz Flute Hero is sponsored by Sex Panther 60% of the time. Please disregard this message at other times.

Monty Python's Life Of Brian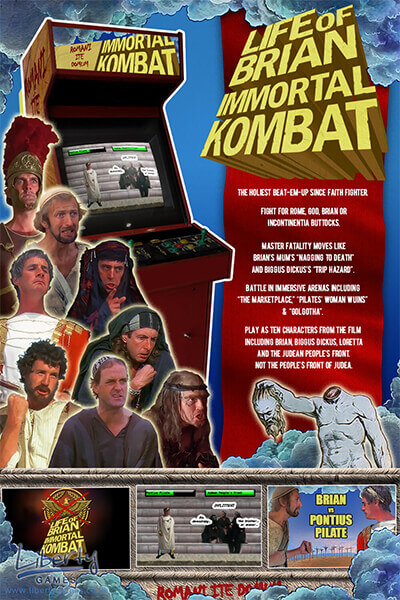 Enter the arenas of first century Judea, where nobody really likes anybody else at all.
In this classic beat-em-up, you will take on history's dirtiest, dreadfulest, dastardliest characters in hand-to-hand combat. Drawn from the hit Monty Python movie, each character has its own special fatal moves for you to learn and master, and each level contains interactive features.
Master complex fire button combos never before seen in video gaming or holy scriptures, and access new levels, characters and power-ups. Face off against powerful Romans, subversive Judean revolutionary groups and failed prophets, and unlock the end-of-game boss Brian's Mum for the ultimate showdown.
* Contains full-frontal male nudity and graphic violence. And probably blasphemy.

Fear and Loathing in Las Vegas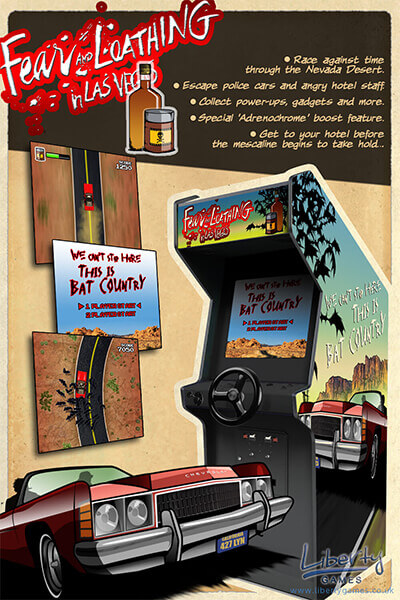 In Fear & Loathing: The Video Game, you've rented a fire apple-red 1971 Chevy Impala with no top. Your attorney's organised Acapulco shirts, and a tape recorder for special music. Intolerable vibrations in this place. Get out!
Burn through Baker, Barstow and Berdoo at high speed, dodging swarms of giant bats, police officers, hotel porters and more. But you're racing against the clock – get to the hotel before the mescaline begins to take hold.
This large, luxury arcade cabinet boasts a steering wheel and an automatic gearbox lever. Collect weird power-ups and nervous hitchhikers, and make up time with the Adrenochrome boost feature. Keep the Impala on the black stuff, and ride this strange torpedo all the way to the end…

Withnail & I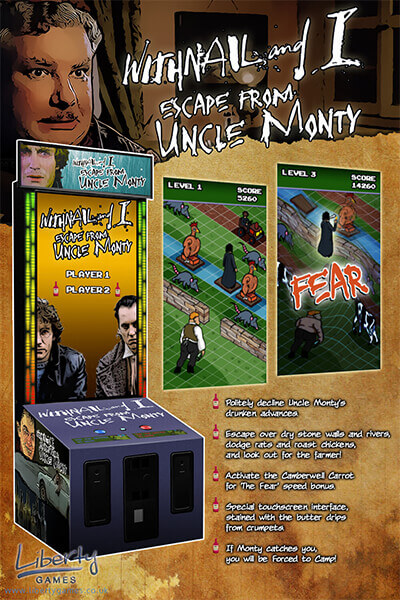 We've invented a video game by mistake…
Cumbria, 1969. You've gone on holiday to Uncle Monty's cottage. It's the middle of the night and there's someone on the stairs…
Evade Uncle Monty's amorous advances. Dodge rats, chickens, randy bulls and more. Collect the Camberwell Carrot power-up for 'The Fear' speed bonus. Vault dry stone walls and streams on your way to the telephone box, where Withnail's agent might call at any minute.
This large touchscreen arcade cabinet is suitable for one or two players. The 65-inch screen displays the Cumbrian landscape in exquisite detail. Invite a friend to play alongside you, and recreate one of the finest double acts in cinema. This original arcade game adaptation is guaranteed to liven all you stiffs up a bit.

Zoolander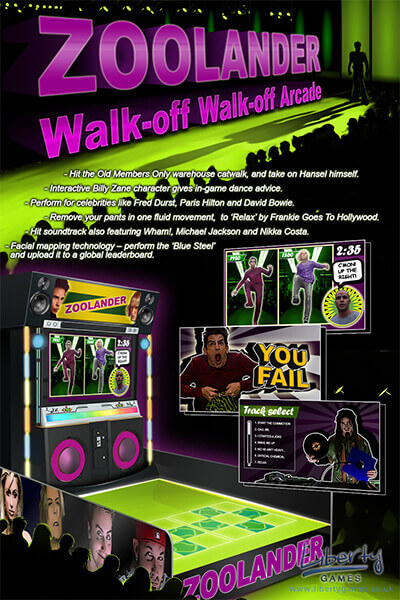 In the Zoolander Walk-Off Walk-Off Arcade, challenge that damn Hansel once and for all. He's so hot right now. Hit the catwalk and throw some moves to an all-hits soundtrack featuring Michael Jackson, Nikka Costa and Frankie Goes To Hollywood.
This large arcade cabinet features a dance pad and a powerful sound system. Each music track is ranked for difficulty, energy and speed. Take in-game advice from Billy Zane and show off your best footwork on the dance pad. Impress David Bowie by removing your underpants in one slick move. Boost your score with the special Zoolander facial mapping technology – pull your finest 'Blue Steel' and upload it to the global leaderboard.
Hansel thinks he's too cool for school. But you got a newsflash for him.
He … aren't.

Kingpin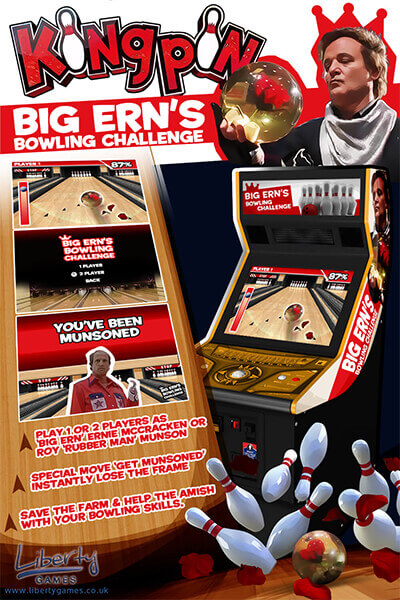 The game that's right up your alley!
Big Ern's Bowling Challenge pits you, Roy Munson, against the finest bowlers in the USA. Put some smoke on a perfect strike and hustle bowlers across Nevada for cash, on your way to the ultimate showdown with McCracken himself. Hone your skills in the turn-based two-player practice mode, where your friend plays as Ishmael Boorg. Just make sure you don't 'Get Munsoned'.
Based on the hit movie Kingpin, Big Ern's Bowling Challenge is a game of skill and precision. Use the trackball controller to guide the ball's speed, direction and spin. Build your score and take on all-comers, and win your ticket for the great gravy train with biscuit wheels.
Which is your favourite? And can you think of any we've missed?
Let us know in the comments!
Fair use
If you're a journalist interested in covering this project, we encourage you to use any of the graphics included above to help with your coverage. When doing so, please attribute the authors by providing a link back to this page so your readers can learn more about this project and the related research.