The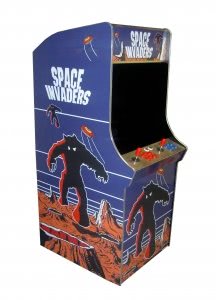 Wait is finally over! Well for us at least, our brand new multi-arcade machine, the Frontier, is finally launched today!
We've been selling arcade games since 2004, and in that time we've learnt a lot about what people want from their machines, and today marks the day where the sum of all our knowledge is turned into product form.
We know what people ask for the most, but to be honest everyone wants their machines slightly different from the next person. That's why we've taken the most popular and cutting edge features together and given you the choice about which you want, and more importantly how you want your cabinet to look.
The list of options is literally too long to list in this blog post, but you can control the artwork, the technology inside the machine, the size of the monitor even the joysticks and buttons.
But don't worry you won't be overwhelmed with choice, every option has a reason to be there and are full explained.
We really feel that words aren't enough to describe this awesome product, so check out the video below to see it in all its glory!
Products featured in this blog post:
Video: