For us in the arcade industry there is one event we all get very excited about each year, and that's the annual EAG Expo – hosted in London's Excel arena.
Just as CES is to home entertainment, and MWC is to mobile phones, the EAG (European Amusement & Gaming) Expo is to arcade and amusements, and as you can imagine it's a very fun place to be. The whole of Excel is converted into an arcade on steroids, with more buzzing, beeping and neon lights than this reporter has ever seen in one room. You can almost feel the electricity flowing through the air.
This show is where we get to have a first look (and of course play) on some of the newer arcade machines that previously we've only heard about (plus there are plenty of other cool toys like pool tables and pinball machines). Still once we were through the door we went straight to see what the arcade industry has in store for us this year.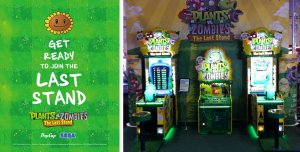 The first machine to really take our eye was the new arcade / mobile gaming cross-over Plants vs Zombies : The Last Stand. In terms of arcade classifications these games are what are known as video redemption games – whereby working your way through the game earns you tickets which can be redeemed at an arcade counter for toys (although the games can operate quite happily in amusement only mode).
Mobile / arcade crossovers have been a feature of recent years, with the likes of doodle jump and temple run taking our eye at last year's show. So how has Plants vs Zombies made the transition? Well to start with there are actually two machines here – the first is an upright cabinet featuring a bright green illuminated pea shooter, which is directed at the screen by the player to take on the hoards of approaching zombies. It's definitely fun to play, and the cabinet is certainly good looking and attractive. Whether it will live up to the huge success of it's Android and iOS namesake only time will tell.
The second machine is a whack-a-mole clone, except this time it's whack-a-zombie (using a pea shooter of course) – so no real innovation here, but if you're a fan of the game and fancy a game of whack-a-mole you won't be let down. Again this game can dispense tickets, so your zombie smashing antics may well be rewarded in toy form later on.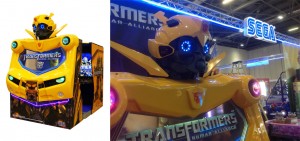 Another new title to take our eye cashes in on the hugely popular Transformers movie-reboot franchise. This pure action games gives you the human the chance to partner with one of three Transformers (Optimus Prime, Bumblebee or Sideswipe) battling your way across the globe taking down the Decepticons and trying to find the Allspark.
Game play was fast and fun, without being too difficult or too easy – however what is likely to stand out for this cabinet (literally) is the cabinet itself. Styled like Bumblebee himself (at least in the 55″ Theatre Cabinet style), it certainly stands out amongst the other machines, and is sure to instantly attract and Transformers fans in for a game.
We saw a lot of arcade machines that were also very popular in 2013 – PacMan is still going to be big in 2014 with his arcade re-incarnations (including the crazy but fun Pac-Man Smash!), there are also some awesome new Pac-Man plush toys ('plush' being the industry term for the cuddly toys that you trade in your arcade tokens for).
Racing games were also a big themes this year (these games always make for good arcade sellers) with the likes of Mario Kart arcade and Fast & Furious still dominating.
In the coming days we'll be posting more from the show, but in the mean time if you'd like to see some of these awesome games in action, then just take a look at the video below: