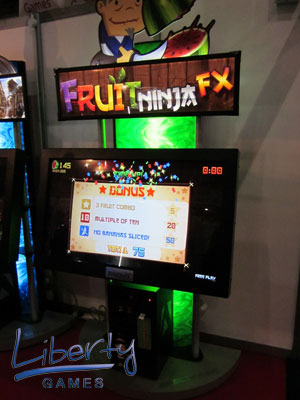 Continuing in our series of reports from the annual EAG amusement industry trade show in London, today we have another of our favorite arcade machines from the show. This time rather than a classic arcade game re-born we're talking about one of the most popular smartphone games so far transformed into a sure-fire arcade classic, it can only be…
Fruit Ninja!
Well actually make that Fruit Ninja FX…
This cool looking machine instantly caught our eye with its colourful cabinet and 46″ multi-touch screen / controller, which brings a new dimension to arcade gaming – which has been dominated by the classic joystick and buttons for many years. The creators Adrenaline Amusements have taken a leaf out of the huge popularity of mobile gaming by making the experience a lot more hands on, while instantly removing one of the main issues with mobile gaming – the small screen!
The gameplay remains largely unchanged from the mobile game, however the huge touchscreen really brings the game to life, making it feel like you are really chopping away at the fruit yourself.
There is also no denying the look and attractiveness of this machine, as many of the attendees of the EAG show couldn't leave the machine alone! From our point of view it was certainly one of the most in-demand games at the whole show.
Although the creators are clearly tagging onto the already well-entrenched "Fruit Ninja" branding, it would be nice to see a range of touch-screen games offered in the one cabinet as the technology packed in there must be able to handle it. Still the Fruit Ninja game was proving so popular on its own that there didn't seem to be any need for other games in the cabinet, it was booked up all day long!
But again, you don't have to take my word for it, take a look at this video of the game in action:
As always we'd love your opinions on this, is Fruit Ninja arcade something you'd like to see us selling here at Liberty Games ?