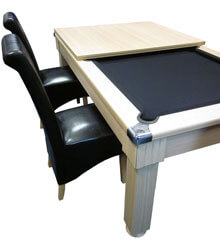 The dual usage achieved by a pool dining table has proved an extremely popular choice for customers who don't necessarily have the space for a dedicated games room. A pool dining table is built using the slimmest body shape possible whilst still allowing a ball return system to operate.
With pool tables available at such reasonable prices these days and with such a strong range of colours, finishes and sizes, you would be hard pressed to find a standard dining table for less.
To ensure the pool dining table carries out its dinning function well the choice of furniture to go round the table is of great importance. Below we take the example of a popular British spec pool dinning table and a popular American spec pool dining table to guide you through the key measurements and considerations.
The Windsor Slate Bed Pool Dining table has been one of the best selling models of 2012. At just £695 for the table (2012 price list) and with a superb range of finish and cloth colours this table represents a quality and flexible piece of furniture within a reasonable budget. At 7ft in overall length we have tested up to 10 people seated around this table.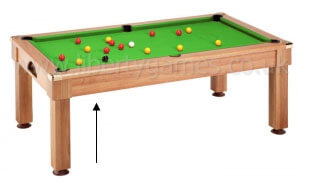 The measurement to take into consideration on this table is the distance between the floor and the underside of the pool table. In the case of the Windsor the measurement is 59cm. With this in mind when choosing an appropriate dinning chair it is best to consider what is a comfortable gap for your legs to fit in. In our opinion weather you have the thighs of a 10,000 metre runner right through to a professional Rugby player a gap from the seat to the underside of the table should be approximately 12-13cm. We have tried and tested chairs with a seat height between 46 and 47cm cm and for the majority of shapes and sizes these work well. For the Windsor we can most strongly recommend the Liberty Dining Chair Set (seat height 47cm).
The second table featured is the Longoni Red Devil, this is an extremely elegant pool dining table hand crafted in Italy. This larger table is 8ft in Length and can seat 12 people at a push.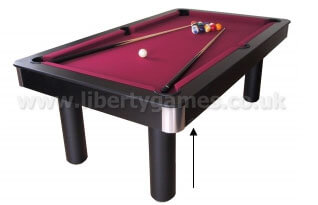 Fortunately for the furniture choice, the distance from the floor to the underside of the table is just 61cm. We found that a seat height of 47cm worked perfectly with this table and you could even get away with a 48cm seat height if required. Once again the Liberty Dining Chair Set is the recommended choice.