Here at Liberty Games we don't call ourselves the Games Room Specialists for no reason! We think we have one of the biggest and well-oiled distribution of games tables in the UK, if not the world!
To that end today we thought we would ask one of our members of staff at one of our central distribution hubs to take a few photos so we can share them on our blog.
The centre we are looking at today is based in the Midlands, making it easy to deliver tables around the UK. This centre deals almost exclusively with pool tables, both slate bed and boxed tables, as well as a few other items such as air hockey tables.
As you can imagine warehousing these large and often heavy items presents its own challenges.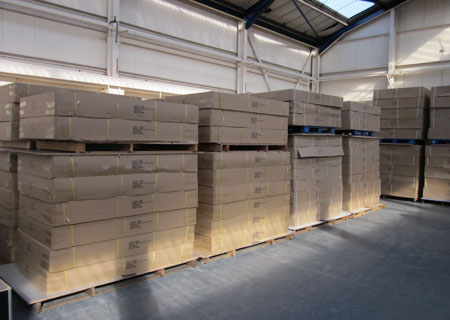 Above you can see some of our boxed pool tables awaiting distribution. We have huge stocks of these tables (this is only one little corner!) to ensure we can meet demand at all times of the year. Having the tables in stock means that we can (unlike many of our competitors) have your table with you in super-quick time, often within 48 hours.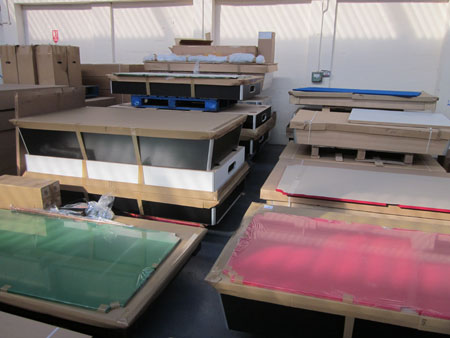 For out Slate Bed pool tables, we hold what we think is the largest stocks of slated bed tables in the country!
What this means is that whereas with most other retailers you would have to wait for your pool table to be built to order, we hold the component parts ready-made in stock, and once a table is ordered our warehouse staff assemble the component parts (slate, main table body, legs, cushions) with the correct finish and colours, ready to be delivered as soon as possible.
We are completely transparent about what we do and don't have in stock, so please check the product listing which will tell you which tables we can get to you quickly and which have to be built to order – as much as we would like to with around 10,000 different combinations available across our pool tables we can't keep everything in stock at once!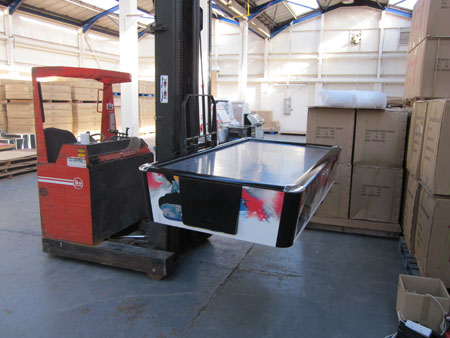 Some of our larger brand new items, such as Fast Track air hockey tables are also handled in this warehouse. These are heavy enough to make a slate bed pool table look light (which trust me they aren't), so require special handling (our health & safety manual must be one of the biggest around).
Liberty Games have specialist training and expertise in moving around these bulky items with the minimum of fuss, as well as being able to ensure that no damage happens to the product or your premises.
We hope you have enjoyed this little peak into the maybe not ultra-exciting but nonetheless crucial world of our delivery centres. Next time we'll be taking a peak behind the scenes of our arcade refurbishment operation.
As always if you have any questions about how your pool table, or any other item, will be delivered by Liberty Games, please don't hesitate to contact one of our sales advisers free on 0800 612 8180.