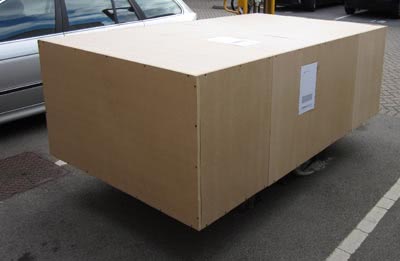 Here at Liberty Games we're proud to have supplied products to over 93 countries and counting! However the type of equipment we sell can't (often) be just put in a standard courier envelope and sent out for delivery.
When dealing with large, heave and fragile items such as pool tables, arcade machines and football tables to name just a few there are a number of precautions that must be taken before the goods can be handed over to an international transport company.
We want your goods to arrive not only on time, but in one-piece. As one of the most experienced companies in the world at moving these items between countries and continents we've amassed a vast wealth of knowledge on the best ways to pack our products so they receive zero damage during transport.
One of these ways is what is known as 'crating', i.e. packing the goods in tough, courier-proof materials, that have been tested over time to protect even the most fragile of goods.
We've just put online a short guide to how we crate our pool tables, just hit up the link below to see the multi-stage process of how a pool table is prepared for dispatch.
Don't forget that we offer this service on most of our products! And as always if you need any further information on this or any of our international delivery services please call one of our sales advisers free on 0800 612 8180 (+44 1372 736 470 from abroad), use our contact form or our international delivery quote page.
Pages Featured In This Blog Post: