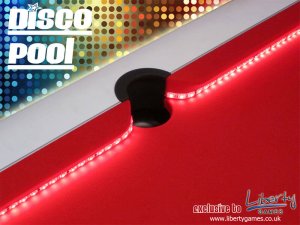 Today we're kicking off a new section in our blog – Liberty Games Labs – this is where we are going to take the most popular games room products and add a little twist of technology to create something new and exciting. And we've got a great new product to kick us off – the Disco Pool Table!
Now we all know that pool tables can't dance (yet) so a Travlota-esque dancing table is still sadly just out of reach. However, we've gone and created the next best thing: an LED illuminated pool table with a wireless controller, allowing you to change not only the colour but add awesome colour changing, fading effects – and that's what we call Disco Pool!
We aren't just playing around with some cool tech either – we've put Disco Pool together into a package that can be added to any of our most popular 6′ and 7′ English Pool Tables – just add the option in the 'additional options' section of the product listing.
How It Works
Liberty Games are quite possibly the UK's largest retailer of pool and games tables. As a result of our size we store and warehouse many different kinds of pool tables, as well as having an in-house technical team. This means that if you fancy a little disco pool in your life, prior to dispatch our fully trained technicians will expertly mount the LEDs around the cushions and install the wiring into the body of the table, as well as mounting the wireless receiver.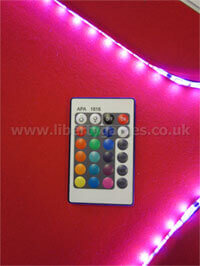 When we first thought of disco pool our first concern was that pool balls hitting the cushions would damage the LEDs themselves giving the product a limited lifetime – don't worry, due to the nature of British pool cushions, the part of the cushion which makes contact with the ball is at the top, so the LEDs can be safely mounted within the 'L' such that they never make contact with the ball. The LEDs also last a lifetime so you'll be discoing well into your old age.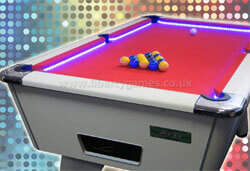 To control the LEDs you'll receive a wireless remote control – this will allow you to turn the LEDs on/off as well as adjust the brightness, the colour, and enable the colour changing / fading functions as well as controlling the speed of those functions – pretty cool!
If you think this is a nighttime only disco it's not – these LEDs are extremely powerful (all photos you see were taken during the day), so they make an awesome impression even on the brightest of days.
So if you are looking for a pool table that will not only give you a great game but will impress your friends, and provide a top-notch light show for your games room then Disco Pool is for you!
If you'd like to learn more then just head over to the Disco Pool product page – we've also put together a short but cool video showing off Disco Pool in all it's glory!
So don't forget just keep an eye out for Disco Pool as an option on the pool table you'd like to buy – however if you don't see it on there that doesn't mean it can't be done – just give one of our sales advisers a call free on 0800 612 8180, and they'll be able to advise you on whether it is possible for your chosen table or not.