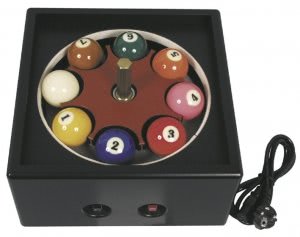 Before I start let me just say that I am well aware of the the quite substantial possibilities for some double entendres here, but I shall politely decline. What I am going to talk about is the different ways you can ensure you keep your pool or snooker balls in tip-top condition, playing their best and ensure they last a lifetime.
Apart from the quality of the table and the cue the quality of the balls you are playing with is the next big thing that can really affect the quality of your game. When we sell a table with free accessories (as they all are!) or a set of balls, we do always try to remind our customers of the importance of maintaining their tables to get the most life out of them, and this includes the balls as well.
So what's the best way to keep the balls clean an shiny?
Well the answer to that depends on your budget… We sell Aramith Billiard Ball Cleaner which is specially designed to be used with pool and snooker balls, is non-abrasive and won't affect any of the compounds used in billiard ball manufacture. Coming in at a respectable £14.99 including free delivery this is an investment that's well worth it.
However for the more professional amongst you we have automatic ball polishing machines (8 and 16 ball models available). These may be slightly over-kill for the home player but for commercial environments where customers demand the highest standards in table and ball quality these machines can save you in the long-term. These machines will automatically clean and polish the balls for you in a way which doesn't deform the ball, ensuring not only beautifully polished balls, but also balls which play as well as when they were brand new!
So there we have it, there are many old wives tales circulating the Internet about the best way to clean your billiard balls, but these are the ways we here at Liberty Games suggest to our customers. Don't forget if you have any questions at all about our ball cleaning products or any of our other pool table accessories just give on our our pool & snooker specialists a call free on 0800 612 8180.
Products Features in this Blog Post: