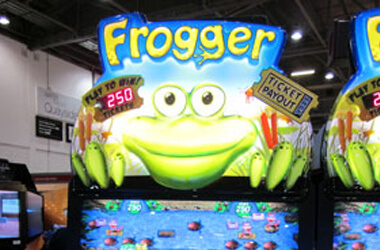 For those involved in home consoles and entertainment it's the CES show that rocks their world, whereas for us at Liberty Games the annual EAG show held in London every year is where the latest and greatest arcade machines are put on display by the big manufacturers before they launch.
As always we've sent down our intrepid team of product buyers and bloggers to source the coolest new products for our website but to also open the doors to this trade-only event.
Over the next few days we'll be putting up details of some of the coolest new products we've seen, and giving you the chance to let us know if you'd like to see them on sale here at Liberty Games!
So without any further ado (and in no particular order) is our first pick!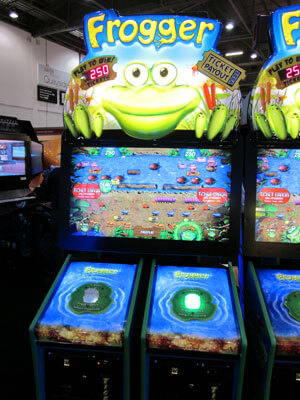 Frogger
This is one arcade that certainly caught our eye, if for nothing else than it was really good to see Frogger back where it all started – in the arcade!
However the gameplay in this new incarnation is a little different from the original. Although Frogger's mission is still to reach the swampy goodness of his wetland home, this time round he is a bit more independent. Well make that a lot more independent, as the only interaction required from the player is to set frogger off on his journey.
While this may seem boring to many, and is bound to infuriate some fans of the original, it does add a different challenge to the gameplay in that you have to time his release perfectly to ensure he makes his way safely.
However what this machine may lack in playability it makes up for in prizes! Designed primarily as a ticket-redemption game, tickets are earned for eating a variety of other woodland creatures en-route as well as making it to various parts of the screen.
This means a well timed release can earn you a huge number of tickets, which if you are in an arcade can then be exchanged for some goodies at the desk!
All in all it is good to see some new life being put into the Frogger franchise, and hopefully if this machine is a hit in commercial premises (or even people's homes) then perhaps a full on reboot of the game could be put into action.
But… you don't just have to take my word for it, here's a short bit of video we managed to capture of this arcade machine in action, take a look and judge for yourself!
Loading the video player…
Now to the question, is this something you would like to see Liberty Games selling on our website ?