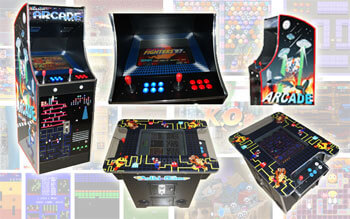 If you're a fan or arcade machines then firstly you've come the right place! Secondly we've got some great news for you! You may have heard of our range of Galaxy retro arcade machines, including the Galaxy Cocktail Arcade, the Galaxy Cosmic Upright Arcade & the hugely popular Galaxy Fighter Upright.
Well all three of these have received an awesome reboot – new games, new controls and most important – even better prices!
We're super excited about these games here, we've just had one of each dropped off at our London showroom and we can't wait to take off the bubble wrap and get gaming!
Let's take a look at each of the cabinets and what they offer:
Taking over from the original Galaxy cocktail arcade is the awesome Galaxy II. Featuring all the late 70's & 1980's classic games that the original Galaxy did – with the likes of 1942, 1943, Gun Smoke, Phoenix, Pac-Man, Burger Time, Galaga, Snokey Kong, Zaxxon and many many more!

The Galaxy II has been bought up to date with a brand new LCD screen specially designed to reproduce the retro games in all their pixelated glory!
The Galaxy Cosmic II carries on from where the original Galaxy Cosmic left off – it has the same great list of 60 of the very best retro classics that the Galaxy II has.However where the Galaxy Cosmic II really shines (literally) is with its illuminated buttons.

We've also kicked the old-school CRT monitors to the side – these machines have a visually superb vertically mounted LCD screen (perfect for showing these retro games in all their glory).
The Galaxy III is a real leap forward – not just in terms of the number of games (a huge 300 in 1 to be precise) but in terms of gaming generations – this is for you late 80's / 1990's kids out there! We're talking Street Fighter 2, King of Fighters, WWF, Temco Soccer – in fact we'd say just go take a look at the huge list of games. But don't worry with 300-in-1 we've also slipped some of the retro 70's / 80's classics in there too!

The Galaxy III comes with the same illuminated buttons as the Galaxy II, however as most of the games from this generation were in the 4:3 games layout the screen is mounted in the regular way in this cabinet to give the games the biggest amount or real estate possible!
We hope that taking a look at these machines you are as excited as we are!
Once we've managed to pry away the various excited members of the Liberty Games team, we'll be setting to work our video production department on the machines so everyone can see them in all their glory.
As always if you have any questions at all about these brand new Galaxy arcade machines or any of our other range of arcade machines then please give one of our games room specialists a call free on 0800 612 8180.