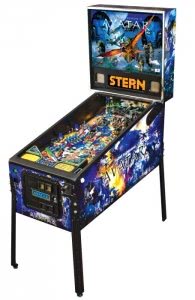 Here at Liberty Games we love pinball! So every time we get a new table we all get very excited, and this time is no different!
The latest pinball from Stern (the last producer of pinballs in the world!) is a realy cracker. They've taken the record braking blockbust Avatar and turned it into one of the best games we've ever seen.
There's some really great fully moving parts on the play table, as well as authentic sound effect and some great visuals. One of the things the film was famous for was the 3D, and this table doesn't disappoint in that aspect either, with a 3D backglass that although hard to show on a 2D webpage is really striking.
Right now we can't get enough of this great table, and to show it in all its glory we've got a video showing it off on the product page and at the bottom of this post. We've also got some high-res photos and more about what you can expect from the gameplay on the product listing, linked to at the bottom of this post.
Don't forget if you have any more question about our range of new or reconditioned pinball machines, then please give one of our pinball geeks specialists a call on 0800 612 8180!
Products featured in this blog post:
Video: