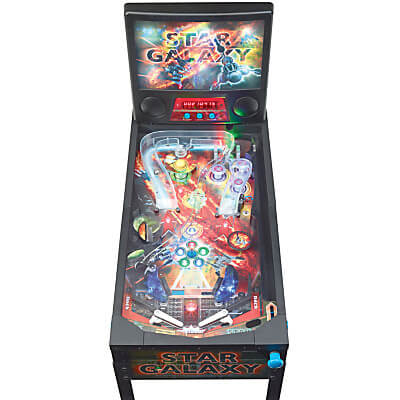 If you're a Pinball fan then we've got some great news for you – especially if like many people you've always wanted a Pinball but the price is a little north of what you can afford.
As the UK's biggest retailer of pinball machines to the home market, Liberty Games are very proud of our large range of pinball machines, from the latest Stern models stretching right back to machines from the 1980's and beyond. We have in-house pinball experts and a pinball repair department.
Well now we're proud to be the first in the UK to introduce the Star Galaxy pinball machine – what's so special about the Star Galaxy I hear you ask? Well for one thing it only costs £499 – which if you've looked at a number of our other pinball machines (as awesome as they are!) is a lot cheaper.
The Star Galaxy is a 3/4 size pinball table, which features all the same lighting, sound and motion effects you've come to expect from a pinball machine at a fraction of the cost.
We think this table is so awesome we've put a video of it in action on the product page, so hit that up to see it in action!
Don't forget that if you have any questions about the Star Galaxy, or any of our other great range of pinball machines, just give on of our pinball experts a call free on 0800 612 8180.
Products Features in this Blog Post: