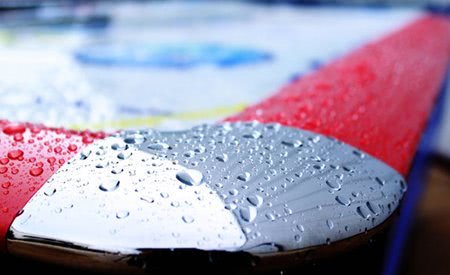 Ok so here at Liberty Games we sell a great range of outdoor games tables, which can handle pretty much everything the British weather can throw at them. But one thing we thought might be a bit of a stretch would be an outdoor air hockey table – until now!
Why a bit of a stretch? Well air hockey tables generally use electricity. Outdoors (certainly in the UK) often involved rain. Rain = water and water and electricity are not the best of friends.
Although there are a number of electrical devices which can operate safely outside, it was always assumed that by the very nature of an air hockey table making one weatherproof would be quite a challenge. Air hockey tables work by using a powerful fan to drive air through thousands of tiny holes in the play surface – which when combined with the 'cup' design of an air hockey puck – create a cushion of air which the puck floats on.
Why would this be a problem? Because when the air isn't turned on these little holes provide the perfect way for water to run down into the workings of the table…
Well they did – until now! The Tempo Outdoor Air Hockey Table has been specially manufactured with a unique conical air flow design which means the water can't make it down while the air can make it up! Combine that with a a water-resistant lacquered cabinet and an internal drainage system and you've got one tough air hockey table!
Not only is the table waterproof though, its also manufactured to give a top-notch game of air hockey, with precision engineered top rails.
So if you are looking for an exciting new addition to your outdoor space for this summer, then look no further than our brand new weatherproof air hockey table!
If you'd like to know more about this great table, or any of our other range of outdoor games tables, just give one of our fully trained sales advisers a call free on 0800 612 8180.
Products Featured in this Blog Post: