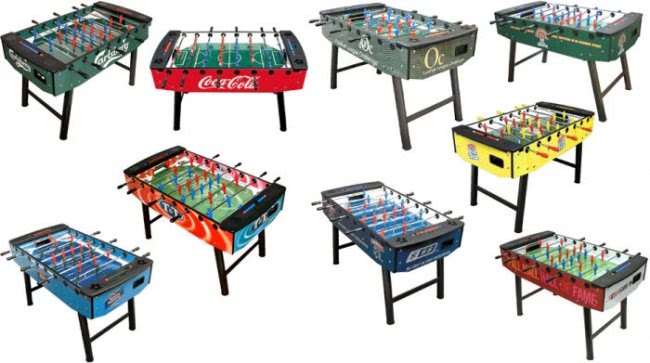 One of the services we're asked for the most here at Liberty Games is customisation. A lot of companies big or small, and indeed home customers as well, love to get their brand, logo or name on to a piece of games room equipment.
Whether that's just your partners name, or favourite football team, to make that present extra special, or you want to really wow your clients and staff by having your equipment fully decked out in your brand livery, then Liberty Games are here to help!
Today in particular we're talking about football table branding. Table football tables lend themselves especially well to this form of customisation for several reasons. Firstly football matches are already well associated with having advertisements alongside the pitch and associated with the game, so having your logo there doesn't in any way ruin the look of the table – in fact it enhances it!
Secondly the football table is one of the quintessential pieces of games room equipment, by having a football table a company is making a statement about how they operate and treat their staff, but of course you get to keep everything in the company style!
I'm sure we don't need to go on about the benefits! But what you might be surprised at is the cost, this service is less than you may thing, and although each branding case is different, we start from just one table (although up to as many as you like!) and costs start from just £50. If you're interested in this service all you need to do it give one of our branding specialists a call on 0800 612 8180 and they'll be able to talk through the various options available and the costs.
Just bear in mind that some foosball tables will lend themselves better to branding than others (ideally you want a table with as much space on the side as possible), two already popular tables we would recommend are:
And don't forget you can find out more about our other corporate branding tables here: