Following up our report last week on Pac-Man's push back into the arcades (in multiple different guises), today we're taking a look at another trend which seems to be sweeping the arcade industry – the invasion of smartphone games.
It used to be the case that games followed a predictable cycle – first came arcade success (if you were lucky), then a home console port and then if you were really luck a mobile or handheld game would follow. But those were in the days when most people were packing feature-phones in their pocket and teenagers were more likely to download a ringtone than a game for their mobile.
Fast forward to 2013 – smartphones have transformed the mobile phone landscape, and smartphone games have made an increasingly large play for the wallets of gaming enthusiasts.
So what is the humble arcade to do to keep up with this trend? Well as we've seen many arcade manufacturers have flipped the traditional model on its head and have turned some of the most popular smartphone game successes into arcade machines (as we first sneaked a look at last year with fruit ninja). But the real question is – are they any good? And what can they add to the experience?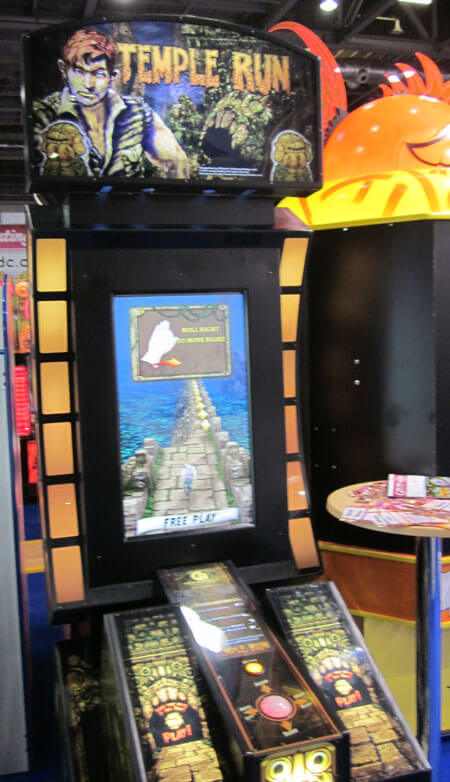 First up we took a look at Temple Run. Certainly one of the more popular smartphone games since it's release in 2011/2012 (depending on if you use iPhone or Android), the game has recently spawned a second mobile incarnation which has again proved hugely popular. So what was the arcade version like?
Well firstly, and most obviously, the action takes place on a much bigger screen, although it does seem as if the graphics were just scaled up somewhat and not completely re-designed for the larger screen. Compared to some of the beautiful HD graphics we saw elsewhere Temple Run's graphics seemed somewhat basic in comparison.
Still the graphics were acceptable, and we're here for the game play anyway, so how did it play? The developers made a good call choosing a track-ball interface for controlling the game, as this seems to fit very naturally with the game play, perhaps even more so than the touchscreen interface, so full marks there.
As far as the rest of the game goes, it's pretty much identical to phone/tablet version, except you have to pay to play it. Will it be a success? Only time will tell.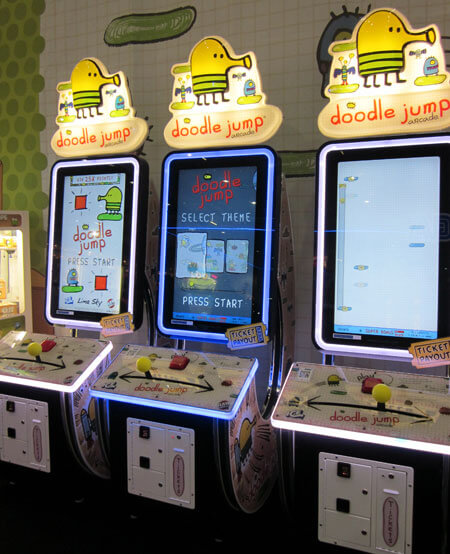 Next up we have Doodle Jump. Again another hit from the App Stores gets translated into an arcade version, but with the same question – is it any good?
Well first off the cabinet makes much more of an impact than Temple Run, most probably due to its large illuminated top-flash and gorgeous gigantic HD display, which really seems to bring the game's cutesy graphics to life, and certainly does what all good arcade machines are designed to do – attract your attention so you come over and play!
As for the game play, this machine uses a sliding controller to move the character around, which again works very well – you wouldn't miss your touchscreen.
But again the question is, if you already own this game on your iPhone would you be tempted to part with your hard-earned money to play it on a bigger screen? Again time will tell – perhaps the lure of having your high score up on the big screen will do it for people.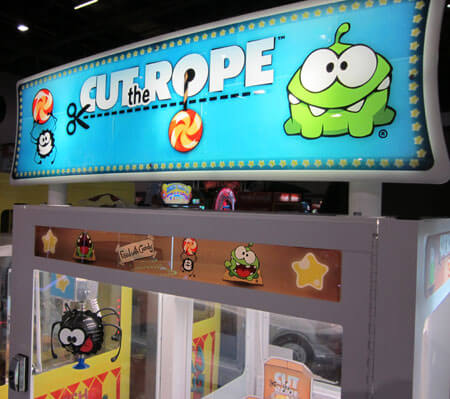 One of the slightly more dubious crossovers that we saw was the Cut the Rope claw grabber. While Cut the Rope was undeniably a smartphone classic game, and has had huge success, the link to what is – in essence – a branded claw machine is tenuous at best. Sure there are things dangling from a rope (or electric cable), but that is where the similarity ends.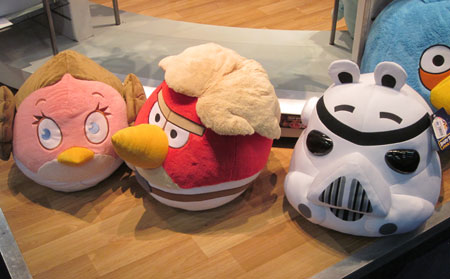 Perhaps if they put some of these in the grabbing area of the crane we'll have the ultimate smartphone game mash-up!
So from what we've seen the hot properties of smartphone gaming are definitely making their mark in today's arcade – but will their simple yet addictive nature pay off in a pay-per-play world? The arcade manufactures sinking vast sums into the licenses and manufacturing costs for these machines certainly seem to think so.