Only The Clairvoyant among you will have seen this coming.
Stern Pinball has announced its next pinball machine, and it's a Killer. Legacy of the Beast will be released later this year, and promises to be the ultimate collectible for fans of the band.
29/03/2018
Full Tracklist Confirmed
We've had confirmation of the full tracklist that will be loaded into the Iron Maiden pinball. Wrap your ears around this selection of absolute bangers.
"Aces High"
"2 Minutes To Midnight"
"The Trooper"
"Wasted Years"
"Can I Play With Madness"
"Number Of The Beast"
"Run To The Hills"
"Powerslave"
"Hallowed Be Thy Name"
"Flight Of Icarus"
"Rime Of The Ancient Mariner"
"Fear Of The Dark"
28/03/2018
Pro Version Now On Sale
The Iron Maiden: Legacy Of The Beast Pro pinball machine is now on sale!
Priced at £6495, you can place your order and reserve your machine right now.
We'll be listing the Premium and LE very soon.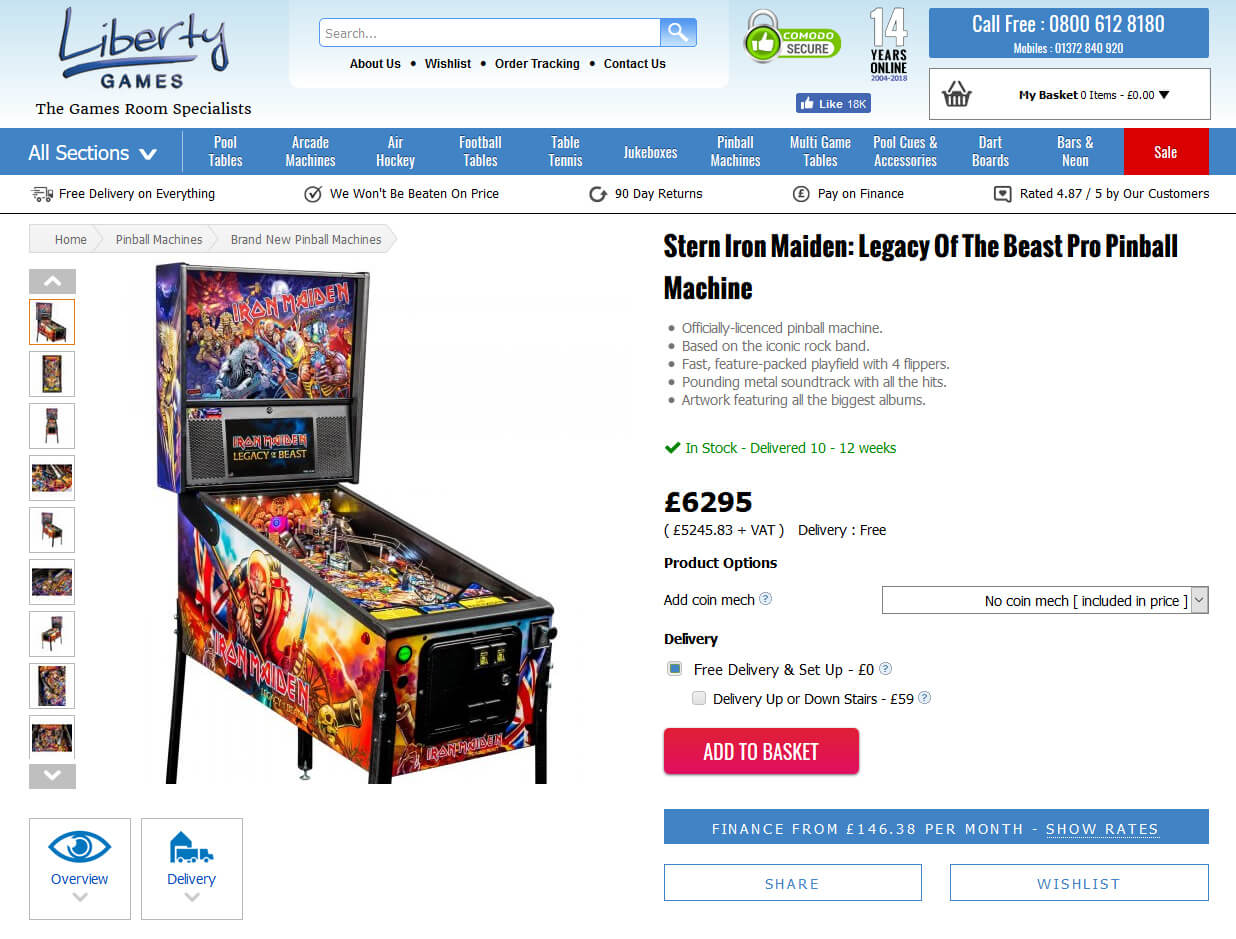 27/03/2018
Pro Version Images Released
New images of the Iron Maiden: Legacy of the Beast Pro machine have just been released.
At first glance we can see original Iron Maiden artwork from classic albums like Powerslave, Somewhere In Time, Killers, The Number Of The Beast and many more.
Remember this is the Pro model – we're still waiting to see images of the Premium and Limited Edition models. Excited? We are!
26/03/2018
What's it gonna look like?
Stern is no stranger to Iron Maiden pinball machines, having produced one in 1981.
However, that had nothing to do with the iconic rock band, which had only been recording for a year at the time.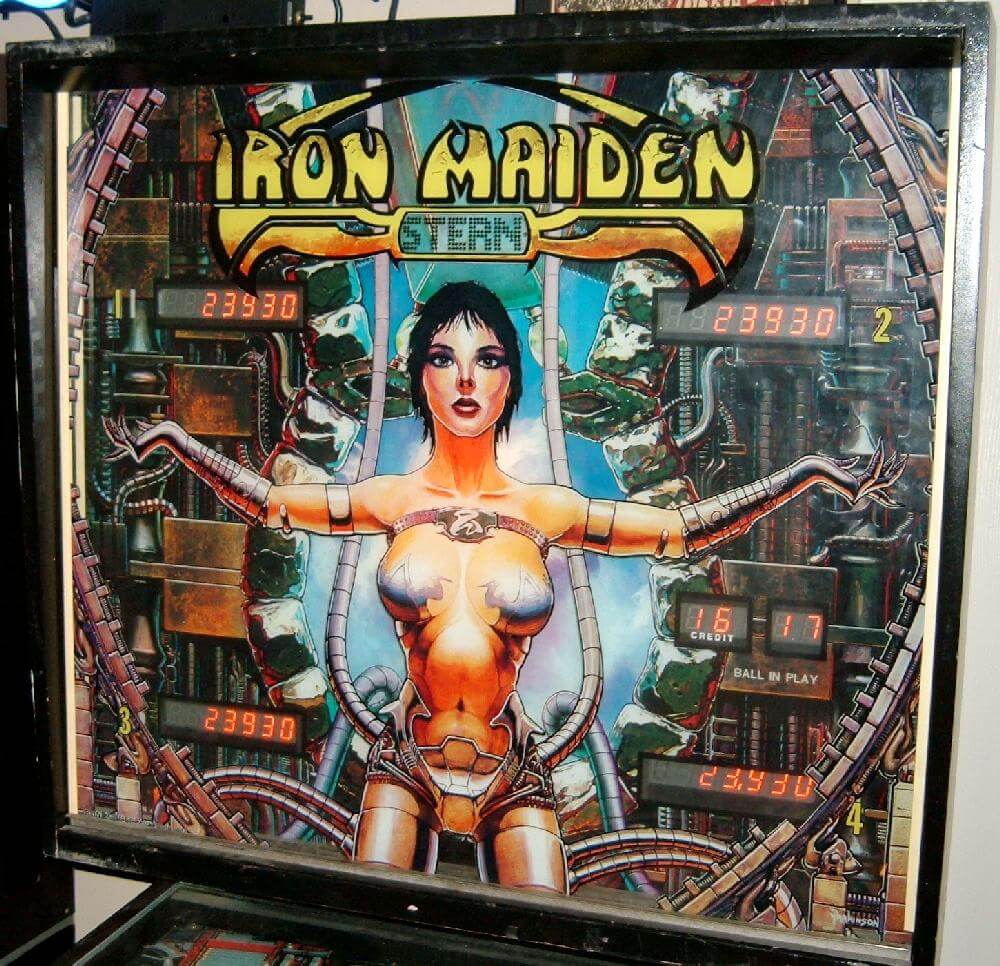 Since then, only a few fans made their own Iron Maiden custom pins and artwork, like this flyer art by Pinside forum member MacLean.
User-created art like this just shows how popular Iron Maiden is. Pinball purists have been crying out for this machine for decades.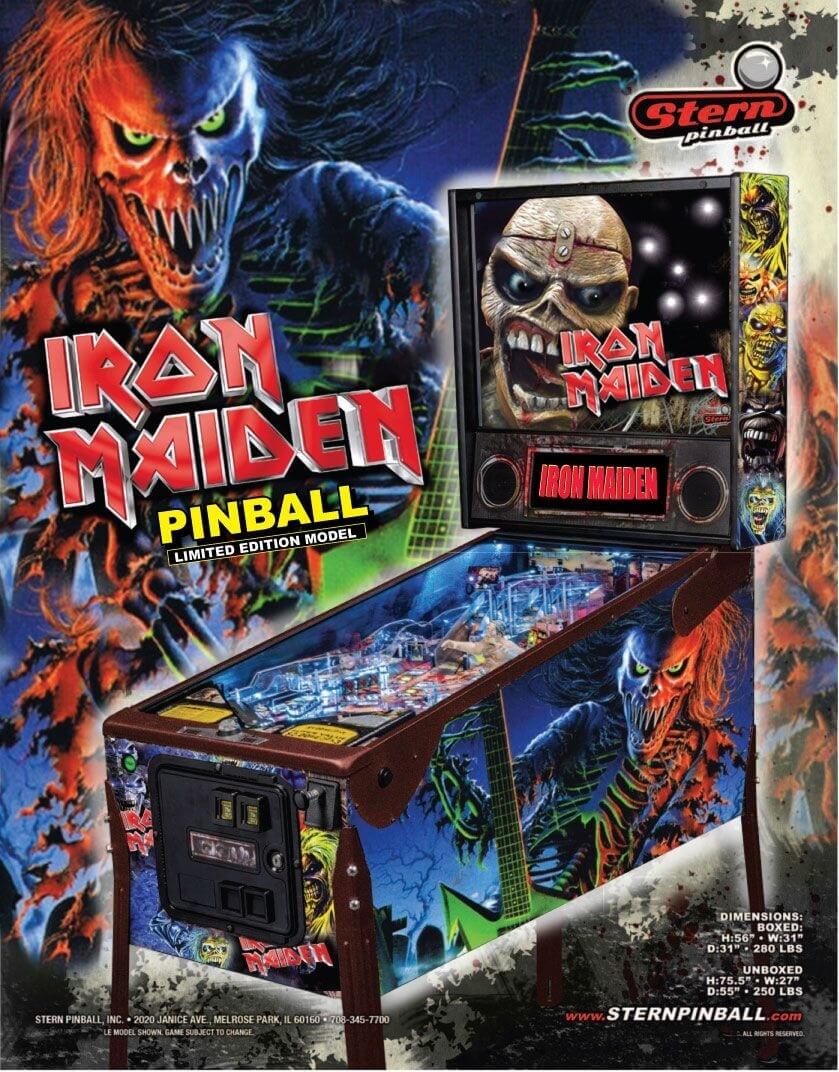 And, a few years ago, some talented types at Pinball Bulbs converted a Rolling Stones machine into a custom Iron Maiden pin.
With playfield art and toys based on the band, it also features lots of cool sound effects and, of course, some of the biggest hits from Maiden's back catalogue.
What's it gonna sound like?
The short answer at this stage is that we don't know. But the track in the video is Wasted Years, from the 1986 album Somewhere In Time.
We're expecting the absolute cream of Maiden releases from across a career spanning 40 years. So although we don't actually know which tracks to expect, we know it's gonna be Maiden, and that means it's gonna rock.
And of course these machines will feature Stern's impressive built-in sound systems, which really bring the tracks to life.
So it's taken 37 Wasted Years for them to clinch the rights and release this officially-licenced machine. It'll be crammed full of unique features and exciting gameplay, like Stern's other rock band-themed machines, and of course some of Iron Maiden's biggest tracks will be reproduced in glorious stereo sound.
We'll update this page with info and images as we get them, and we'll be listing them for you to buy in our Brand New Pinballs department.
Numbers will be limited, so you'll need to Be Quick Or Be Dead.