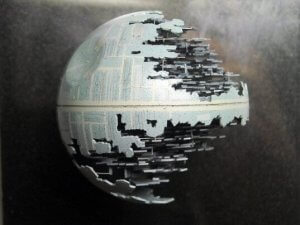 That's no moon, it's a space station. Or to be more correct a table tennis ball!
Here at Liberty Games if you are a regular visitor you'll hopefully know that we love a bit of star wars (we've got Star Wars arcades, pinballs, one armed bandits and more!) and we also love our table tennis… So when we see something cool like this we have to share it with you guys
This awesomely intricate design comes courtesy of a Japanese artist, and you can check out his page to see more pictures of some work in progress pictures for some hints if you fancy trying this one yourself.
And if you do don't forget that we've got a huge range of table tennis balls just waiting for your artistic touch!