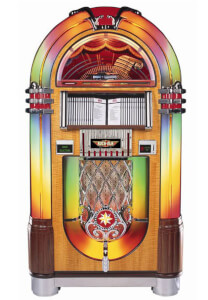 For those of you who enjoyed our previous post on the history of Wurlitzer jukeboxes, today we take another step back in time and look at the fascinating history behind the legendary Rock-Ola jukeboxes…
When David Cullen Rockola relocated from Canada to Chicago in the early 1920's he was actually in his early twenties. Seduced by the sound of the city and driven by the desire to succeed, even at that bright and inventive age, he could never have imagined the important part he would play in society as we know it today. Why? Well, simply because he provided the pop-culture people of this planet with the relished and revered Rock-Ola jukebox.
Although the Windy City has been the home of many notable historical figures and events, both good and bad, Mr. Rockola was one of the more significant and overlooked goodies of the 20th century. This future giant of the jukebox realm had the smart sense to know opportunity when he saw or heard it and he began honing his business skills when he started working as a hotel bellboy at the young age of 14. After that, he worked in a few different positions and places prior to moving to the Midwestern Mecca.
Once he arrived in Chicago, David immediately immersed himself into learning the slot machine scene of the gaming industry where he worked at one point or another for all three of the top manufacturers, which were Mills, Jennings, and Watling. He started out making the front panels of the in demand money making devices and before long, in true entrepreneurial style, he opened his own company in 1926. Initially making and selling vending machines he soon began offering weighing scales for good measure and therefore briefly became the Rockola Scale Company.
Blessed with modest success, he was always looking for the next big thing and so when the pinball craze hit the nation in 1930, he chose to challenge the capable competition and though despite his best designs and efforts, he unfortunately almost went bankrupt while playing in that game. As it goes, a few of the games that he invented and had a hard time selling back then are now much more appreciated and sought after, as they are considered among the most innovative and collectible of antique gaming nostalgia.
Bouncing back, in 1934 he had the sound mind and timeliness to obtain a patent on a mechanism that could pick out a music record from a stack of them, then play it and put it back in place. The eventually led to the creation of his famous masterpiece, which is the Rock-Ola Jukebox, finally his product had become a formidable contender in the market.
In fact, to this day, Rock-Ola is arguably the most recognized brand in the world, as these jukeboxes have untiringly entertained millions of people in many, many places.
During his life of ups and downs, Rockola always rolled with the punches as he encountered brushes with the law and the mob. He and his jukeboxes also rolled with the changes while constantly evolving to endure fierce rivalry from his chief competitors. He was above all things a proficient pioneer in people pleasing products, from pinball games and shuffleboard, to coin operated machines that offered music and more.
His company also heroically helped the cause during WWII by halting regular plant operations for nearly 2 years in order to make 3,500 carbine rifles a day for the U.S. military. Following the Allied victory, the jukebox went back into full production and never stopped, even when he later sold the biz to the Antique Apparatus Company in 1992. Although David passed away just a year later at the fulfilling age of 96, his light will forever shine anytime anyone anywhere rocks out around a Rock-Ola!
As always if you would like to know more about our range of Rock-Ola Jukeboxes or any of our other great jukebox range please give one of our experienced sales advisers a call free on 0800 612 8180.
Sections Features in this Blog Post: