£399
( £332.50 + VAT )
Finance Available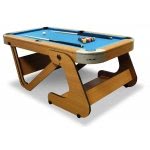 Features a practical vertical folding leg system
Large family table with an MDF playing surface
The Riley Folding 6ft 6in pool table is a large family table with an MDF playing surface, featuring a practical vertical folding leg system for easy storage.
Please click to see more...
Out of Stock - Back in stock 27/10/2016
£235
( £195.83 + VAT )
Finance Available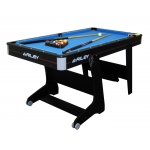 Family-sized, MDF-based home pool table
Vertical folding leg storage system with wheels
The Riley FP-5B is a family-sized, MDF-based pool table with a vertical folding leg system that allows you to raise the table and move it to one side when not in use - perfect for anyone with space concerns.
Please click to see more...