Surface Tension Video Arcade Machines
Surface Tension Products :
£2399
( £1999.17 + VAT )
Finance Available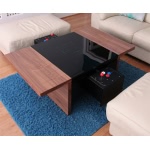 Handmade coffee table-style cabinet in Walnut finish
60 games in 1 classic head to head arcade gaming
The Dual arcade machine is the perfect product to satisfy anyone who has a need for classic 2 player arcade gaming but would like a cabinet that will look amazing in the home environment.
Please click to see more...
£3495
( £2912.50 + VAT )
Finance Available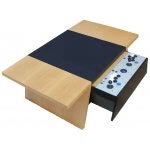 Contemporary Arcade Coffee Table that features a powerful Shuttle PC
Cleverly conceals a vast playground of media possibilities
The arcade coffee table has been designed to discreetly bring the finest contemporary personal entertainment to the heart of your living space! Available in Walnut and Oak finishes, these arcade game tables cleverly conceal a vast playground in an elegantly handcrafted piece of furniture.
Please click to see more...