In November 2017 Liberty Games installed a brand new Star Wars Pro pinball machine in our showroom – and we let people play - live via the internet!
Using some devastatingly clever electronics, we hooked this hot, brand-new pinball up to a Raspberry Pi, a webcam and some flipper triggers.
It was slightly laggy – a side-effect of firing analogue flippers with digital signals coming in via the internet. We suggested that you let go your conscious self, feel the Force flowing through you, and act on instinct.
Like the Sith this pinball may return.
About Stern's Star Wars Pinball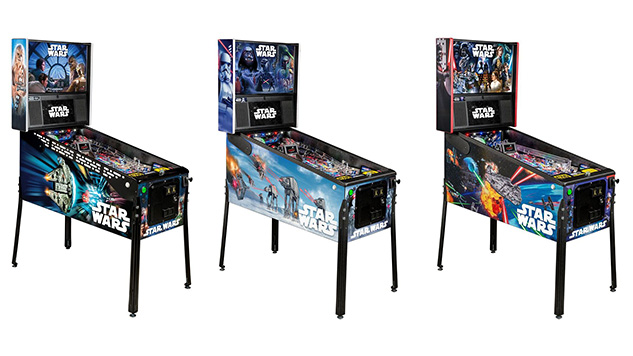 Stern's Star Wars, released in summer 2017, is the first Star Wars pinball machine since Williams Electronics' Episode I, launched in 1999.
It comes in three variants; the Pro, the most common version, the Premium, with a real wireform orbit and special features, and the ultra-exclusive Limited Edition, which is limited to a few hundred pieces and is priced accordingly.
It's based on the original Star Wars trilogy. Destroy TIE Fighters with well-aimed shots, attack the Death Star with a devastating multiball onslaught, and free the galaxy from the clutches of the evil Emperor.
Packed with mesmerising light shows, original film scores, sound effects and more, it's an immersive experience for any Star Wars fan.
Why not take a look at out complete range of pinball machines or our exciting new virtual pinball machine!
How We Did It
One of the great things about working for a games room company is that we regularly have the latest arcade and pinball machines in our offices and showroom (it's a hard life, I know). We also have trained, skilled arcade and pinball technicians on site, as well as members of staff who enjoy a technical challenge and love to play around with a Raspberry Pi or two..
The Pi easily connects to a number of relays (in this case we used one called the PiFace) which, when combined with the easy-to-program Pi, enabled us to create an API for the pinball. This means we can simply make a quick programming call and the flipper buttons on the pinball machine will fire.
Then all we needed to do was hook a couple of webcams up to a laptop to stream the video. The visuals on the Star Wars pinball are so great that we provided a couple of different angles, to really take in the best of the show.