Football Tables Buyers Guide
There are a number of factors to keep in mind when looking to purchase a table football table. This guide covers all the main points so you can buy with confidence.
Deciding what football table will be most suitable for your particular requirement can be quite a challenge. With so many manufacturers pushing their products through the UK market consumers are literally spoilt for choice.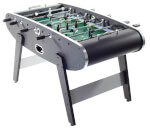 The following guide will help to break down the key qualities to look for when making your final decisions. The sales team at Liberty Games are always here to help if you would like to clarify any of the points further.

Leg Style
Due to the vigorous stresses that a football table endures during play, having a sturdy leg structure is a priority. Professional football tables are usually secured on a metal leg structure providing the strongest platform for the game. Be aware of tables that are using a hollow MDF leg structure, as these can be rather weak, or just use your judgement to see if the legs visually appear sturdy enough.

It's worth noting that some football tables use a folding leg structure, in some cases the leg design remains strong whilst enjoying the extra storage benefits. In other cases the design required for the legs to fold in a particular way does compromise stability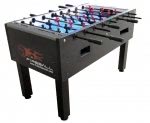 Rods and Players
The difference between telescopic rods and solid rods is quite well documented, however for clarity a telescopic rod is made up of a larger diameter tube and a smaller diameter rod. The rod can move back and fourth (extending through the handled end) but remains within the confines of the football table at the other side. A solid rod as the name suggests is a single piece of rod which extends though both sides of the cabinet. If the table is being used in an area with children around it could be argued that a telescopic rod is safer.

Smaller football tables (designed for juniors) will have much smaller diameter rods than those found on professional and commercial standard tables. A smaller diameter rod will be inherently weaker than it's a larger counterpart so consider this if your table is going to receive a fair amount of use. In general the feel of the larger rods is better and provide a more consistent feedback for the more discerning player.

The players themselves (attached to the rods) differ from table to table but it's worth visually inspecting the ruggedness of the design. Try and avoid hollow players as these can be prone to breaking when they make contact with the football. The best players are solid moulds and will generally be found on the more expensive models. Look out for tables that have strange of quirky feet designs for their players as this can greatly affect how the ball is projected when they strike it. A joined foot in either a wedge or a square tends to be the most acceptable structure.

Body Structure
Adding to the stability generated to the leg structure, the materials used to make the body of the table are of equal importance. Some imported tables can be built using low density chip boards and low grade MDF which has the potential to loose shape and flex excessively over time. Keep an eye out for the materials used and make sure the cabinet looks very sturdy (high grade MDF or hardwood cabinets are recommended)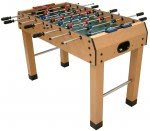 Table Size
The overall size of a football table does vary, however the general rule if you are purchasing the table for very young children would be to consider a 4ft table, where as for an adult a 4ft 6" or 5ft table will be more appropriate. As a guide most professional tables measure between 150cm -170cm in overall length (depending on cabinet design) and between 75cm and 90cm in overall width (depending on cabinet design)

Play Surface
The high end football tables tend to have a glass play surface (not to be confused with a glass top which is a security feature of coin op tables). This surface can either be smooth or sandblasted. It is generally accepted that a sandblasted pitch provides more control over the football table
Player Layout
In the UK and certainly in all competition standard football tables, the players are set out in a 1,2,5,3 formation. Some tables on the market do not confirm to this formation and in some cases have extra players on the pitch.