Table Tennis Buyers Guide
We sell a number of table tennis tables, from basic home models right through to competition standard tables. But what's the difference between them? Find out here.
Thank you for taking the time to read the table tennis edition of our on line buyer's guide series.

The information in this guide represents a collaboration of our own experience in the world of table tennis, material from major manufactures and the valued opinions of some of the country's best table tennis players. Our aim is to take this combined knowledge to help you make an informed buying decision and find the perfect table to compliment your living space or commercial premises.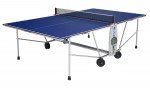 After a general introduction, these guides work on a 'question and answer' basis. We have tried to include all the questions we are most commonly asked, and we have thrown in a few hot tips and pieces of insider information. The answer to each question is found on a specific page, so if you are just using this guide to investigate a particular query, you can cut straight through to the relevant information.
Questions and Answers
1) What is the difference between indoor table tennis and outdoor table tennis?
The material used to manufacture indoor and outdoor tables is slightly different – outdoor tables are treated to be weather resistant and can therefore be left out in rain and sun etc. The materials used for outdoor tables tend to be longer lasting and provide a high quality game; hence a lot of the top of the range models tend to be outdoor models.
Indoor tables are not weather resistant but do provide an excellent game with better bounce, stability and consistency. Indoor tables often present a greater value for money due to the larger range of sizes, colours etc. For this reason it is indoor tables that are used in competitions.
2) Why do the play surfaces have different thicknesses?
The bounce quality can vary according to the thickness, or density, of the playing surface panels. Generally, the thicker and harder the board then the higher and more uniform the bounce will become. A good guide to take would be, 16 to 25mm: a medium density/medium hardness and 4 to 7mm resin laminates: very high density/very hard.
3) What is the difference between the frames used for the tables?
Very simply, the frames increase the rigidity and flatness of the table and the thickness is relative to this.
4) Why do some tables have a "coating" on the surface?
The details of the coating should be explained in the listing for the table; however it is usually the hard wearing tables that may have a coating. Some outdoor tables feature an AntiGlare coating that has been specially devised to reduce the reflecting of the sun off the playing surface.
5) How easy is it to store the table tennis tables?
When considering how much room you need to store a table tennis it is worth noting how each model folds, and whether there are wheels. Some tables actually separate into 2 halves and can be stored closely together while others are single tables that fold along the middle of the table.
Some tables will have wheels on the table which are invaluable when moving the table from its play site to a storage area. It is also worth noting that some tables have locking levers. These are very useful in areas where there may be children present, or if the table needs to be stored by one person and is a serious health and safety consideration.
6) Are accessories included with the table?
Most of the starter and mid range tables with be supplied with bats, balls and post and net sets so you will have everything you need to start playing. Some of the higher quality competition and outdoor tables are not always supplied with bats and balls, so please take care to check that the table has been marked as accessories included, or details of what is included is in the description text. If in doubt please call in and we will confirm with you.
There is a vast range of additional accessories available for table tennis including replacement balls, different quality bats, covers, cases, bags, clothing, scorers and even table tennis robots that can be set to automatically serve and fire balls for those who wish for an intensive practise!
7) How is my table delivered and how long will it take?
All table tennis tables will be dispatched using single or 2 man courier services. In the case of smaller tables and conversion kits delivery will be via a single person courier. Larger tables will be delivered by a 2 man courier. It is worth checking each listing to see whether the table is delivered ready assembled. If not, then you will need to assemble the table before play and should allow at least 45-60 minutes to do this depending on the table.