Arcade Basketball Machines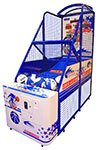 Basketball & the arcade have a long history together - and with good reason! Shooting (and making) a basket is a great feeling, well apart from having to run after the ball - and that is where these machines come in!

Basketball arcades store (either internally or in an external visible area) basketballs which are then released to the player when they insert the required coinage. They then aim to score as many baskets as possible within the time / ball limit, hopefully breaking the high-score. Several models are also able to dispense prize tickets for later redemption based upon the performance in the game.

At Liberty Games we sell these machines both brand new and reconditioned, with full delivery and installation services available - all machines also come with a warranty for peace of mind.
Found 2 Products - Showing All 2
Slam Jam theme
Fully reconditioned
View More
Shoot goals for tickets
Fully reconditioned
View More