Tekken Arcade Machines
Come and get some, I dare you!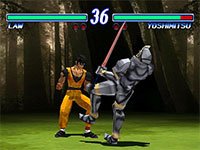 The King Of Iron Fist Tournament : Enter The Tekken!
Although Street Fighter 2 ruled the arcade fighting arena for many years, in the mid-late 90s it was Tekken's turn to compete for the spare change of arcade punters around the world.
With stunning (well at the time) 3D graphics and smooth silky play, as well as a huge number of combos and interesting characters, Tekken was an instant hit that went on to spawn many sequels.
While original Tekken arcade machines are possible to buy, they are rare these days (any we currently have in stock will be listed on this page. However several of our retro multi-game arcade machines come pre-loaded with the early Tekken games and may be just what you are after. That and they have hundreds of other games loaded on as well :)
Found 3 Products - Showing All 3