Liberty Games Pool & Snooker Trick Shot Academy : Week Two
At Liberty Games we want to help each and every one of our customers to get the most out of their games room equipment, which is why we've teamed up with our good friend and snooker legend John Virgo to reveal a few of his trick shot secrets.
This week John shows us one of his famous Smarties tube trick shots. Hit the tube, pot the ball!
More Trick-Shots : Week One | Week Two | More Coming Soon...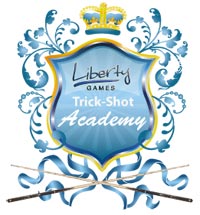 Products Featured in this Video:
Video Transcription:
Hello Again
And this week's trick shot courtesy of Liberty Games is quite a simple on you can do before you start your game of pool.
Take the eight-ball out and put it on a tube near the middle pocket, very close to the middle pocket, you can do it with a Smarties tube if you like, just have it above the cushion, the idea is to hit the white, knock the tube from underneath the eight ball, the eight ball will drop to the cushion, go across the table in to the opposite middle pocket.
Now I don't want you to take this one too easy because when we used to rehearse these trick shots on Big Break, Jim Davidson would volunteer to do this one - nine attempts - didn't hit the tube! It's not as easy as you think! Or is he a bad player...?
Here's What You Need:
1 x Pool or Snooker Table - Buy from www.libertygames.co.uk and receive free : pool balls, pool cues, triangle.
1 x Tube of Sweets - from your local corner store.
Now let's see how it's really done...
Ok so all you've got to do is knock the tube from underneath the black and the black will go in the opposite middle pocket. Should work like that.
[cheering]