Calling all Angry Birds fans! Those pesky pigs are back, but this time they have leapt out of the digital world and into your garden!
That's right, although we've seen these cute little fellas in plush-toy form before, they now come ready to bring their full-on adventures into the real world.
The Angry Birds Outdoor Game premise is the same as the hugely popular video game, with your job being to guide the egg-deprived birds through the air to take out their pig nemesis. The pigs are sat upon wooden blocks just like in the game, except this time there is a score board to reward you depending on where the piggy lands – with being near the target more rewarding than far away. The winner of each round gets a star with the winner of the game the first one to the agreed number of stars!
Simple eh? Well that's what many people thought when they first grabbed the app on their phones, but were soon to be proven wrong!
But don't just take it from us, check out the video below to see the birds in action!
The game doesn't stop there though, extra add-on pieces will be available enabling you to add more players – or indeed more pigs – to the game giving it a real long-term appeal.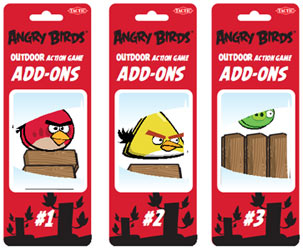 Not only that the game comes in an awesome looking angry bird carrying bag!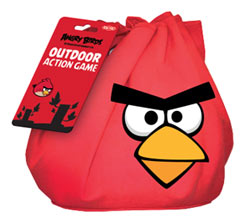 The Angry Birds Outdoor Game, which is fully licensed by developer Rovio, will be coming to Liberty Games in early May, retailing at £24.99
Here at Liberty Games if there are two things we love its video games and outdoor games, so by combining the two we were always going to love this!
Great for outdoor fun in your garden or for showing off in the local park or even the beach, we're sure this great game is going to be one of the big hits of the summer.
We'll be linking back here to the product listing just as soon as we have these in stock!