Table tennis probably originated as a high society parlour game in Britain in the late 19th century, and was developed by keen tennis players, unable to play their usual game during the winter months.

A wine cork for a ball.
The likeliest scenario is that opponents would face off over a table, with a row of books creating a net, a book each for a bat, and a wine cork – perhaps spherically carved – as a ball. Of course, enterprising types soon attempted to develop the game into a product, and one of the first, only a year after David Foster's 1890 Parlour Table Games arguably invented the basic format, was the Gossima, developed and patented by John Jaques of London.

The first retail table tennis set.
In the Gossima kit, first released in 1891, you'd get a 30cm-high net with wooden posts and straps, to fasten it to the table. You'd get a 50mm cork ball and a pair of drum rackets, and a presentation box too. It was all you'd need to host your own tournament in your parlour. But the heavy cork ball didn't bounce well, and failed to capture the game-playing public's imagination. That would wait until celluloid balls were introduced in c.1900.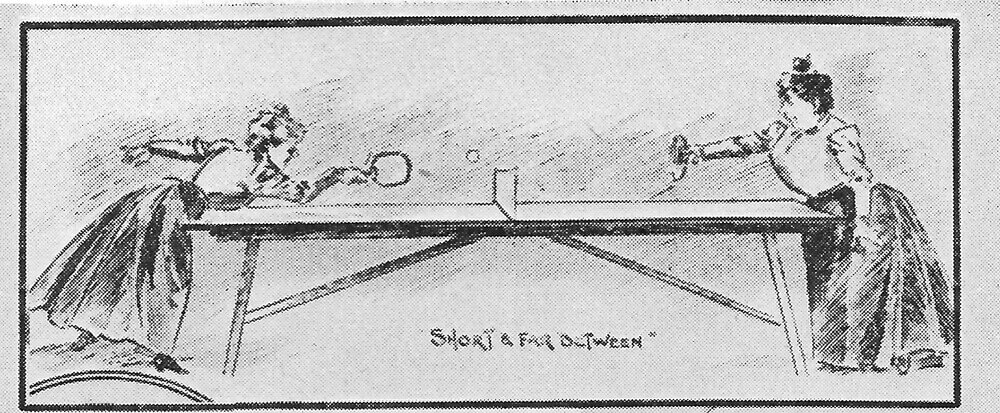 The rise of Ping Pong.
With the new balls and the lively performance came sudden popularity, and Jaques started to use the onomatopoeic and newly-trademarked name 'Ping Pong' alongside Gossima, entering into business with the Hamley brothers. Jaques' trademarked equipment was used in all tournaments and clubs, which by now played to standardised rules laid down by the rival governing bodies Table Tennis Association and Ping Pong Association, who united in 1903. The trademark 'Whiff-Whaff', Boris Johnson's preferred name for the game, was originally coined by Slazenger – another early table tennis manufacturer which still makes table tennis equipment today. In the USA, the sport exploded in a similar fashion, with overseeing bodies setting the rules and notable companies holding the trademarks, like the Parker Brothers of New York.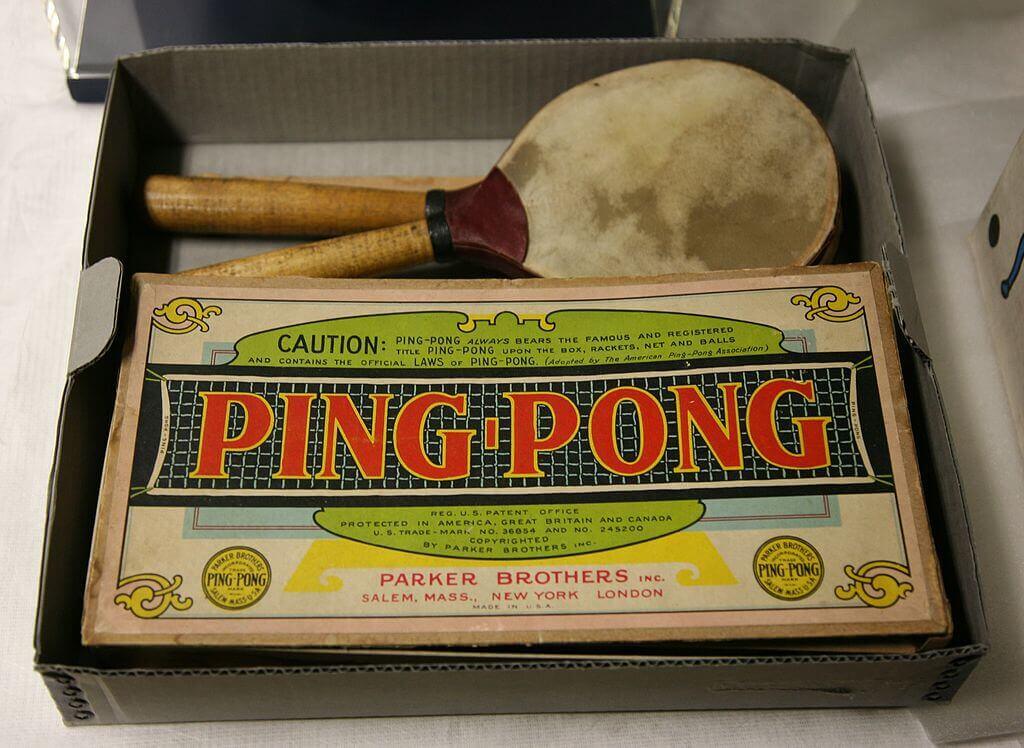 Satoh's special bat.
Over the next 50-odd years the game's popularity ebbed and flowed, and it remained a predominantly Western pursuit, interrupted by war and economic instability. But that was all to change in 1952, when a young Japanese player, Hiroji Satoh, entered the World Championships with a new style of bat. It was covered in rubber foam sponge instead of the usual pimpled rubber. The new bat surface produced a huge acceleration in the speed of the ball, kickstarted further development of table tennis technology and elevated the sport to unheard-of popularity across Asia.
Olympic recognition.
The sponge-coated bats enabled wild spin techniques and blisteringly fast games, and ushered in 40 years of Asian dominance. In 1988, table tennis became an Olympic sport at the games in Seoul and, in 2002, it was included among the Commonwealth Games for the first time. Today the game is hugely popular worldwide and is China's national sport, where young players with promise – often as young as five – are placed into specialised sports schools and rigorously trained, in preparation for competition on the world stage.
But the selling points of the original Gossima remain as relevant now as they were 120 years ago. Table tennis is great exercise, highly competitive, playable indoors and compact – and it doesn't matter what the weather's like. It's increasingly popular as an office game and as a school sport. And as table tennis enjoys a surge in status, with its profile boosted by the 2012 London Olympics and by fashionable table tennis-themed London nightspots, the future looks buoyant for this versatile and specialised sport.
Vintage illustrations from The Picture Story of Fifty Years 1900 – 1950 (thanks to Jackiedinnis.com).
Jaques Gossima image by Sportantiques.co.uk.
Parker Brothers Ping-Pong image by Daniel Schwen.