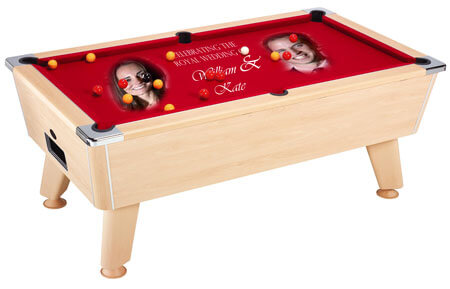 With the upcoming royal nuptials we're sure everyone is getting very excited about the wedding of the year! Ok maybe excited isn't the right word for everyone, but certainly the royal wedding has lead to a large number of souvenirs bearing Will's & Kate's face on, and we thought what better way to show off our custom pool table cloth service!
That's why we've had this little beauty (see right) knocked up… It may not be to everyone's tastes (but let's face it if you're into your royals and your pool, what better way to celebrate!), but it does show off our unique custom pool table cloth service.
So if there is an image you have always wanted to be on your pool table, be it your own face, to your football teams logo or colours (copyright allowing), we can make it happen for you! First off you will need to select one of our slate bed pool tables that you'd like as the 'base' for your table, then simply give on of our customisation specialists a call free on 0800 612 8180, and they will be able to talk through the slight extra costs with you, and ensure the images you have are suitable to place on a pool cloth.
Don't worry there's no danger of your graphics rubbing off the cloths, they are built to last as long as your table.
So why not let you imagination run away and get thinking about how your own custom pool table would look ?