The nation has gone back into a second national lockdown and yes that means more time stuck at home with little to keep yourselves entertained. Last lockdown, we saw a 350% increase in sales, where table tennis tables were quite the trend and saw a huge increase in sales, up 600% year on year in the first three weeks of April. So how are people going to prevent their boredom this lockdown?
Here at Liberty Games, we have analysed some of the most popular video games. Not only that, but we have also taken a look at the time it takes to complete these games, and converted the hours into days, so you can find out which video games can be completed during the second lockdown.
Why not set yourselves the challenge of completing one of these video games to keep yourselves entertained?
Take a look at what games have made the top 20.
The table below shows the top 10 quickest games to complete: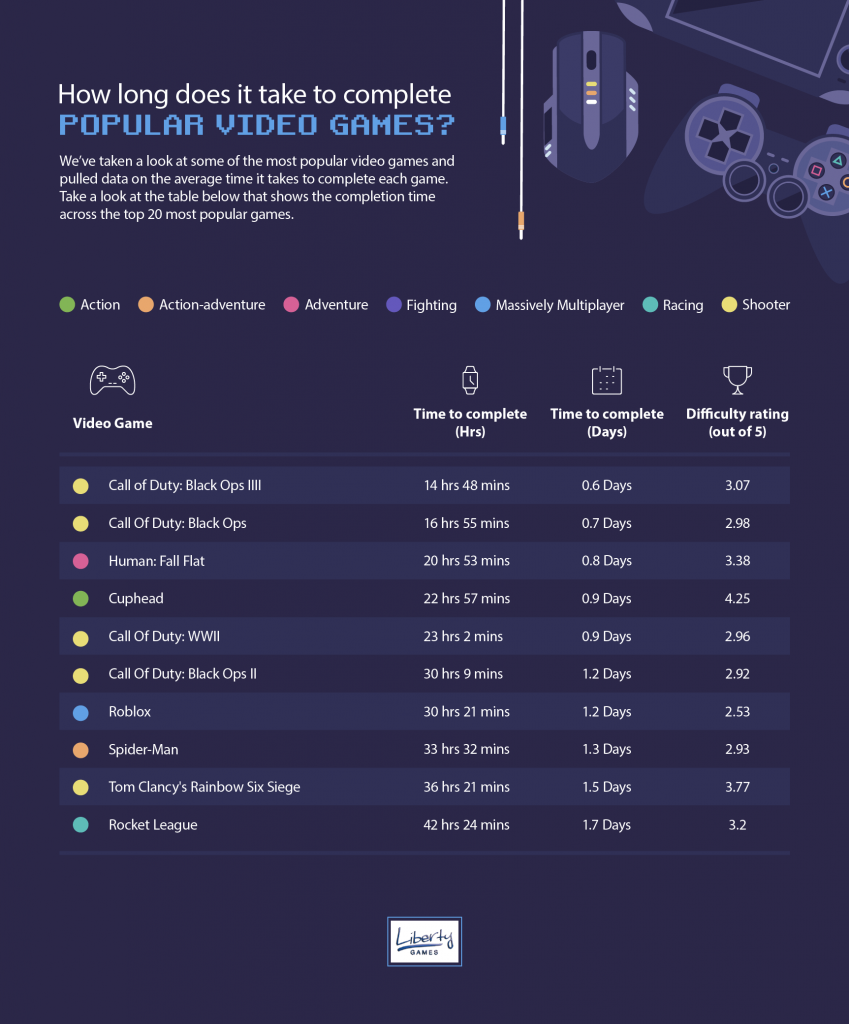 Call of Duty: Black Ops IIII is revealed as the quickest game to complete taking 14 hours and 48 minutes on average, this works out as just over half a day (0.6 days) of solid gaming. The original Call Of Duty: Black Ops comes in second place taking just over two hours longer to complete on average at 16 hours 55 minutes, or 0.7 days. Roblox, Spiderman and Tom Clancy's Rainbow Six Siege all make the top 10 with the average completionist taking just over one day.
Not one for sitting down and gaming for long periods of time? Why not try our new arcade machine that can stream games off your PC so you can take a break from the sofa!
But what about the games that take a little longer to complete, and could keep you entertained for longer during lockdown?
The table below shows games 11-20 following on from the top 10.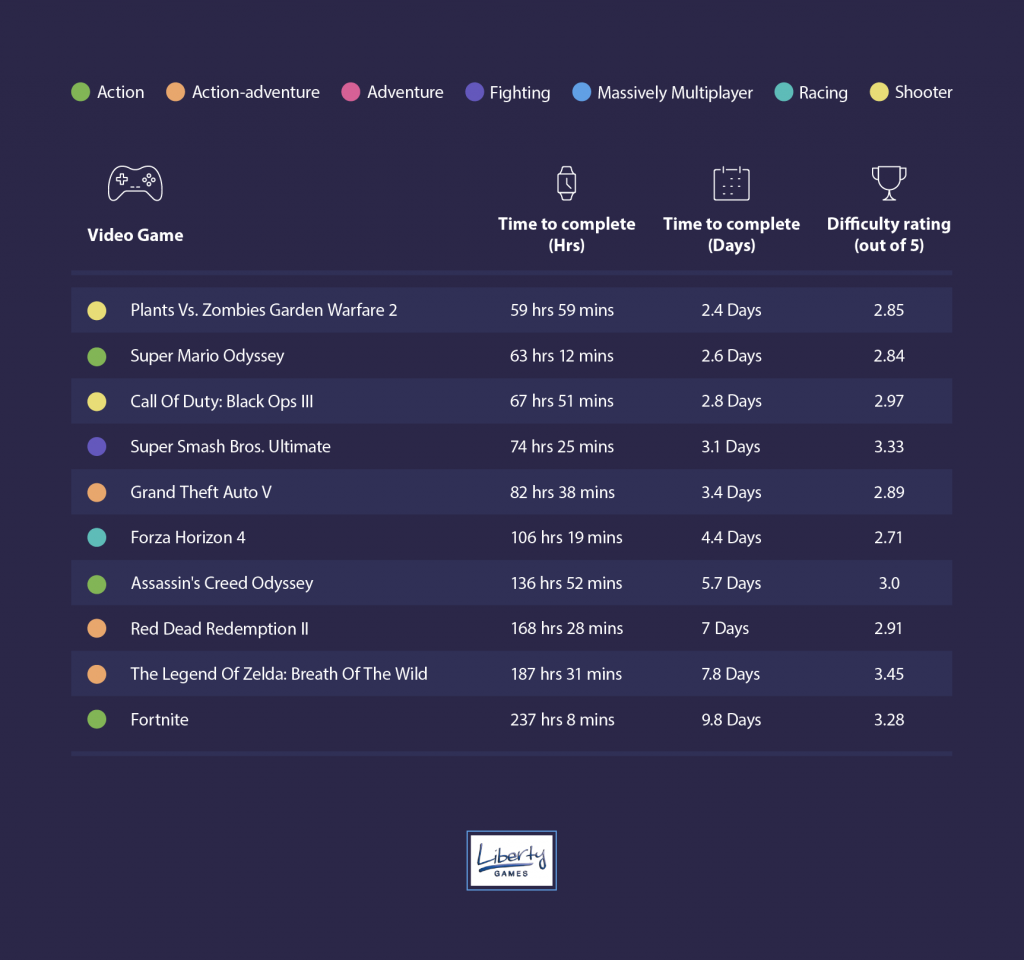 Red Dead Redemption II, The Legend Of Zelda: Breath Of The Wild and Fortnite have the longest completionist times from the top 20, with Red Dead Redemption II taking seven days to complete The Legend Of Zelda: Breath Of The Wild taking 7.8 days and Fornite taking 9.8.
From the two tables, you can see that the 'shooter' category is the most popular, with 7 out of the 20 games coming under the shooter genre. The 'action' genre comes joint second with the 'action-adventure' genre, both having four games out of the 20 falling under these genres.
When it comes to difficulty Cuphead comes top with a difficulty score of 4.25 out of 5. Tom Clancy's Rainbow Six Siege is the second most difficult game scoring 3.77 out of 5 and The Legend Of Zelda: Breath Of The Wild is third with a score of 3.44 out of 5. If you're looking for a more relaxing and easier game for lockdown, Roblox is a great one, with a difficulty score of 2.53 out of 5.But if gaming is not for you, there are other options for lockdown that can keep you and the family entertained. From table football and air hockey to dart boards and pinball machines, there is something for everyone here at Liberty Games.