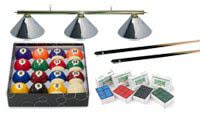 We have a wide range of pool cues, pool balls, pool table lights and much more in our extensive accessories section.
Popular Brands
Need to know more?

Liberty Games are the biggest pool table retailer in the UK, trading online since 2004 we were the first full e-commerce games room retailer. We have pioneered delivery solutions to allow our customer to order online with confidence - our specialist white glove delivery team are billiards specialists and have many years of experience.

We also have a team of trained sales advisers available to help you with your purchase, who have actually played on many of the tables we sell and are able to help you decide which table is right for you. They can be contacted free on 0800 612 8180.

We have a large range of tables available to buy online, so to make it easier to browse we have divided our range up into several sections - each representing a different area of the market.

Alternatively our super search feature can help you locate a table by the exact feature you require, such as build (the type and colour of material the table is constructed from), cloth colour, coin-operation and many more.

If you are new to the world of pool then please view some of our frequently asked questions, where we have tried to answer some of the questions we know people commonly have, including explaining the difference between slate & MDF (if you are looking for a cheap table then we would suggest MDF over slate for example), the recommended cueing room / room size and what accessories you new table will come with. These can be seen in the video at the top of this page or through the FAQ links at the bottom.

If you would like to try a shot or two on a table before you decide which one is right for you, don't forget that we have a showroom - and although our space is limited in that we can't show every table - we have tried to carry an example of many of the different styles that are available.

One of our most popular features that is exclusive to Liberty Games is our ability to show you your table in the exact cloth colour / build combination you wish to choose. Simply select from the option drop-downs on the product and the picture will dynamically update.

We also carry the largest range of pool accessories in the UK, with a huge range of cues, lights, balls and much more.

Please note that we not only deliver to the UK, but over the last decade we have exported to 93 countries world-wide, and are experts in safely and securely transporting our products over land, sea and air.

Pool Tables Information
Slate Bed Pool Table Buyer's Guide
Our pool table buyers' guide tells you exactly what to look for when buying a slate bed pool table for your home or business.