What Is a Full-Size British Pool Table ?
This guide explains what the typical sizes and dimensions of a British pool table are. Quickly skip to the information you need with the quick links below.
If you're shopping for a British slate bed pool table, you'll see that they come in two common sizes - 6ft and 7ft. Some models can be made in other sizes too – you might see 8ft versions of British tables, but these are unusual and often made to special request only.
British Pool Table Sizes
The two main sizes are 6ft and 7ft. The 7ft tables measure approximately 7ft x 4ft, and the 6ft tables are closer to 6ft x 3ft. These are very approximate dimensions, and each table will vary slightly depending on the cabinet style.
6ft British Pool Tables
The smaller 6ft British pool table is the more common version. They are most often found in bars and pubs, because the smaller size enables operators to pack more into the same room, increasing income. And they are by far the most popular choice for home games rooms, where the slightly smaller size allows more room for players to walk around the entire perimeter of the table with ease.
The smaller playfield also makes the game slightly easier, which is great for less experienced players and for more exciting, fun games. It also helps operators who like plenty of fast, repeated games to increase their income.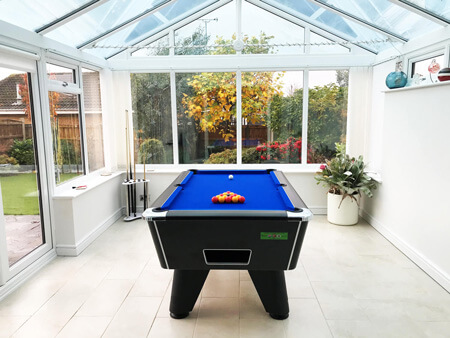 A 6ft Supreme Winner installed in a conservatory. (From £1599.00) [ view in store ]
7ft British Pool Tables
The 7ft British pool tables are more uncommon, but it's these that we'd call a "full-size" table. This is because 7ft tables are the ones used in official tournaments and by professional players. With a larger playfield, a higher skill level is needed to play successfully, and games might continue for longer. In a busy bar, this might not earn the operator as much in game credits as a 6ft table.
If you were looking for a 7ft table to play in a public space, we'd advise visiting a specialist pool hall or sports centre, as most tables found in British pubs and bars are 6ft models.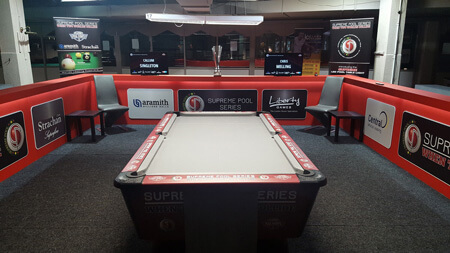 A 7ft Supreme Winner tournament table as used in the 2019 Liberty Games Open. (From £1599.00) [ view in store ]
Pockets, Balls & Accessories
The size is the only difference between the 6ft and 7ft British pool tables. All balls and accessories are the standard British pool accessory size, and the same spec British pool cues are used. You won't need different accessories for one over the other.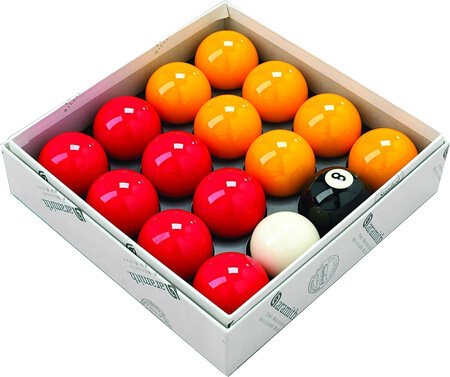 A set of British-spec Aramith red/yellow pool balls. (From £49.99) [ view in store ]
Now you know why British pool tables come in two sizes, it's time to pick the one that suits your space the best. Grab your measuring tape and check out our Pool Table Room Size Guide, and then browse our British slate bed pool table range and find the one you've always dreamed of.
This article was written by Liberty Games staff member

Sales Manager at Liberty Games. Pool table specialist & pinball wiz. Film & cinema nerd, with a mental database of every episode of The Simpsons ever made.