Pool Dining Table Buyer's Guide
Buying a pool dining table can be a confusing experience. There's lots to consider, and some decisions to be made. So read our Pool Dining Table Buyer's Guide to learn everything you need to know.
If you're looking for details on something specific, use these quick links to jump to the relevant section.
A pool dining table is a true hybrid. It's part dining table and part pool table, and allows you to make the most of your space. Invite friends round for a game, and when you're finished, pop the tops on, pour the drinks and serve dinner!
Pool dining tables are made with cabinets that are more shallow than other billiard tables. This allows people to sit around them and enjoy plenty of leg room underneath.

A pool dining table and a conventional table.
These tables are usually supplied with table tops included, although you should check the individual listing for your chosen table to confirm this. In most other ways, they are much the same as conventional pool tables, with no drawbacks in performance or functionality.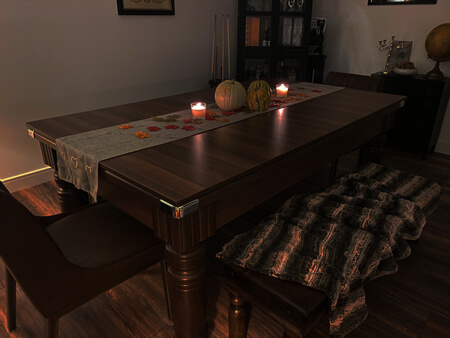 A Majestic pool dining table, set for dinner. (From £1195.00) [ view in store ]
British or American?
Pool dining tables are commonly available in either British or American spec. Each type has different requirements for size, cloth type, pocket size, cushion shape and more.
As a rule of thumb, British pool dining tables are smaller – usually six or seven feet in length – and are designed for slower, more strategic games.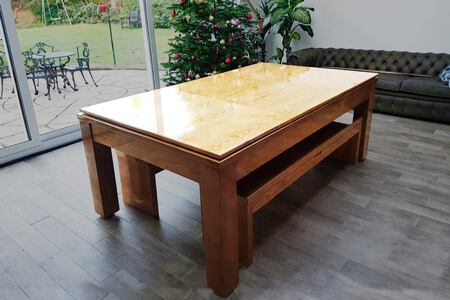 The Precision British pool dining table. (From £3795.00) [ view in store ]
American pool dining tables are larger – anywhere between seven and nine feet in length – and their nylon cloths and wide pockets are suited to the faster game of American pool.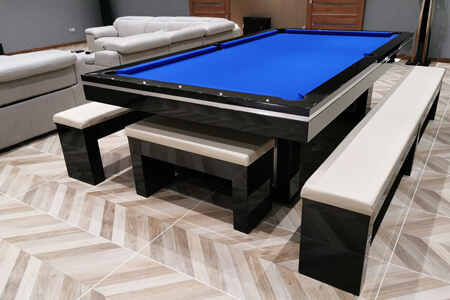 A Monaco American pool table. (From £6995.00) [ view in store ]
You can read about all the differences in detail in our guide, What is the Difference Between British and American Pool.
How Much Space Do I Need?
When considering a pool table, it's important to be aware of how much space one requires. Players need to be able to walk around the table and cue up shots, without hitting walls or furniture.
As an example, if you're installing a 6ft pool dining table and you want to use full-size 57-inch cues, you need to calculate the width and length of the room size you'll need. A 6ft table playfield measures approximately 82cm in width from cushion to cushion, and approximately 160 in length (again, from cushion to cushion).
You then need to add the length of your cue from both sides of the table at once. So a 57-inch cue is 145cm long. 145 + 145 = 290cm. Then add this to the width of your playfield. So 290cm + 82cm = 372cm. This is the width of the room that you'll need.
Learn more about calculating space requirements with different cue and table sizes in our guide, What Room Size Do I Need for my Pool Table?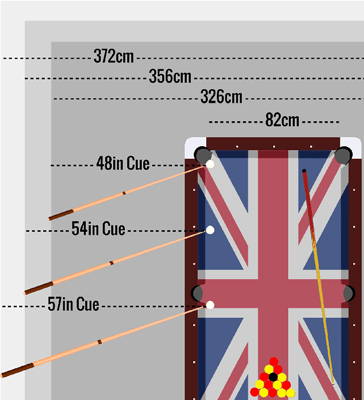 Slate or MDF Bed?
The bed of a pool table is the material that forms the playfield. The ideal playfield is perfectly flat and blemish-free, and is then fitted with a cloth.
An MDF bed is formed from chipboard. This type of wood is ideally suited to billiard table beds, because it is shaped and moulded at the point of manufacture, making it easy to flatten. MDF beds have the benefits of being lightweight, low cost and durable, but don't give quite the same level of performance as slate beds.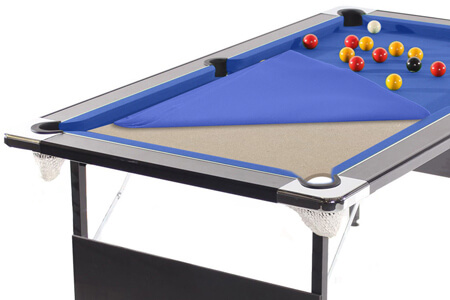 A pool table showing the MDF bed.
Slate beds are made from real slate rock, mined, cut and shaped to be perfectly flat. They are then fixed into place in a pool table. The main benefit of the slate bed is its game performance – they are flattened and honed by machine as they are made, so they give a perfect surface for balls to roll over. They are more expensive and heavier than MDF beds, but if you require the best performance possible, only slate will do the job.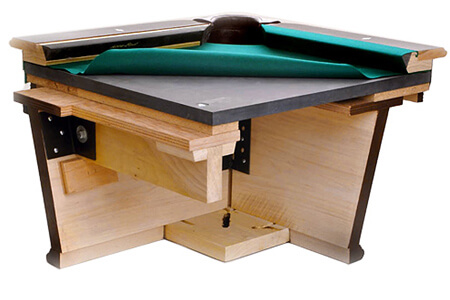 A pool table cutaway showing the slate bed.
You can browse our range of MDF bed pool diners here and our range of slate bed pool diners here. Read more about the differences between slate and MDF beds in our detailed guide What's the Difference Between MDF & Slate Bed Pool Tables?
Which Chairs Do I Need?
If you're planning on using your table for dining, you'll need chairs. We sell a range of chairs that are suitable for use with most pool diners, but you will want to check that your table gives enough room for a chair, a pair of legs and a bit of space for comfort.
In the example below you can see how this works.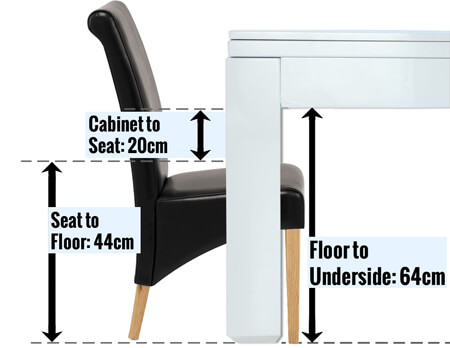 Most people will be comfortable with approximately 20cm of space between the seat of the chair and the underneath of the table. If you can obtain the seat height of your preferred seats, and the dimension from the bottom of the table cabinet to the floor, you can subtract the former from the latter to check how much leg room your guests will have.
You can browse our range of chairs and stools here.
Or Are Benches Better?
A popular alternative, offered alongside many of our pool dining tables as an optional upgrade, is the bench. Benches make for a more communal atmosphere around the table, and can often be discreetly slid underneath when not in use.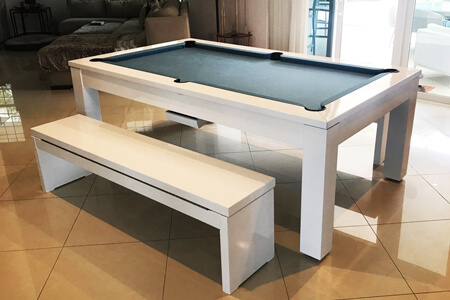 A Phoenix pool dining table with benches. (From £3695.00) [ view in store ]
Some even feature built-in storage, to keep all your pool equipment safe when you're not using it.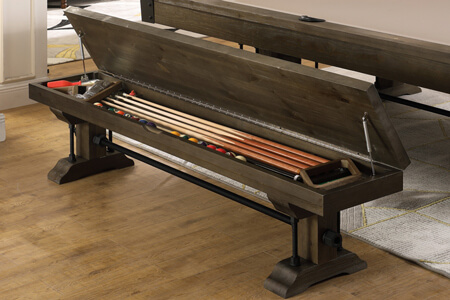 A storage bench as optional on the Carolina II table. (From £4995.00) [ view in store ]
How Do The Tops Work?
Almost all pool dining tables are converted using special tops. These are usually supplied with the table, to ensure a neat fit and a perfectly-matching finish. They can be in two or three pieces, depending on the spec and size of your table.
They are simply lifted into place and sit on the little rubber pocket liners around the table, to prevent any damage to the finish. We'd always advise that two people lift these on together, as they can be awkward to manoeuvre for one person alone.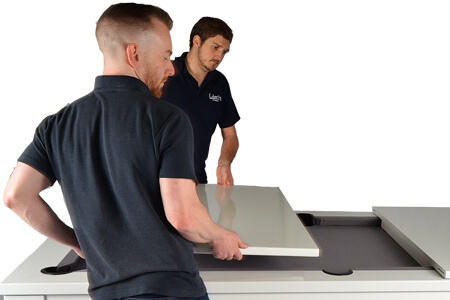 Lifting the top onto a Phoenix pool dining table. (From £3695.00) [ view in store ]
Some clever table designers have come up with alternative methods, like that found on the VIP table below. In this case, the entire playfield rotates inside the cabinet to create a large dining area.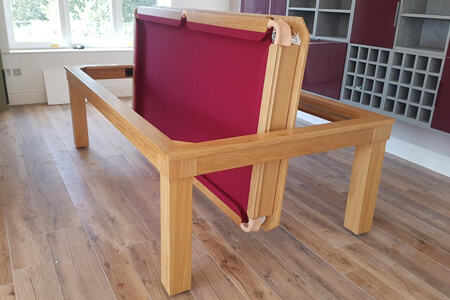 A VIP revolving slate bed pool dining table. (From £5495.00) [ view in store ]
What Else Can I Do With a Pool Diner?
Pool diners aren't just for pool and dining. You can get a whole load of uses out of a table like this.
The flat wooden tops* and extra legroom make them ideal for use as desks. If you work from home and your office feels a bit dull, having a desk that converts into a pool table will give it a whole new lease of life. Have a lunchtime knockabout, or invite the neighbours over for a game. And after lunch, pop the tops back on, lift your laptop, printer and other hardware onto those, and crack on with work.
For the same reason, they work well as office boardroom tables. Hold meetings in the boardroom and use the tabletops to hold colleagues' laptops, projectors or conference phones. But when the meetings are done, lift off the tops to convert your boardroom into a fantastic break room for your employees to relax in, perhaps with a lunchtime pool tournament.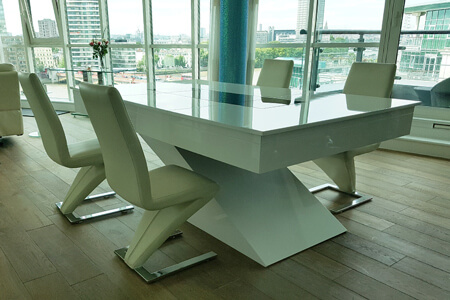 A Zen pool table with tops fitted, used in an office boardroom. (From £7495.00) [ view in store ]
*Some pool diners are available with optional glass tops. We wouldn't recommend using these to support lots of heavy equipment like computers etc.
Other Games
Your table can also be used for extra games. Buy a table tennis top, which lifts on in seconds and converts your table into a table tennis playfield. Or pick up a set of snooker balls, checking that the ball size is appropriate for your pocket size, to enjoy a game of snooker. And there are even games like table bowls available.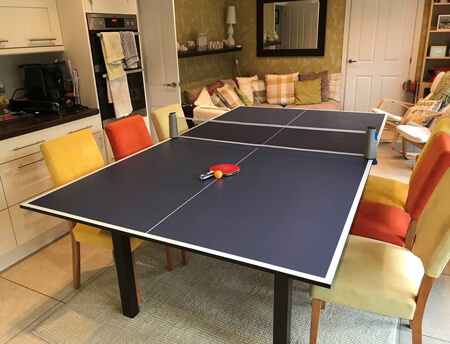 A Tekscore table tennis top on a pool table. (From £159.00) [ view in store ]
You could even go for a multi games table like the Pureline 7ft Multi Game Diner, which features pool, table tennis, air hockey and combines them with a lift-on dining top.
Browse our range of pool dining products, including tables, cues, balls and accessories, and build your perfect dual-purpose dining/games room.
This article was written by Liberty Games staff member

Sales Manager at Liberty Games. Pool table specialist & pinball wiz. Film & cinema nerd, with a mental database of every episode of The Simpsons ever made.