What's the Best Floor Surface for my Pool Table?
Most floor types are suitable for pool tables, but some aren't. Read our quick guide and be sure that the floor in your games room will be appropriate.
Don't have time to read the whole thing? Use the quick links to jump instantly to any section.
Overview
So you've measured up your games room, checked the door swings, and moved the furniture out of the way to create space for a pool table. There's one more thing you might want to think about - the floor surface.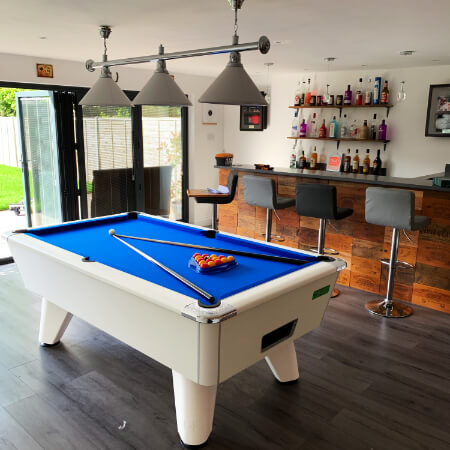 A Supreme Winner installed on a wooden floor. (From £1345.00) [ view in store ]
Different floor surfaces have pros and cons. Carpets are a popular surface in indoor games rooms. They're comfortable to walk on, warm and easy to match to your interior design.
But pool tables installed on carpets may need regular levelling initially as the soft carpet fibres and rubber underlays 'settle' under the weight of the table. However, a carpet will protect your floor underneath from the considerable weight of a slate bed table. And it will prevent dropped balls from getting chipped or cracked.
Harder floors, like floorboards or tiles, should generally remain level. Dropped pool balls can damage some surfaces if they leave the table at speed, so more careful play is advised. In this case you could consider an area rug or a rubber floor mat to go under the table. Read on to learn about the pros and cons of typical floor surfaces.
Carpet
Yes, you can use a carpet as a floor surface under your pool table. A carpet with shorter fibres will support a pool table well, but shagpile types with long, soft fibres tend to be rougher and could require more regular levelling. It's a soft surface, so any wayward balls shouldn't do any damage to the floor, or get chipped.
After installation, you may find that your pool table needs to 'settle' on the carpet. This is due to carpet fibres and rubber underlays becoming compressed by the weight of the table. You should level it precisely after installation, and then check the levelling again a few weeks later. Adjust if necessary.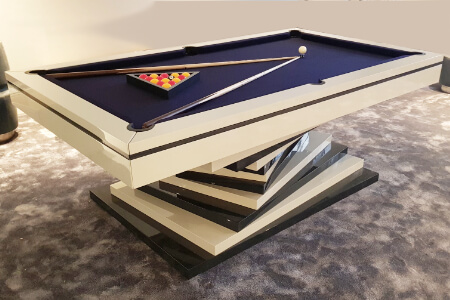 A Harmani pool table installed on a carpet. (From £9995.00) [ view in store ]
Area Rug
An area rug, laid on the floor underneath your table, is just as good as a carpet. In fact it's arguably better, as the rug can be temporarily removed from under the table for cleaning or replacement. Simply lift one end of the pool table, roll the rug underneath the feet, and repeat at the other end.
Again shorter fibres are less prone to prolonged settling, and you should check the table level a few weeks after installation.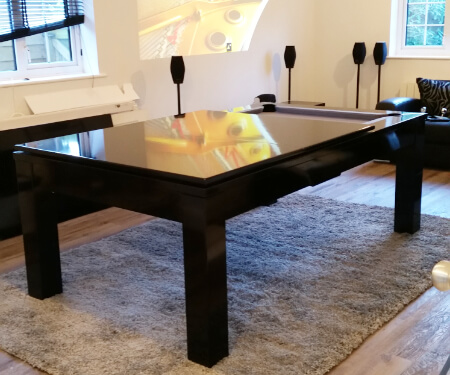 A Phoenix pool dining table on an area rug. (From £3695.00) [ view in store ]
Laminate Floor
Laminate flooring, or lino, is a great option for the floor in your games room. It is more firm than carpet, so tables should 'settle' less, but it's still soft enough to absorb dropped ball impacts without damaging either the floor or the ball.
It's easy to clean and maintain, and is available in myriad colours, so you can match it to your cloth.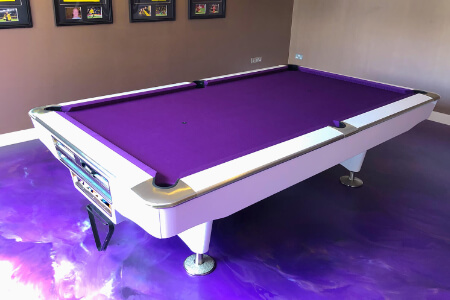 An LA Pro pool table installed on a laminate floor. (From £3395.00) [ view in store ]
Tiles
Tiles have their pros and cons. It's true that they are flat and they don't settle at all, so once your table is levelled, it should stay there. However, a ball that is enthusiastically popped over the rail and onto the floor could crack your tiles.
If you're planning to put your pool table on a tiled floor, you could consider a protective layer (like a rug or mat) underneath it.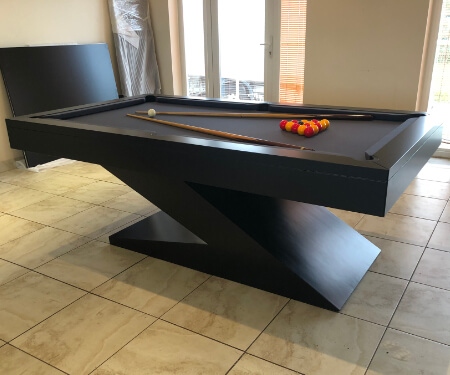 A Zen pool table installed on a tiled floor. (From £7495.00) [ view in store ]
Floorboards
Wooden floors are softer than tiles, so your balls shouldn't get chipped or damaged. Wood also tends to create a warmer room, which is ideal if your table is going into an outbuilding or conservatory.
The feet of pool tables can damage the surface of floorboards when moved, and the weight can create impressions in the surface. Widely-available furniture floor protectors can be used to minimise this.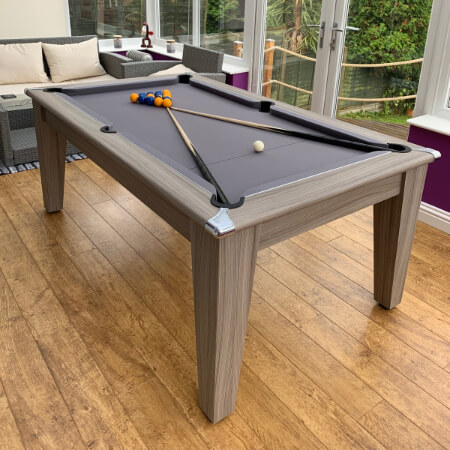 A Driftwood Classic Diner installed on floorboards. (From £1679.00) [ view in store ]
Rubber Mat
A rubber mat on top of your tiles, concrete or floorboards can help to protect the floor against damage from pool table feet, as well as dropped balls.
Much like an area rug, it provides a very localised surface for the pool table to sit on, but unlike an area rug, it's much more resistant to spilled drinks and stains - and it wipes clean.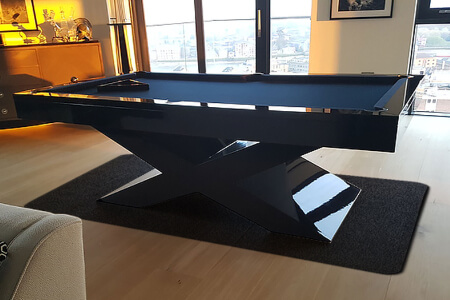 An Xtreme pool table installed on a mat. (From £7495.00) [ view in store ]
Conclusion
A pool table needs a solid, level foundation. But even carpet can be suitable, so long as you're prepared to doublecheck the levelling a few weeks after installation. After that, it comes down to your aesthetic tastes and whether you prefer hoovering or mopping!
Now you've thought about which floor is best, browse our pool table store and choose the one for you. Contact our sales team for more advice on this or any other questions you have.
This article was written by Liberty Games staff member

Sales Manager at Liberty Games. Pool table specialist & pinball wiz. Film & cinema nerd, with a mental database of every episode of The Simpsons ever made.