Pool Table Cloth Care Guide
This is your one-stop resource for all aspects of pool and billiard cloth care. If you're looking for a quick answer on something specific, use the links below to find it.
Your pool table is a piece of precision gaming equipment, and the cloth is one of the crucial components. A cloth that has been looked after will provide years and years of accurate, enjoyable play.
Holes, threadbare patches, dried liquid stains and chalk build-up will all reduce performance. You may notice your balls start to travel slower, or veer off in different directions.
So to keep it in tip-top condition, follow our advice on how to care for your cloth, and you'll enjoy the best performance for much longer.
How to Brush a Pool Table Cloth
Brushing a pool table cloth, especially a napped cloth as used on British pool tables, is essential to maintain performance. The nap is the direction of weave, and it affects how the balls roll. Brushing also removes any chalk or dust, and keeps the cloth playing – and looking – great.
Brush gently, but firmly, in straight lines with the nap, from the baulk line and 'D' towards the spot. Brush under the cushions to dislodge any chalk dust build-up – again, in the direction of the nap. You can create a pile of dust at the end of the table ready to hoover up.
On an American pool table, the cloth is predominantly made of nylon and doesn't have a directional nap. So brush it in any direction you like.
See our pool table brushes here.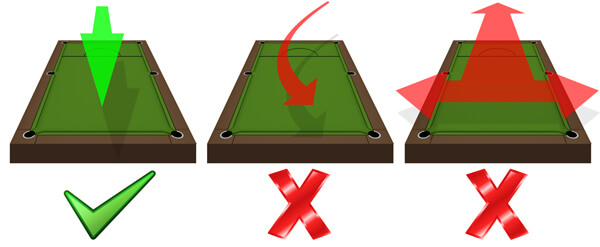 How to Hoover a Pool Table Cloth
You can gently use a hoover to clean your cloth and remove piles of dust you've made with your brush. A hoover can be really helpful across the rest of the table too, as it will dislodge dust and chalk that brushing might not reach.
You should use a very weak hoover on a low setting - the small handheld hoovers tend to be ideal. An extended nozzle will allow you to get right under the cushions. Move the hoover in similar ways to how you would brush the cloth (see above), in long, straight movements. Don't use circular movements or turn it around.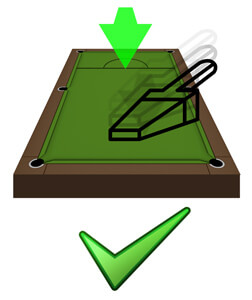 How to Iron a Pool Table Cloth
To ensure the nap on a British table is laying in the correct direction, real professionals can use a special pool table cloth iron to straighten it out. You should iron after cleaning and hoovering the cloth. Set the iron to a low-to-medium heat, allow it to warm up, and then use the iron at a 45-degree angle (this helps to avoid heat marks). Move it in straight lines in the direction of the nap, similarly to how you would brush it (see above).
Keep the iron moving and don't let it stop on the cloth, or you'll scorch it. Ideally you should use a purpose-made thermostatic iron like the one below.
American pool tables, with their nylon cloths, don't need to be ironed. In fact it's advisable not to, in case you melt the cloth.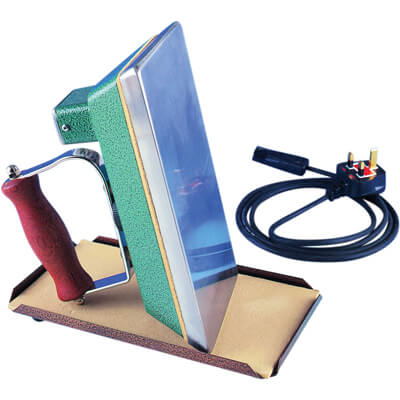 A special pool table cloth iron. (From £249.00) [ view in store ]
How to Remove A Stain from Pool Table Cloth
The best way of removing a stain from your cloth is not to get one in the first place. Keep your cloth protected and be careful with it. But accidents do happen, and if they do, all is not lost.
As soon as liquid is dropped onto your cloth, lay paper towels on it immediately. Lay the towels gently on the top of the spill and let them soak up the liquid. Don't press down – you might push the liquid further into the cloth. Keep changing the towels as they become saturated.
As the staining liquid is removed, start to gently dab the area with a damp towel (dampen it with water). Do not scrub at the stain, or push down on the towel hard. Once you've done all you can with wet towels, use dry towels to dab at the area and soak up all the moisture.
For particularly obstinate stains, you can try a solution of vinegar and water. Mix it roughly 50/50 and use a clean cloth to dab at the stain. If none of the above has worked, consider using a specially-formulated cleaning agent that is designed for pool table cloths, like the Ambersil Pool & Snooker Cloth Cleaner.
A quick reaction is key to minimising any staining – you need to jump on the spillage within seconds.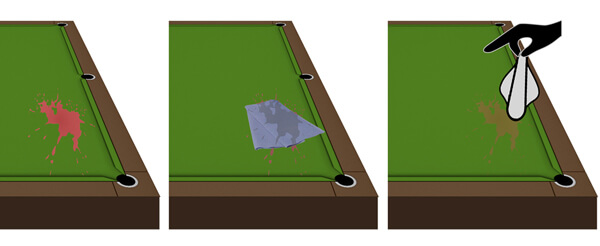 Minor Cloth Repairs & Plasters
Minor cloth damage, like a small hole from a miscue, can be temporarily repaired with a cloth plaster. These are strips of baize that are stuck over the hole. They're not perfect, but they will help to level out the hole and improve ball travel over the area, and of course they look a lot better than a hole.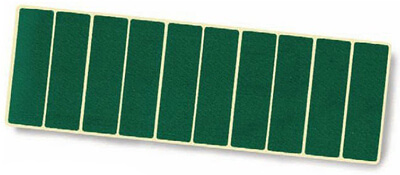 A set of cloth plasters for pool table repairs. (From £8.45) [ view in store ]
Cloth Recovering
If your cloth is just too threadbare, worn or damaged to use, then the only option is to have it professionally recovered. This could be a good excuse to try a different cloth – try one that's faster, or more accurate, or even just an unusual colour.
View our replacement cloth options and our cloth recovering services here.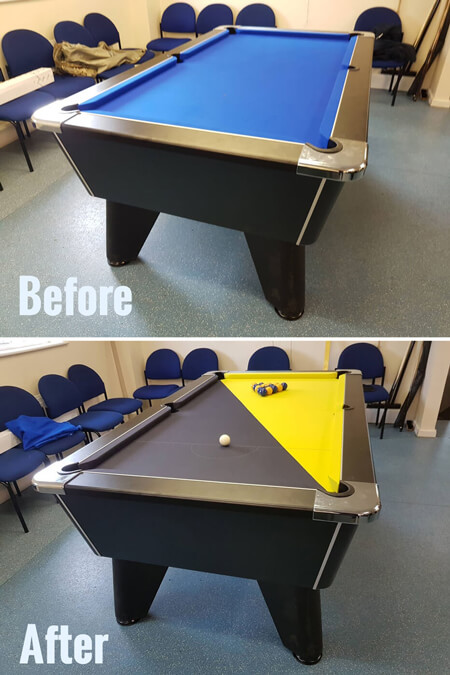 A pool table recovered with a custom cloth. (From £395.00) [ view in store ]
Covers & Tabletops
The best way to protect your cloth when not in use is to cover it up. There are a range of soft pool table covers available. These are fitted dust sheets, made to the approximate size of your table, that can be stretched over the table to protect the cloth from dust, UV rays and light spillages.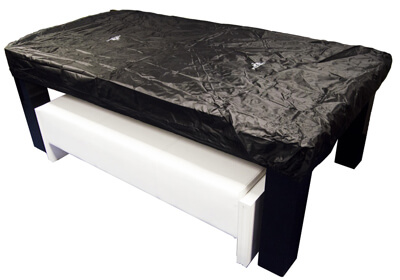 A pool table protected with a dust cover. (From £38.00) [ view in store ]
You can also buy hard pool table tops. These are usually made in two or three pieces, and are lifted onto the table when not in use. They are the best protection for your cloth and slate, and can double up as a useful storage space and even – if your table is suitable, with plenty of leg room – as a convertible dining top. You can see our range of pool dining tables here, and see our soft covers and hard tops here.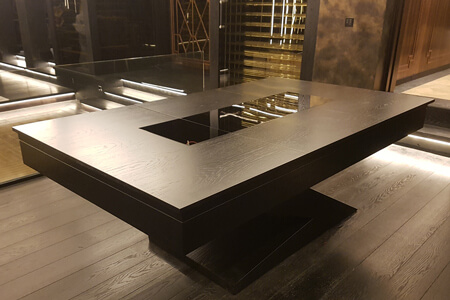 A Zen pool table with hard top. (From £7495.00) [ view in store ]
Avoiding Cue Tip Damage
Keep cue tips well-chalked to avoid miscues. Ensure tips and ferrules are in good condition, and replace if necessary. Buy spare cue tips and cue tip maintenance products here.
Other Pool Table Cloth Care & Maintenance Tips
Don't use the table with dirty hands. Oils and solvents can damage the cloth, so wash your hands thoroughly if you've just done an oil change on your car.
Periodically check your balls for chips, dents and damage. Chipped balls can wear the cloth prematurely. Clean balls regularly with an approved cleaning agent like the Aramith Billiard Ball Cleaner, and you can buy replacement pool balls here.
Replace your table spots regularly to avoid the cloth underneath being worn. You can buy spare table spots here.
Treat the cloth with care – don't pass heavy objects, liquids or anything else over it. Toss coins to one side – the sharp edge of a dropped coin can be enough to cut a cloth. And don't allow anyone to smoke over it. If you smoke, or some of your guests do, a nearby ashtray is essential.
This article was written by Liberty Games staff member

Sales Manager at Liberty Games. Pool table specialist & pinball wiz. Film & cinema nerd, with a mental database of every episode of The Simpsons ever made.