What's the difference between MDF & slate bed pool tables?
Your first big decision when buying a pool table is whether to opt for a slate bed or an MDF bed. But what does this actually mean?
Our helpful guide explains it all. Digest the whole thing at your leisure, or use the quick links to get a fast answer on something specific.
The bed is the main part of the table that makes the playfield. It is a flat, smooth surface designed to give a consistent ball roll in any direction. It is then covered in a pool cloth to add drag, and surrounded by bouncy rubber cushions.
What is an MDF Bed?
An MDF bed is a flat, thick piece of MDF. MDF stands for medium-density fibreboard, a material formed from wood chips that are shaped and bound with resin or wax, before being compressed to squeeze the air out in a mould. It works well as a billiard table bed because it is more dense than most other manmade wood composites, and the moulding process means that it's much easier to make completely flat.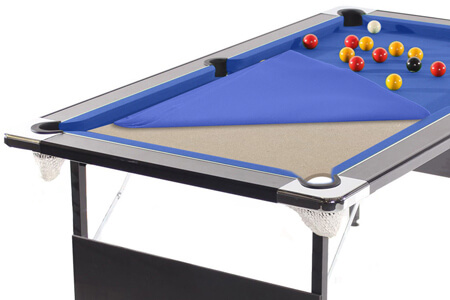 A pool table showing the MDF bed.
What is a Slate Bed?
A slate bed is a piece of rock slate, up to an inch thick, originally extracted from the earth in a slate mine. The rock is then machined and cut into shape before being mechanically honed to create a perfectly flat surface. It is then fixed into the cabinet of the table and covered with a cloth.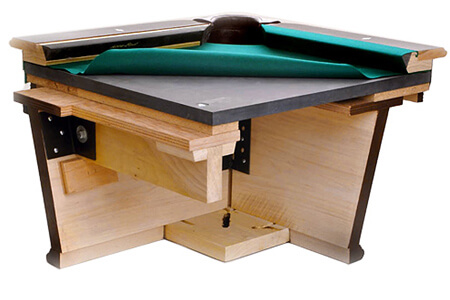 A pool table cutaway showing the slate bed.
Whilst most standard-size British pool tables use a single slate, some larger tables, like American pool tables and snooker tables, actually use a sectional slate. This is supplied in two or even three pieces which are fitted into the cabinet, and then glued into place by the technician.
What are the Benefits of MDF Bed Tables?
The benefits of an MDF-bed pool table are many. The first thing you'll notice is that they are much cheaper than slate bed tables, with even some 6-foot class-leading tables coming in at well under £400.
They are also built with lightweight materials. This means you can lift them up and move them around without difficulty. When fitted with folding legs, it makes them the perfect solution for places that are tight on space. When you've finished your game, simply fold it up and move it out of the way.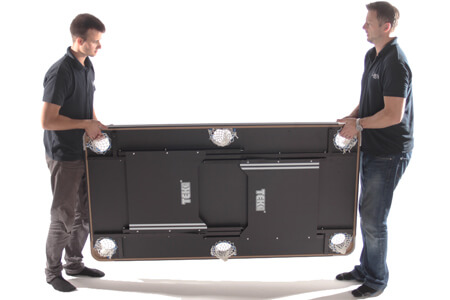 A Tekscore folding MDF bed pool table (From £299.00) [ view in store ]
What are the Drawbacks of MDF Bed Tables?
The only real drawback of an MDF table is in its performance. Whilst the composite beds produced by factories today are incredibly advanced, and some offer a quality of game that is approaching that of slate, there is still a trade-off between game performance on one hand, and cost/weight on the other.
You'll also find that your options are more limited. Most MDF tables come as a complete unit out of the box, which means that you won't be able to upgrade the cloth for better performance or to try a different colour, and you won't get some of the additional build options that you do on slate beds (like ball return systems, marine ply cabinets or interchangeable pocket liners).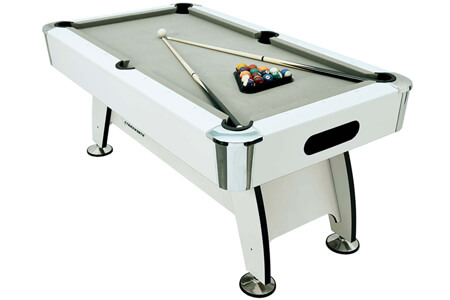 The Lynx Pro MDF bed pool table. (From £449.00) [ view in store ]
What are the Benefits of Slate Bed Tables?
The biggest single benefit of a slate bed is performance. All professional pool and snooker tournament tables around the world use slate beds, as the ball roll is considered to be perfectly true.
If you are a serious pool player practicing for a tournament, or a pub player who wants the same performance that you get in the bar, then a slate bed table will provide the game performance you're looking for.
As slate bed tables are real sports equipment, the components will be of the highest quality. Cushions will be tournament-grade for the best rebound response, and the cloths will be top-quality materials from the likes of Hainsworth or Strachan.
And you'll have much more scope to build a table that really suits you. You'll encounter a bewildering choice of sizes, finishes, cloths and styles. The thing to remember is that slate tables basically all offer a similar game quality, so your big decisions should be based on what you like the look of.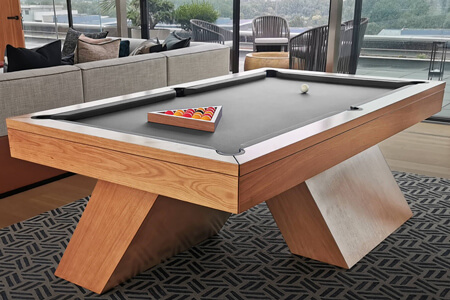 The Houdini luxury slate bed pool table. (From £8995.00) [ view in store ]
What are the Drawbacks of Slate Bed Tables?
Slate bed tables are heavy. There's no easy way of saying that. Even British 6-foot tables, the smallest slate beds, can weigh 250kg. So once they've been installed, they are best left in place – not only because they're difficult to move, but also because if moved by untrained people, the slate can slip out of alignment.
And they're more expensive, as the mining and preparation of rock slate is a long process, and tables are often made by hand by specialist craftsmen in small factories.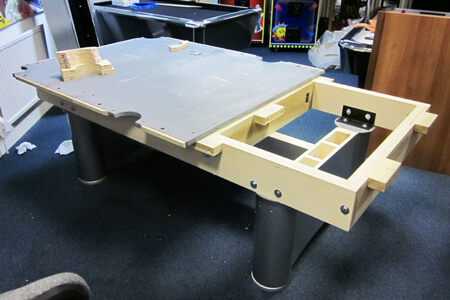 A sectional slate bed being fitted by a technician.
Summary
MDF bed tables, whilst not able to compete with slate beds in terms of absolute performance, offer the best value route to owning your own pool table. Affordable, flexible and still quite capable of hosting a good game, they're the perfect choice for many casual players, homes and families.
Slate bed tables offer the absolute pinnacle in game performance. But this performance comes at a price; not only in the purchase cost, but also in their inflexibility. If you have the space for a permanent table and you really do want the best tournament-standard gameplay, then only a slate bed will do.
View our full range of slate and MDF tables here.
This article was written by Liberty Games staff member

Sales Manager at Liberty Games. Pool table specialist & pinball wiz. Film & cinema nerd, with a mental database of every episode of The Simpsons ever made.