What room size do I need for my pool table?
So you want a pool table, but you're not sure where to put it? In this guide, we'll show you how to measure your room space, work out your required cueing space, and leave you able to commit to a pool table you know will fit.
We'd advise reading the whole thing so you're fully informed, but if you're looking for a quick answer on a specific problem, use the quick links to jump instantly to that section.
Overview
Pool tables come in a variety of sizes, which means you should be able to find the perfect one to fit your home. We explain exactly how to work out how much space you need for all the main table sizes, and provide suggested measurements to cater for a variety of cue sizes.
Cue Sizes
The length of the pool cues you want to use will dictate the space you have available for a table. Many British pool tables are supplied with medium length cues, measuring 48 inches in length. These are long enough for adult players to use, but taller players might want to opt for a full-size 57-inch cue. Shorter people and children will be fine with the 48-inch cues. Your height does affect the size of the cue you should use, as taller people tend to have a longer reach.

Cueing Space
Pool tables need to have enough space around them to allow for players to cue shots from any angle, ideally with a full-size 57-inch cue. This guide will help you to decide what table and cue size is practical for your room.
Ideally, we'd recommend that you have five feet of cueing room all around the playing surface of your table. This will allow you to play with a 57-inch cue without bumping the walls.
Typical Pool Table Dimensions
British 6ft: Popular in home games rooms as well as in pubs and clubs.
British 7ft: Full size eight ball tables as used in leagues and tournaments.
American 7ft: The smallest American table. Still larger than the British 7ft.
American 8ft: The mid-size American table. Very popular in the UK.
American 9ft: The full-size American table, large and impressive.
When a pool table is described as a 6ft by 3ft table, as in the 6ft British table shown below, those dimensions refer approximately to the total length and width.
Calculating the Space You Need
Follow the steps below to accurately calculate the minimum room size you need for your table and cue.
Measure the length of the pool cue you will use and double it. A standard 57-inch cue is 145cm in length, so when doubled, this measures 290cm.
Measure the playfield width from the inside edges of each cushion. In the case of our table below, the playfield width is 82cm.
Add the total playfield width (82cm) to the double cue length measurement (290cm) to create a final figure (372cm). This is the total minimum room width you need.
Repeat the exercise with the playfield length (again, measuring from cushion to cushion). In our case the playfield length is 160cm, so when added to the 290cm combined cue measurement, this gives you a length of 450cm.
Your final results are the minimum room dimensions you'll need to play your chosen table with your chosen cue.
You can see how to measure the table and cue below, and how to calculate the minimum room size you need. This shows how to measure the room width needed to install a typical British 6ft table.
All dimensions here are approximate, taken from various models within our range, and are not universal. You should carefully check the precise dimensions of the table you want and recalculate before buying.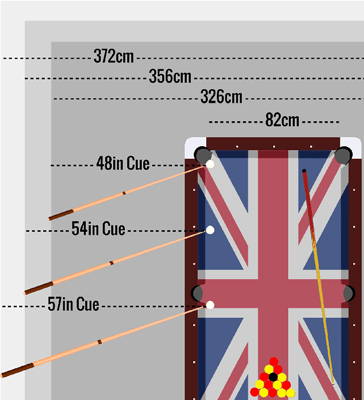 Ready to look at some tables?
We stock a huge range of pool tables, from 4ft kids' tables right through to American-spec giants of 9ft in length. So we're sure to have exactly the right one to suit the space you have available.
Furniture & Other Considerations
Furniture in your games room may or may not interfere with cueing. As a rule of thumb, anything taller than players' hips is going to interfere with the butt of your cue. But lower pieces of furniture, such as sofas or coffee tables, may not.
You should also ensure that any doors in the room have the space to swing fully open and closed.
Make any other considerations at this stage too. Perhaps you intend to hang a pool table light over the pool table, in which case you might want to locate the table under a light fitting. You may also want to position the table close to a window to maximise natural light.
Quick-Glance Dimensions Table
Use our dimensions table to calculate the best size of pool table for your room.
Remember that this is only a guide, and that you need to check your table's dimensions and use those for precise calculations. You can find the dimensions for each table at the bottom of our listings (under Product Detail).
Each column on the right shows the approximate minimum room size for the given table when using a cue of given length. We don't include 54-inch American cues here because they're almost never used.
Pool Table Room Size Guide (Imperial)
| Table Spec | Table Size | Playfield | 48" Cue | 54" Cue | 57" Cue |
| --- | --- | --- | --- | --- | --- |
| British 6' | 75" x 44" | 63" x 32" | 159" x 128" | 171" x 140" | 177" x 147" |
| British 7' | 84" x 48" | 72" x 36" | 169" x 144" | 180" x 143" | 187" x 150" |
| American 7' | 93" x 54" | 79" x 39" | 175" x 135" | n/a | 193" x 154" |
| American 8' | 102" x 59" | 88" x 44" | 184" x 140" | n/a | 202" x 158" |
| American 9' | 114" x 64" | 100" x 50" | 193" x 146" | n/a | 214" x 164" |
Pool Table Room Size Guide (Metric)
| Table Spec | Table Size | Playfield | 48" Cue | 54" Cue | 57" Cue |
| --- | --- | --- | --- | --- | --- |
| British 6' | 190cm x 112cm | 160cm x 82cm | 404cm x 326cm | 434cm x 356cm | 450cm x 372cm |
| British 7' | 213cm x 121cm | 183cm x 91cm | 427cm x 335cm | 457cm x 365cm | 473cm x 381cm |
| American 7' | 235cm x 136cm | 200cm x 100cm | 444cm x 344cm | n/a | 490cm x 390cm |
| American 8' | 259cm x 150cm | 224cm x 112cm | 468cm x 356cm | n/a | 514cm x 402cm |
| American 9' | 290cm x 163cm | 254cm x 127cm | 489cm x 371cm | n/a | 544 x 417cm |
Delivery
You should now have a good idea of which table will best fit your space, and which cues you can easily use with it. There's just one more thing to consider - delivery.
Even before assembly, pool tables are large objects. In most cases there's no problem whatsoever, but if the table has to go round a tight corner, up stairs or past obstacles, it's worth checking with us that it'll fit.
Contact our sales team for more advice on this or any other questions you have.
This article was written by Liberty Games staff member

Sales Manager at Liberty Games. Pool table specialist & pinball wiz. Film & cinema nerd, with a mental database of every episode of The Simpsons ever made.