Pool Table Buying Guide
Welcome to the Liberty Games Pool Table Buyer's Guide. Here you'll find everything you need to know about buying a pool table.
If you're looking for quick advice on a specific aspect, you can jump to the relevant section using the links below. If not, make a coffee, settle down and read the whole thing, and learn all about your exciting new purchase.
Sections in this video
11:56
American & British Spec Tables
15:09
Sports Tables & Pool Dining Tables
16:53
Delivery of Your Pool Table
Overview
A pool table makes a great addition to any space.
At home, it'll be the centrepiece of your games room, providing many hours of fun for your family, friends and visitors. At work, it makes a great distraction in your break room, where your employees and colleagues can decompress over a lunchtime game or compete in the office tournament. And in your venue, it will open a new income stream, keep your customers entertained, and boost the profile of your business.
But with so many models, styles and sizes to choose from, it can be a confusing purchase to make. Here we'll guide you through all the considerations and choices, the measurements and the options, so you can make the right decision.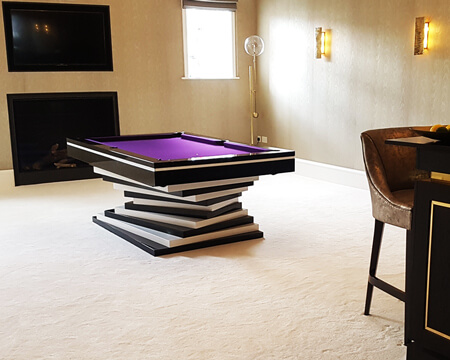 The Harmani luxury pool table (From £9995.00) [ view in store ]
Pool Tables for the Home
If you have the space, a pool table makes a great centrepiece in your home. You'll love being able to practice at every opportunity. Once home from work, simply grab a bite to eat and rack up those balls. Casual players and social butterflies might enjoy entertaining guests with a few drinks and a friendly tournament.
Your search for the perfect home pool table should start with the range of MDF pool tables available. These are fantastic value, well-made and many models provide a game experience that's almost as good as a slate bed. Some MDF tables fold away to save space, or convert into a dining table, or even, in a multi games table, combine pool with other games like air hockey, foosball or table tennis. Whilst ideal for families and children, they're also suitable for other light-use spaces such as shared houses or common rooms.
Serious players with deeper pockets will appreciate the performance of a true slate bed table. Under the cloth is a piece of honed, flattened rock slate, which gives true tournament-grade roll characteristics. If you are a serious player, perhaps in a pub team or practicing for a tournament, then slate is the bed material you need to look for.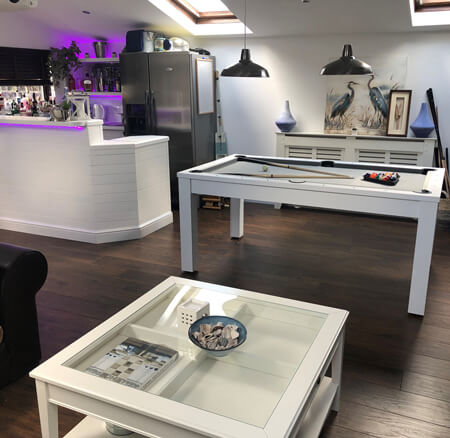 The Pureline MDF-bed pool & dining table in a home. (From £499.00) [ view in store ]
Pool Tables for Commercial Venues
For some time, the popularity of pool tables in pubs and bars has been on the wane. But with the advent of the metropolitan bar and the explosion of fashionable craft drinks, games tables are making a comeback - helped along by some truly modern technology like contactless payment systems, which do away with some of the historic annoyances of operating a pool table by removing the need to store cash, and minimising any operator maintenance.
Pool tables can be a real hit with your regular visitors, especially if you set up a friendly league or start a pub team. You'll get plenty of returning visitors who will spend longer in your venue (spending more money on drinks or food) and people will love Instagramming their winning shots – and giving you free publicity in the process.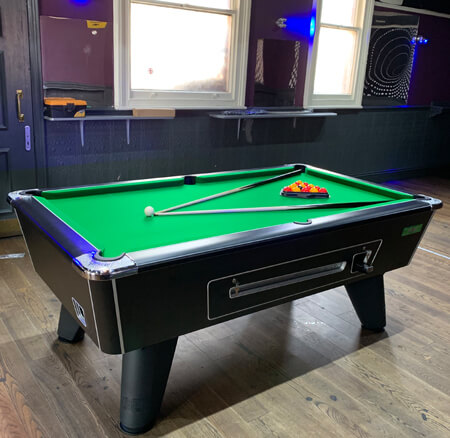 A coin-operated Supreme Winner installed in a bar (From £1345.00) [ view in store ]
Pool Tables for Your Office
A pool table makes a great addition to your office breakout area. It will keep your employees entertained, motivated and makes a great social centrepiece for lunch breaks. Read more about pool tables in office breakout areas here.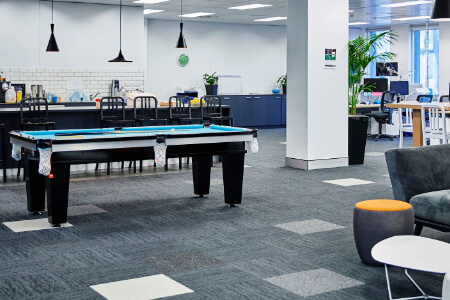 What's the Difference Between Slate Bed & MDF Bed Tables?
The bed is the part of the pool table that forms the playfield. It is covered by a cloth and creates a flat, consistent surface on which to play. Slate beds give the best performance and game experience, and are made from real rock slate. The slate is mined before being cut to size and then carefully honed to make it perfectly flat.
Some larger tables, like American 8ft or 9ft tables, feature sectional slate beds. This is a bed made of two or three sections which are carefully joined by technicians during installation. Smaller tables, like British 6ft or 7ft tables, feature a single piece of slate, making these easier to handle and install.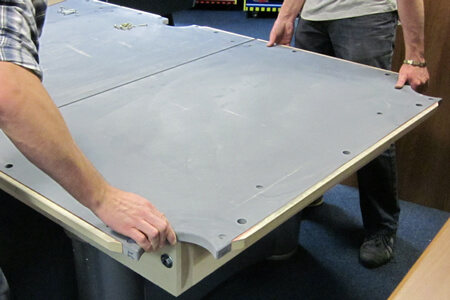 Part of a sectional slate bed is lifted into a table
MDF bed tables are generally aimed at home games rooms, and are ideal for fun games with friends or family members. The game experience isn't quite as good as with slate, but the benefits include light weight, low cost and the addition of household-friendly features like folding systems and multi game systems.
Read more about the differences between MDF and slate bed tables here.
What's the Difference Between British & American Tables?
British pool and American pool are different games. The basic rules are similar, but the tables play in different ways. British pool tables tend to be smaller, usually 6-foot or 7-foot. They have narrower pockets with rounded corners, and squared-off cushions. They're fitted with a woollen cloth that drags on the ball, making the game slow, steady and tactical. Most pub tables in the UK are British tables.

British (left) and American (right) billiard cloths
American tables tend to be larger, from 7-foot to 9-foot. The cloth is a low-friction nylon and the pockets are wider, with sharp edges. The cushions are also sharp, giving a different kind of rebound. American pool tends to be fast and powerful, with plenty of long shots.
Game accessories differ too. American pool balls are larger, usually 2 3/8-inch in diameter. British balls are 2-inch in diameter. The cues are similar, but the tips of American cues are bigger – usually over 1cm in width. British cue tips are smaller, usually somewhere between 7mm and 9mm across.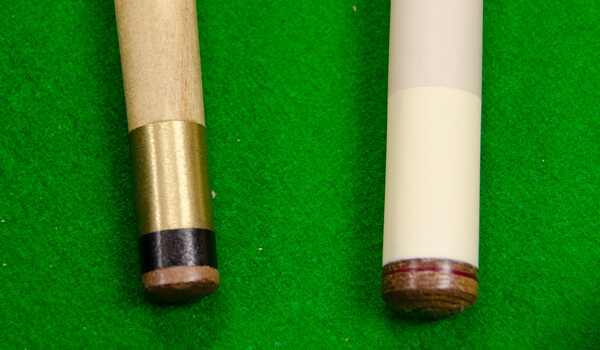 British (left) and American (right) pool cue tips
You can read more about the differences between American and British pool here.
How Much Space Will I Need?
Pool tables take up a lot of space, partly because they require access from all angles with plenty of cueing room.
At 6ft-7ft in length, British tables are more compact, and perhaps better suited where space is limited or where multiple tables are to be installed.
At up to 9ft in length, American tables need lots of space for a good game.
You should add the length of your cue to the depth and width of your table for a rough guide on space. So if you have a 6ft British pool table with a playfield length and width of 82cm x 160cm, you will need a room of at least 372cm x 450cm if you're using a standard 57-inch (145cm) pool cue.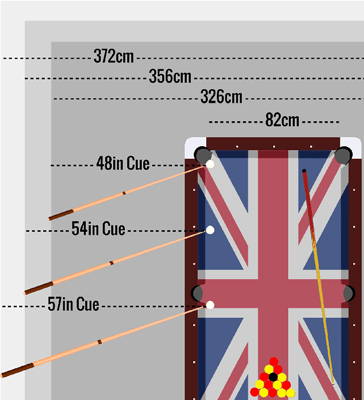 Learn more about the calculations you need to make in our detailed Pool Table Room Size Guide.
What Different Styles of Pool Table are Available?
Slate bed pool tables come in all shapes and sizes, but they play very similarly. Apart from the differences between British and American pool discussed above, there's little game difference between the styles, so you should base your choice on what you like the look of. Some of the more popular styles include:
Modern
Modern pool tables are built to look at home in any modern space. Subtle styling and minimalist shapes make these the choice of many homeowners. A wide choice of finish and cloth options means that most can be adjusted to build your own dream table that matches your environment perfectly. Browse our modern American pool tables.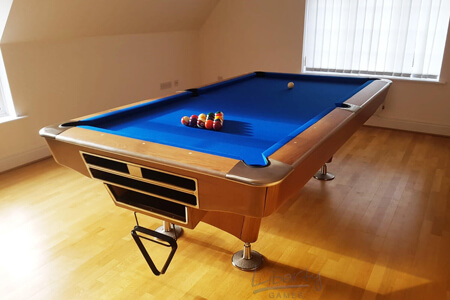 An LA Pro modern American pool table (From £3395.00) [ view in store ]
Dining
Pool dining tables are usually modern in style, but feature a very shallow cabinet. This is designed to give plenty of space underneath, so that chairs and legs can fit with plenty of room for hungry dogs and maybe some footsie.
These tables are very popular in homes, as they are true dual-purpose, convertible pieces of furniture. After finishing your game, you can fit the table tops and sit down for a meal at the same table within minutes. Some high-end tables have different systems, like the VIP table which features a full rotating cabinet, or the Chevillotte Very, which features special fold-out tops. See our pool dining tables here.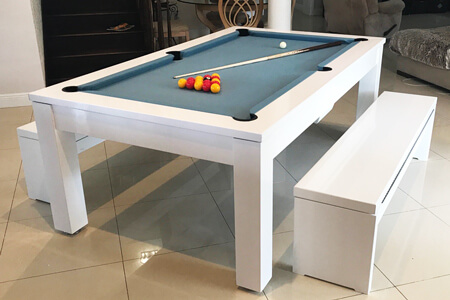 A Phoenix slate bed pool & dining table with matching benches (From £3695.00) [ view in store ]
Luxury
Luxury tables represent the most decadent materials and stylish designs available. If you want your pool table to make a statement and add a mic drop for good measure, you should start in our Luxury Pool Tables department.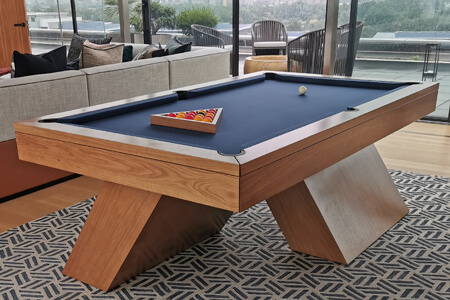 The Houdini luxury slate bed pool table (From £8995.00) [ view in store ]
Traditional
Traditional pool tables feature ornate styling and natural build materials, including a range of wood timbers and veneers. Often they are decorated with carved legs or cabinet sides, creating an effect intended to be reminiscent of the billiard lounges of yesteryear. Check out all the finest traditional American pool tables here.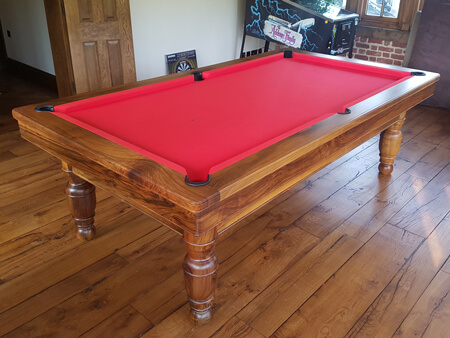 A Chevilotte Perigord traditional slate bed pool table (From £12995.00) [ view in store ]
Outdoor
Outdoor tables are similar in style and performance to their indoor siblings. The big difference here is in the materials used. Usually, a specially-treated wood cabinet and legs are designed to be resistant to the effects of weather, such as rot or warping. Many are also treated to be resistant to UV rays, which can discolour paint and varnish, and all are fitted with weather-resistant cloths. You can see our outdoor pool tables here.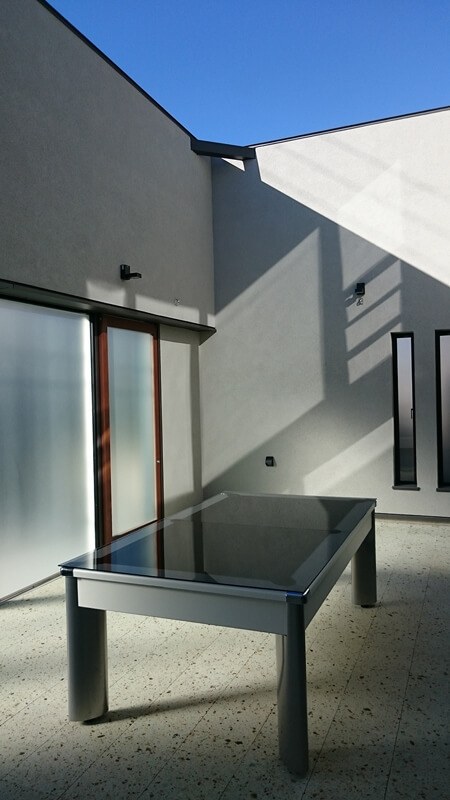 A Fusion Outdoor pool table with glass cover (From £2099.00) [ view in store ]
Which Cloth Should I Choose?
Most slate bed pool tables come with a cloth fitted. This will be fitted to the slate prior to installation. You should expect prestigious brands like Hainsworth, Simonis or Strachan to be used, to be sure of getting the best play experience. As mentioned earlier, American and British pool cloth is quite different – your table should come with the correct spec cloth.
You may be able to request an upgrade to a higher quality cloth. Most slate beds already come with a high quality cloth fitted, so an upgrade may only be of interest if you are a professional or tournament player.
You'll also be able to choose a colour. Most commonly, a handful of standard colours are included in the price, with a wider range of 'premium' colours available for a small surcharge. The colour you choose is entirely up to you and the environment you're matching your table to, although some research indicates that blue cloths strain the eyes least.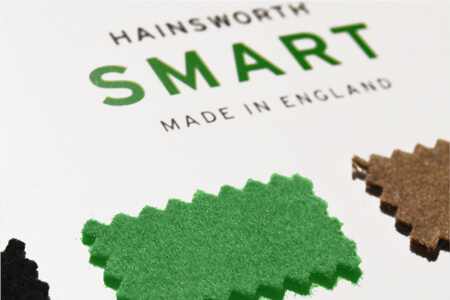 A swatch showing Hainsworth Smart cloth colour options (From £125.00) [ view in store ]
Most MDF tables have a cloth pre-fitted during manufacture. You may find you have a choice of cloth that changes with your chosen table finish.
What Other Options Are There To Consider?
Depending on the table you choose, you may get some other options to consider.
Pocket Style
Most British tables come with pockets that are linked via an internal ball return chute, returning balls to one end of the table after potting. On a coin-operated table, the chute is split into two parts, one of which returns coloured balls to the ball drawer ready for the next coin, and the other of which returns the white to the end of the table ready for respotting.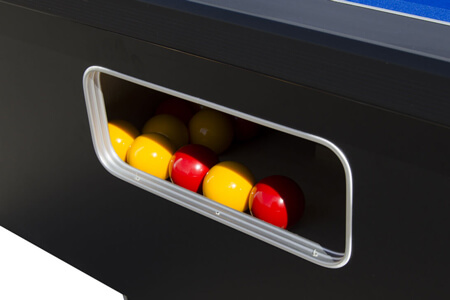 The ball return system on a Club English pool table (From £1295.00) [ view in store ]
Many American tables come with simple drop pockets. More similar to snooker pockets, these simply fill with balls as they're potted, ready for recovery at the end of the game. Some American tables may have ball return options, but you should certainly check if this is a deal-breaker for you.
Foot & Slate Adjusters
Almost all pool tables, even the most basic MDF-bed ones, require level adjusters. These are often simple threads that allow you to easily adjust each foot of the table to get it perfectly level.
Some high-end tables have slate adjusters, either as well as or instead of foot adjusters. These allow operators to carry out very precise levelling at various points around the slate, to get the best possible results.
Folding Systems
Folding pool tables are limited to MDF-bed designs, mainly because the weight of a slate bed makes it very difficult to fold the table body. Folding tables usually have retractable legs that fit into the underside of the table, enabling you to slide it up against the wall or under a bed for storage.
What Commercial Options Are There To Consider?
As a commercial operator, you should definitely consider how you'd like to spec your table. Most commercial tables take payments in return for game credits. Here you have three basic options:
Mechanical coin mech.
Mechanical coin mechs are very basic. You insert the required coins into a slide, which is then pushed into the table. Once the coins have fallen through, the balls are released. After each ball is potted it goes into the ball drawer where all are eventually collected during the course of the game, until the next coin is inserted.
The benefits of mechanical coin mechs include easy maintenance. These are basic pieces of equipment that can be maintained with a few tools and an instruction manual. Easily change your price of play, collect coins or set to freeplay in the space of a few minutes. As they're fully mechanical, they also don't require mains electricity or a battery pack to operate.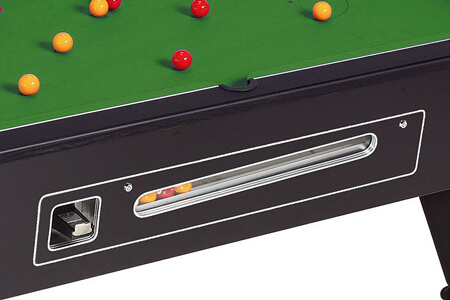 A mechanical pool table mech.
Electronic coin mech.
Electronic mechs are more modern. Simply insert the coins, push a button and the balls are released. The benefits of electronic units include the opportunity to harvest data on how many games are played, and the ability to take any combination of coins to make up the price of a credit.
You can also easily reprogram the unit to change the credit price, and operation is much quieter than a mechanical mech. However, a power supply (either a mains supply or a battery pack) is required.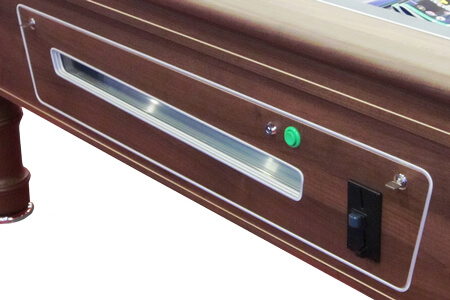 An electronic pool table mech.
Contactless mech.
Contactless mechs are very new in the world of pool tables, but are perhaps the easiest to operate. Customers simply tap their contactless cards or mobile phones to buy a credit instantly, which automatically releases the balls for one game.
The benefits are plenty. With no cash stored in the table, you don't have to worry about security. The units are highly programmable, with options for marketing discounts, promo messages and plenty more. And the unit is linked to your bank account, so all takings are deposited directly into your account on a regular basis.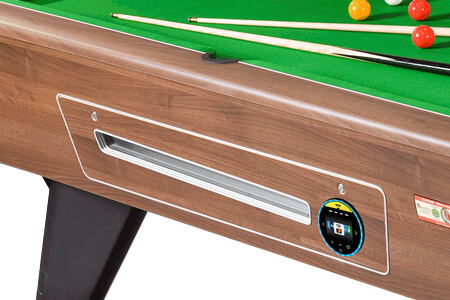 A contactless pool table mech.
Other commercial options.
You might also want to consider other commercial accessories such as light meters, just to get the best out of your venue's new table.
You can browse our selection of coin-operated pool tables here, read more about contactless pool tables here, or read about how much you can expect to earn from installing a coin-op pool table here.
Other Games
You can play other games on a pool table – not just pool!
A popular – and cheap – upgrade for a pool table is to buy a set of snooker balls. You need to make sure they're the same size balls as your usual pool balls, so that they fit in your pockets and ball chutes easily. Then you can swap your pool balls for a fun game of snooker whenever the mood takes you.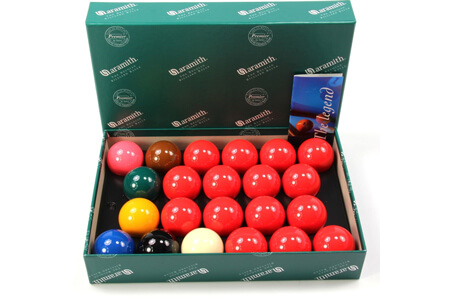 A set of 2-inch snooker balls, suitable for a British pool table (From £69.99) [ view in store ]
With a slightly larger outlay you can get a table tennis top. This simply sits on your pool table and creates a table tennis playfield, complete with a net. It's a great way to get extra game time out of your space.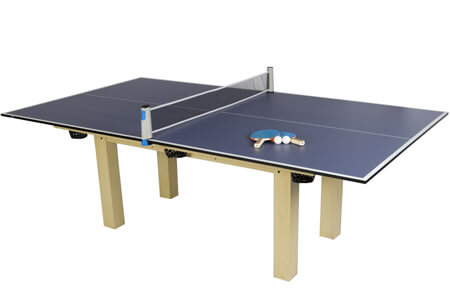 A table tennis top on a pool table (From £159.00) [ view in store ]
You can also play table bowls. This is a small-scale reproduction of a set of bowls, designed to be used on a pool table cloth.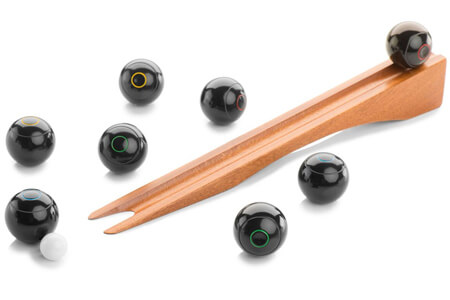 A set of pool table bowls (From £269.00) [ view in store ]
Accessories
Every new pool table comes with all the accessories you need to start playing. This usually includes two cues, a set of balls, a triangle and some chalk. Depending on the table you choose, you might get extra accessories intended to help you enjoy your games and take care of your table.
You can see our full range of pool and billiard accessories here.
Delivery
So when you've bought your table, when can you expect to get it? We hold a vast range of MDF bed tables, as well as a selection of popular slate bed tables, in stock, ready for dispatch. In these cases you should expect to receive your table within two weeks.
Most slate bed tables are made to order, in which case the lead time can vary up to two months or so.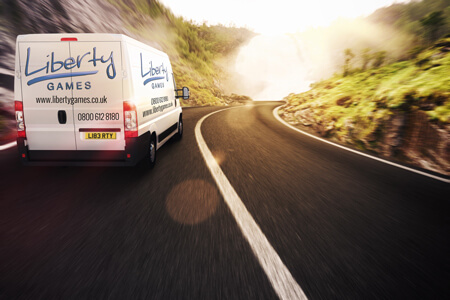 The Liberty Games van on an urgent delivery.
When the table arrives, you need to ensure that you have space to receive it. We don't just mean fitting it through the front door, but also carrying it along any corridors, around sharp bends or other difficult areas. If in doubt, send our sales staff a few images of the route for advice.
On some tables there is the option to have the table taken up or down stairs for a surcharge. The charge applies to one flight (ie onto the next floor).
Read more about our site-wide Free Delivery Promise here.
Installation
British slate bed pool tables come with an install option. You can choose to install it yourself, or pay a small charge for our technicians to do it for you. It isn't a hard job, but manhandling a 6-foot piece of slate can be difficult if you don't have lots of helpers, and fitting the cloth can be tricky.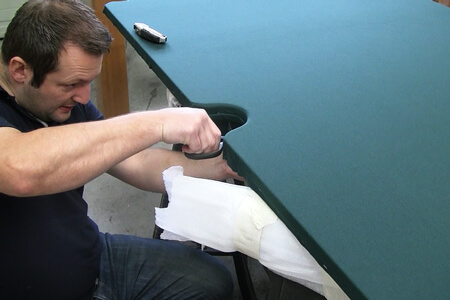 Fitting the cloth to a slate bed.
American pool tables come with installation included. This is because the correct joining of sectional slate beds is a complicated procedure and is best left to the professionals.
MDF-bed tables rarely offer installation, because these tables are designed to be easy to build at home. You should just need a basic tool kit and a couple of spare hours to put yours together.
Go Buy a Pool Table!
Now you should be fully equipped to choose the perfect table for you. It's time to doublecheck your measurements and buy the one that really suits your space from our vast online pool table shop.
And as always, if you need further advice, our sales staff are ready to help you with your decision. Contact us now with any queries!
This article was written by Liberty Games staff member

Sales Manager at Liberty Games. Pool table specialist & pinball wiz. Film & cinema nerd, with a mental database of every episode of The Simpsons ever made.