Pool Table Recovering
Is your cloth fading, threadbare or not performing well? We can recover it in any cloth you want, with a range of brands and colours to choose from.
Our experienced technicians will visit your home or premises with your choice in cloth, before carefully removing the old cloth and applying the new. Give your old slate bed table a new lease of life!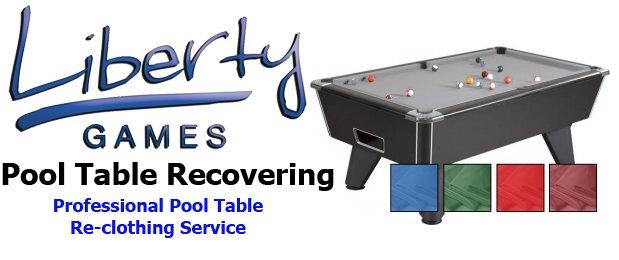 Liberty Games provides a dedicated pool table recovering service that will professionally transform your table!
Is your billiard table looking a little worn? Perhaps there's been a minor accident resulting in a tear or score mark? Liberty Games can help!
Our service includes the following:
A dedicated team will carefully remove the existing cloth from the slate bed and the cushions
They will clean the slate and cushions in preparation for the new cloth
The cloth will be stretched over the slate and a new baulk line and spot position will be marked
The cloth will be brushed, the cushions refitted and the table will be professionally levelled
Additional services:
We can arrange for your table to be recovered with a custom cloth colour or branded cloth. This service is available price on application, please contact Liberty Games for a quote by telephone on 0800 612 8180 or email at [email protected]
How to arrange your cloth recovering online:
Step 1: Click on the map below & identify your Zone number
Step 2: Scroll down to the bottom of this page and select one of the three services available depending on your table type and size
Step 3: Make your choices from the customisation menu on the right hand side & add to basket
If you are at all unsure of your table size or type please phone one of the Liberty Games sales advisors who can assist you in booking your pool table recovering service on 0800 612 8180.
Liberty Games specialises in the repair and recovering of pool tables and snooker tables and will provide all the materials needed to recover scratched and worn pool table covers.
New cloth is stretched and fitted to the slate playing surface
Previous Slate Recovering: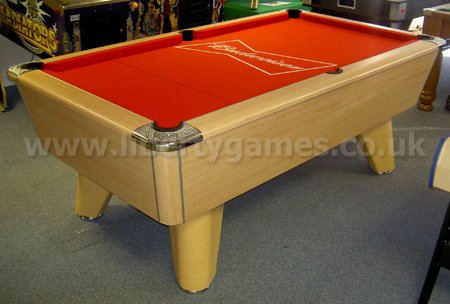 Supreme Winner pool table custom budweiser cloth recovering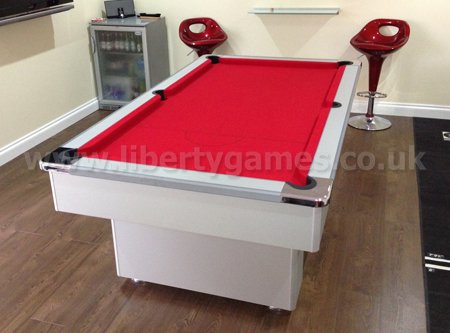 Slimline pool table with Red cloth recovering