Pool Tables Birmingham
Birmingham is perfectly situated for speedy delivery of your pool table - some in under 48 hours!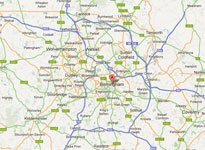 Situated in the midlands, Birmingham is perfectly situated for speedy delivery of many of Liberty Games's pool tables. One of our main distribution warehouse is located just outside of Birmingham, meaning you pool table can be with you super quick.

Our specialist pool table installation teams are in Birmingham every couple of days, and many of our boxed fun and family tables can be with you in 48 hours – much quicker than any other pool table which can be ordered online in the UK!

Birmingham Pool Table Customer Focus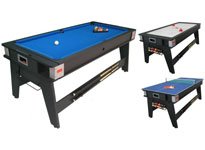 Customer: James T.
Product: Strikeworth 6' Multi Game Table

James was looking for a fun addition to the 6th form common room at the school where he worked. As budget was limited James needed to ensure he got the best value he could, and was ideally looking for a multi-games table to offer as many options as possible.

After speaking with our advisers James ended up choosing the Strikeworth 6' Multi Game table. This great table actually has three games in one (pool, air hockey and table tennis) at the price of a single table.

The 6th formers love the table and it's proved a real lunchtime hit! Of course the table was delivered to the school within 48 hours of the order being placed with Liberty Games.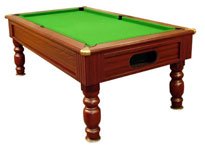 Customer: Alistair H.
Product: Buckingham Pool Table (slate bed)

Alistair was looking for a table with a more traditional look, and found that the Buckingham fitted the bill. With its turned leg and choice of more authentic choice of finishes the Buckingham is a classically styled pool table – but manufactured using the latest techniques.

These tables are extremely popular with pubs and clubs and certainly have the classic pool table look.

Alistair opted for a combination of cloth and finish which were a bit unique, so not held in stock by Liberty Games. This meant his table was bespoke built to order (at no extra cost), which although the lead time was extended a little, the whole process was managed by Liberty Games to ensure his table was delivered in as short a time as possible.

Huge Selection Of Tables

Liberty Games has, we think, the biggest selection of pool tables to buy online in the whole of the UK – if you can find a table we haven't got, we'll get it for you, and get it cheaper!

Of course our entire range can be delivered to Birmingham, and as mentioned, due to Birmingham's central location, these can be delivered extremely quickly. To get started – take a look at our range of pool tables – and go from there!

If you have any questions, or need to speak to anyone, please call one of our sales advisers free on 0800 612 8180.