Pool Tables Bristol
Bristol is well served by our two-man specialist pool table delivery teams, so you won't have to wait to start playing on your brand new pool table!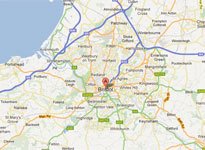 Bristol has had a historic link with both billiards and coin operated equipment, in fact Strachan West of England Pool Cloth is one of the world's best known brands of pool cloth, and is the official pool cloth of the International Pool Players Association and the World Eightball Pool Federation.

With such a heritage it's no surprise that Liberty Games supply hundreds of pool and games table to Bristol every year. Our delivery and installation teams are in the Bristol area every few days, so if you choose a slate bed pool table that is in stock we can have it with you in under two weeks – much quicker than any of our competitors.

Alternatively if you are looking for one of our boxed pool tables, such as the Strikeworth Multi Game or the Pro American Deluxe then we can have the table delivered, or delivered and installed to your home or business within 48 hours!

Bristol Pool Table Customer Focus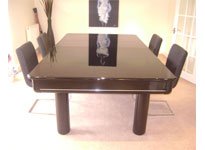 Customer: Najeev F.
Product: Longoni Elegant 8' (American Style Pool Table)

Najeev came to Liberty Games looking for something special – he wanted a table that was a cut above the rest – something that was as much a beautiful piece of furniture as it was a games table. Najeev was also looking for an American style table (American tables have bigger play surfaces and pockets – for more information please read our FAQ).

After browsing online Najeev spoke to Chris, one of our sales advisers who was able to suggest the Elegant pool table. After Najeev had seen some pictures and we had sent him some cloth samples in the post, he decided to go for the 8' Elegant table with camel cloth – and we have to say, we were and are still quite jealous – the table look amazing!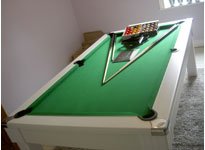 Customer: Sarah S.
Product: Windsor Pool Dining Table

Sarah was looking for a pool table as a surprise present for her husband to go into their new home, she knew he loved pool, and that they needed a new dining table (although they weren't going to buy one until after Christmas), which gave Sarah the perfect opportunity to surprise him on Christmas day!

Pool dining tables allow you to kill two birds with one stone – the table has a slightly slimmer body so that there is room for diners to fit their legs underneath. This was the perfect fit for Sarah as it allowed her to not only solve the dining table problem but also give her husband a little surprise!

The table was installed while her husband was at work, and a cloth put over the top so it appeared as a normal table. It was only on Christmas morning when the dining cover was removed that her husband Chris knew what she had been up to!

Huge Selection Of Table

Maybe you are like Najeev or Sarah above, or maybe you are looking for a different type of pool table. Either way Liberty Games can help! All of our huge collection of pool tables can be delivered to Bristol, including surrounding areas such as Weston-super-Mare and Thornbury – in fact pretty much anywhere!

Where From Here?

Why not click here – this will take you to our pool table department where you can browse the different types of table we sell. Need help? Then why not call one of our pool table sales advisers free on 0800 612 8180.