Pool Tables Manchester
In Manchester you are perfectly located to have your pool table delivered and installed in no time.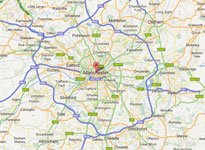 Manchester has a historic link to the pool table industry, factories which have built some of the most popular and iconic English pool tables were (and in some cases still are) located in Manchester.

Pool is still an extremely popular game in Manchester, and it's certainly one of the more popular destinations for our brand new pool tables, of all shapes an sizes, but especially our English slate bed models.

As a major city Manchester has it's fair share of apartment living and congested roads, however our experienced delivery and installation teams are very used to this and take it in their stride. Slate bed tables can be delivered within a couple of weeks (if they are held in stock) and boxed tables within 48 hours if necessary.

Manchester Pool Table Customer Focus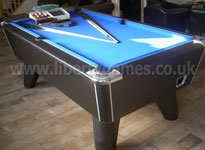 Customer: Mike P.
Product: Supreme Winner (Pub Style Pool Table)

Mike was looking for a classic English pool table look, and for that you can't beat the Supreme winner. Mike ordered directly online, using Liberty Games's unique pool table configuration utility to choose his exact cloth colour and table finish, and was able to see the final look before buying.

Our bespoke white-glove installation team are in Manchester every few days, so Mike didn't have to wait too long until he could have his table professionally installed and leveled in his home. When we last spoke to Mike he let us know that the table was still looking, and most importantly, playing great!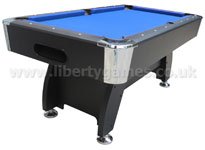 Customer: Paula K.
Product: Strikeworth Pro American Deluxe Pool Table

Paula was looking for a fun table to give as a present to her two children (aged 12 and 16) for Christmas. As with most children Paula wasn't sure exactly how much usage the table would receive, she knew they would like it, but didn't want to have a slate bed table installed if there was a chance it would just end up getting in the way.

So after speaking with one of our fully trained sales advisers Paula decided to opt for the Pro American Deluxe – one of our higher end MDF tables, with minimal construction, quick 48 hour delivery and above all great cushion response and play. That way if they kids love pool (and if they are good) they can upgrade to a slate bed table in a few years time, if not the table can easily be moved somewhere else.

Huge Range of Tables

Don't forget Liberty Games don't just sell pub pool tables and MDF home pool tables, we have a huge range of high-end American pool tables, as well as space saving pool tables and many more! In fact we think we have the UK's biggest range of pool tables for sale online, and like Paula if you need any help choosing which table is right for you then please give one of our specialist advisers a call for free!

Where Do I Go From Here?

Why not click here to go to our pool table department and start choosing which table is right for you.