Pool Tables Nottingham
People in Nottingham love pool tables! And Liberty Games loves Nottingham, with our delivery and install teams visiting the city on a regular basis.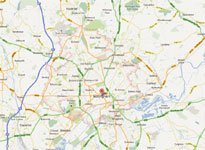 Nottingham is an extremely popular destination for Liberty Games's pool tables – whether it's gracing the lounge a student house with one of our great value MDF bed tables, or a full-blown luxury American style table for the discerning customer – Nottingham as seen the lot!

Nottingham's great location right next to the M1 motorway makes deliveries from one of our many UK-wide delivery hubs an extremely speedy affair, with boxed games tables arriving in no more than 48 hours and slate bed tables (that are in stock) not taking too much longer.
Nottingham Pool Table Customer Focus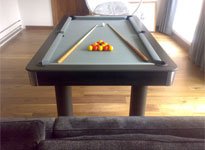 Customer: Mr & Mrs Graves
Product: Longoni Red Devil (American Pool Table)

The Graves's were looking for a higher-end pool table to take centre stage in their new town house near the city centre of Nottingham. They were attracted to the Red Devil by its striking looks and American size pockets.

Like all our American pool tables, we used a specialist American pool table installer who is experienced in working with these larger tables, which often come with three-piece slates as opposed to the standard British style one-piece slate. The table was professionally installed in a couple of hours, and we think it looks just great.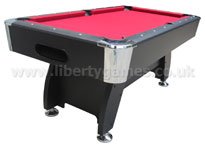 Customer: Harry, Lucy, Chris & Paul
Product: Pro American Deluxe Pool Table

This bunch of astute students had their eye on the Pro American Deluxe before they even left halls, and when the day came when they were given the keys to their student house they didn't waste any time in ordering up one of these great value tables.

As one of our boxed items the table was with them before the end of the week, and as the Pro American line, like all Strikeworth games tables, requires the minimum of assembly there was plenty of time for studying/drinking instead of building! The Pro American was also the star of the show at their house-warming party, and continues to serve them well (please note like all good students they never got round to emailing us a photo of the table in situ).
Many Different Types of Table
Don't forget Liberty Games can have many of our pool tables delivered, and installed if required, to Nottingham with the minimum of fuss and delay. If you have a specific time for delivery or installation requirement then please contact Liberty Games directly to discuss the matter further with one of our full trained sales advisers who will be more than happy to help.