Pool Tables Poole
Poole is well situated for quick delivery of your pool table - some in under 48 hours!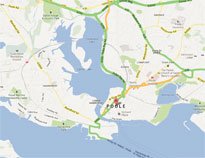 Poole has some of the best beaches in England, and a truly eclectic outdoor and water sports scene. However, when the sun goes down, you'll find that the game of pool is also enjoyed here, with the town having a number of competitive leagues going on year round. So, in the day you'll find people water-skiing or sailing, and then in the evening either going to the bar or home for a game of pool.

Thanks to Poole being close to the M3; being connected by the A31, and close to London, it's easy for us to get pool tables to you quickly. Our own in-house delivery team is well experienced to ensure that your pool table of choice arrives without delay and complications, and we only use the best couriers available.

We will deliver your product far quicker than our competitors! For example, if you choose a slate bed pool table that is in stock we can have it with you in less than two weeks. Alternatively, our boxed games tables can also be with you within 48 hours, stock allowing.

Poole Pool Table Customer Focus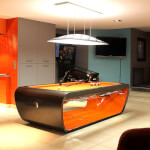 Customer: Stacy B.
Product: Billard Toulet Blacklight Pool Table

Stacy and her husband have a beautiful modern home on the waterfront in Poole. Their home has won many awards for contemporary design and is truly a wonderful example of modern architecture. However, having such a home made it difficult for the couple to decide upon a pool table. Both enjoy playing the game, but they needed to find something a bit different! A traditional pool table would just not suit the interior of such a modern home.

Stacy phoned Ian, one of our experienced customer sales advisors, and explained the situation. Ian immediately knew exactly what type of table would complement such a home, and suggested the Billard Toulet Blacklight table. The Blacklight table is designed in partnership with the Higher Institute of Design and provides the latest in form and design. Stacy was excited by this table, and wanted to explore various colour options before deciding. Using Liberty Games's unique pool table configuration utility she was able to choose her exact cloth colour and table colour and see the final product before ordering. Not only do Stacy and her husband have an award winning house, they also now have the ultimate luxury pool table too!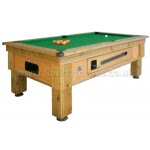 Customer: Russell C.
Product: Rustic 7 foot Outdoor Slate Bed Pool Table

Russell and his wife have a truly wonderful garden in their home in Poole. Both are retired and the main social focus of their life now is the weekend family get together, with their children and grandchildren. Over the years Russell has had decking put in, an outdoor Jacuzzi and a state-of-the-art barbecue. They felt it would be fun for themselves and their extended family if they got an outdoor pool table. Russell specifically wanted something that would go well with the decking. While browsing on our website, Russell spotted the Rustic 7 foot pool table. Being constructed from decking material made it the perfect companion piece to his outdoor area.

Now Russell and family have even more fun when they get together to have their weekend barbecues! We recently spoke to Russell, as we had to replace a cue ball one of his grandchildren lost. He says that the table works perfectly, and the only problem is keeping order on the weekends when everybody wants to play at the same time!

Great Range Of Tables

We are proud to have one of the largest selection of pool tables in the UK, all of which can be delivered to Poole, and most of which within a week or two – with many within 48 hours. Why not take a look at our entire range of pool tables to see what kind of table would suit you, and of course if you have any questions please call the team free on 0800 612 8180.