Buying Advice

Table Tennis

(2)

>

Accessories

(2)

>

Air Hockey

(13)

>

Arcade Machines

(3)

>

Commercial Equipment

(3)

>

Jukeboxes

(9)

>

Multi Games

(2)

>

Pinball

(5)

>

Pool Cues

(3)

>

Pool Tables

(20)

>

Shuffleboard

(4)

>

Snooker Tables

(7)

>

Table Football

(7)

>
Table Tennis Table Buyer's Guide
So you've decided to buy a table tennis table. But there's a diverse selection of tables available from world-class manufacturers, each with different features, purpose and price point.
This guide helps you decide exactly what you need and what to look for. If you're looking for a quick answer on something in particular, use the quick links below to jump to the relevant section.
This popular sport has seen a boost in popularity over the last few decades, particularly since becoming an Olympic sport at the Seoul 1988 Summer Olympic Games.
It's great for fitness, hand-eye coordination and dexterity, making it popular as a sport and also as a fun game played with friends or family. If you've decided that what you really need is your own table, we're here to help you make the right decision.
Indoor or Outdoor?
Your first big decision is whether to buy an indoor or outdoor table. Outdoor table tennis tables tend to be pricier, but are thoroughly weatherproofed and designed to sit outside in the elements all year round. Components tend to be tougher and more heavy-duty, with special surface treatments used to avoid warping that can happen as a result of exposure to excessive damp or heat. Of course, outdoor tables can always be used inside too, if you have the choice.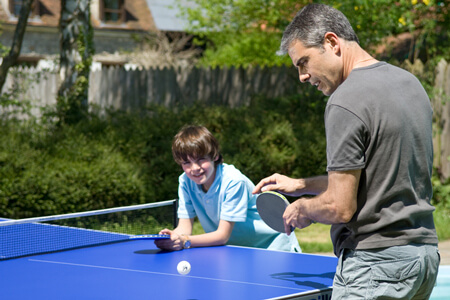 A family using an outdoor Cornilleau table tennis table.
Indoor table tennis tables are not intended for long-term outdoor storage, but as they're often mounted on wheels, you can push yours into the sunshine for a game here and there. But as many of them lack the corrosion resistance and anti-UV coatings of dedicated outdoor tables, you won't want to leave it there for long.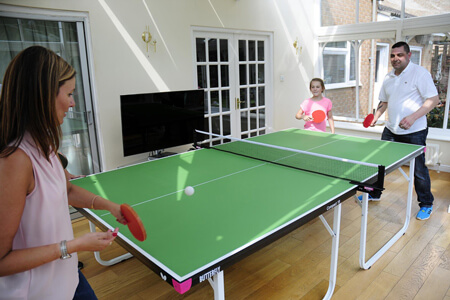 A Butterfly Compact indoor table tennis table. (From £379.00) [ view in store ]
Colour
Most tables come with a blue or green top surface, and less commonly with a grey or black finish. ITTF regulations require a 2cm white line around the entire playfield edge. And for doubles, the table should be divided into half with a single 3mm white line.
The colour is most often applied with roller paint. This gives a decent finish and doesn't interfere with the performance.
Play Surface Material
Most table tennis playfields are made from compressed plywood. This gives a very solid, heavy surface without much flex. Tops are also made from particle board.
Higher-end tables are often finished with a melamine coating instead; a type of plastic that is notably hard-wearing and rigid. Melamine coatings are most often found on outdoor tables, as it is weatherproof. It's also long-lived, and you might notice longer warranties on melamine tables as opposed to painted tables.
Some fun tables have play surfaces made from plastic. These tend to be cheaper tables aimed at family fun rather than serious games, but are still good enough for a decent volley.
Fixed outdoor tables, that are anchored into the ground, often have metal or concrete play surfaces. As these are rarely moved, the extra weight doesn't matter. And they will last for a very long time indeed.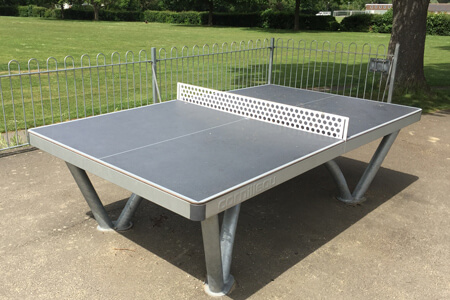 The Cornilleau Park anchored outdoor tennis table. (From £2199.00) [ view in store ]
Play Surface Depth
The rule of thumb is that the thicker the play surface, the better the bounce you'll get, and therefore the more lively, exciting game.
The thinnest tables (up to around 20mm) are great for a friendly game, but you won't get the best performance. If you want to take it more seriously, you really should look at something up to 25mm in thickness.
This is enough to give you a really lively bounce, and players of all levels will enjoy it. But if you're a seasoned professional or a table tennis sportsperson, and you need to train on something that will prepare you for true tournament-quality games, you should look for something between 25-30mm in thickness.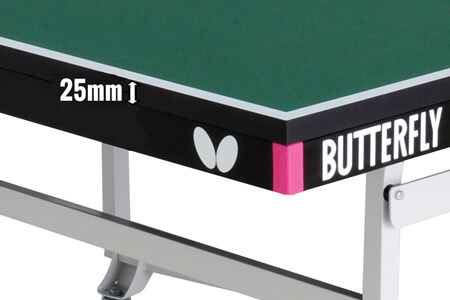 The 25mm-thick top on the Butterfly Space Saver tennis table. (From £1299.00) [ view in store ]
The trade-off here is in ease of use. The heavier and thicker the play surface, the heavier it will be, and the more heavy-duty the undercarriage must be to support it. This makes such tables cumbersome and more awkward to move around, even on wheels.
Size
Official ITTF-approved table dimensions are 152.5cm in width, 274cm in length and 76cm in height. The net should be 15.25cm in height and 1.83m in length. The vast majority of table tennis tables stick to these dimensions, although there are smaller tables available for more casual play and for younger players, most commonly scaled down to 3/4-size.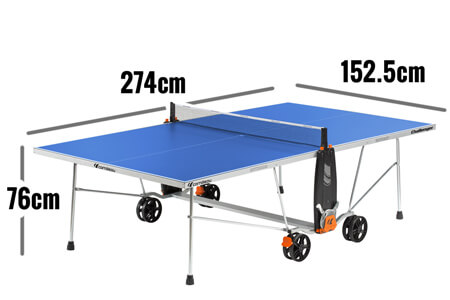 Regulation dimensions of a full-size table tennis table.
Room Size
A basic rule of thumb is that you need a clear five feet at each end of the table, where the players will be, as well as three feet clearance on either side. So, for a regulation table of around 9 feet in length and 5 wide, you will need a square of clear space of around 19 x 11 feet.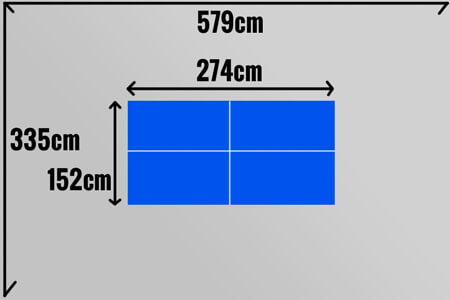 Room size needed for a full-size tennis table.
Undercarriage & Legs
The frame holds the whole assembly together. It should be strong enough to hold the entire table together and last many years.
You should also check whether wheels are fitted, and whether they are suitable for your needs. Some outdoor tables are fitted with extra-large wheels, making them easier to handle on rough surfaces like grass gardens. You may also find parking brakes that allow you to lock the table into position.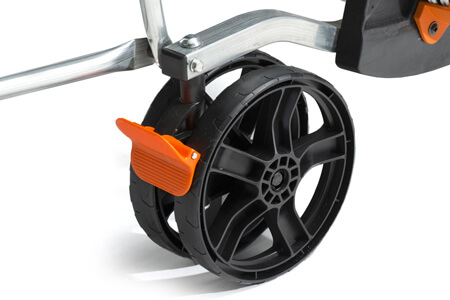 The large wheels on a Cornilleau Sport 300S outdoor table, with parking brake. (From £479.00) [ view in store ]
Some tennis tables are built to Paralympic standards and, as such, are designed to allow wheelchair access underneath. You should check the spec of each table to find these.
Folding
The vast majority of table tennis tables fold up.
In the case of the rollaway-style tables, the top folds into two halves vertically, and is mounted on wheels, so it can be pushed out of the way. This is ideal for sports centres and schools with multiple tables, where a number of tables can be 'stacked' in storage, but is also a great feature for a home table. They can also usually be folded by one person, making them very easy to handle and operate.
These tables also usually feature a 'playback' position, where one half of the table can be folded and the other left flat, to create a table that can be used for solo practice by just one player.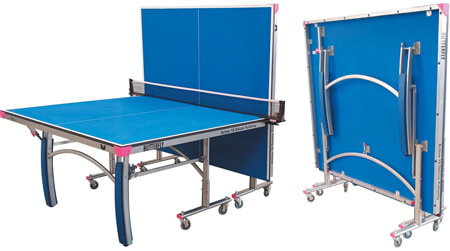 A Butterfly Active 19 table in playback and folded positions. (From £419.00) [ view in store ]
Some tables are made in two halves, which separate when it's time to pack them away and are then stored vertically, with the legs folding into the underside. These tables tend to take up less space than the rollaways, as the undercarriage is smaller and so the tabletops can be stored more closely together. They still usually have wheels, but they are unidirectional as opposed to the multidirectional wheels found on folding tables. Usually you will need at least two people to fold and move a table like this.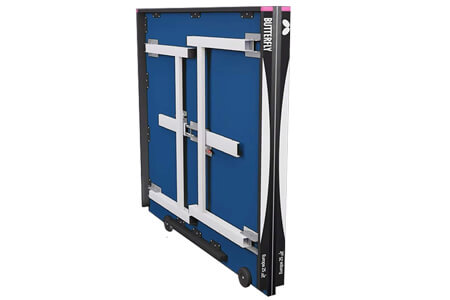 A Butterfly Europa 25 table tennis table separated into two halves for storage. (From £1749.00) [ view in store ]
Net Type
Many tables come with detachable net and post sets. These enable the net to be quickly removed and stored away when the table is not in use, or folded up. It also allows you to upgrade your net to a better quality one at a later date, or replace it if it breaks. The posts attach using a pair of clamps that are tightened onto the play surface.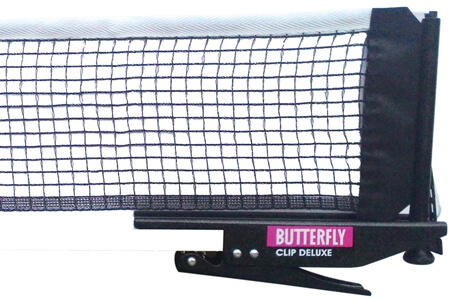 The Butterfly Clip Deluxe table tennis net and post set. (From £47.99) [ view in store ]
But some of the outdoor tables, particularly the fixed-in-place models, are fitted with solid steel 'nets'. These are suitable for permamently-fixed outdoor tables where a normal net could be easily damaged by the weather or stolen.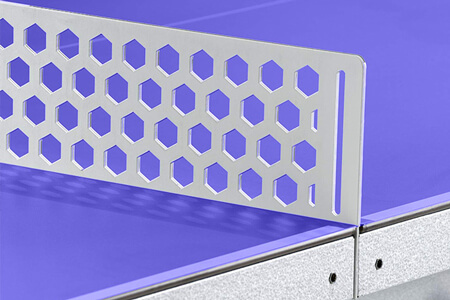 The metal net on a Cornilleau 510 Proline outdoor table tennis table. (From £949.00) [ view in store ]
There are a few tables with other systems. Some Cornilleau tables are fitted with their DSI net and post arrangement that folds away with the table. This neat system means that you don't need to store the net, or bother to remove and refix it every time you want to play.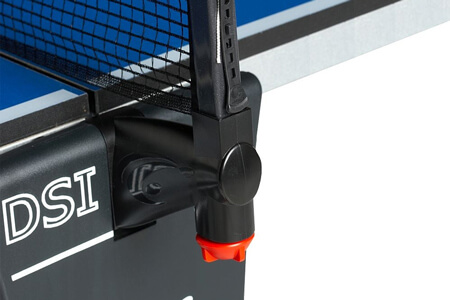 The DSI net folding system on a Cornilleau Sport 250 tennis table. (From £450.00) [ view in store ]
Conversion Tops
Another option for customers who might not have space for a full table tennis table is a table tennis top. These convenient playfields come in two halves, and are lifted onto your dining table, pool table or other flat surface. When you're finished, they simply lift off and can be neatly stored under a bed or against a wall.
They're available in a range of sizes up to 9ft, which is a regulation-sized table tennis playfield. Supplied with nets, clamps, bats and balls, they're a great way of introducing table tennis to your home without the space commitment of a dedicated table.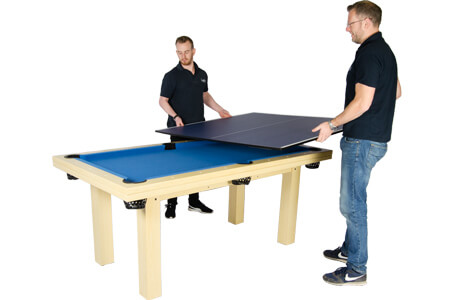 The Tekscore Table Tennis top being fitted to a pool table. (From £179.00) [ view in store ]
Accessories
Table tennis bats are available to suit players of all levels. For casual games in the office or at home, you don't need to spend much. But for serious players or practicing professionals, you can spend plenty on a bat that is appropriate for your skill level.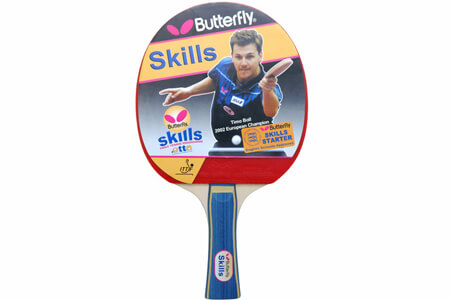 A Butterfly Skills Starter table tennis bat (From £26.99) [ view in store ]
You can buy replacement table tennis balls for your game. Whilst many tables come with entry-level balls designed to get you playing as fast as possible, you can easily upgrade to true tournament-grade balls. Browse our range of table tennis balls here.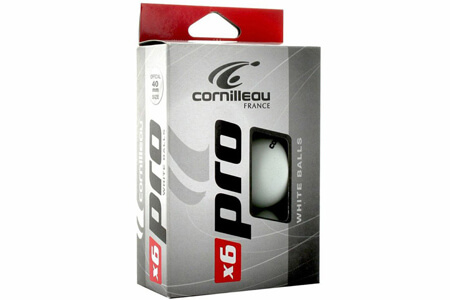 A box of Cornilleau Pro table tennis balls (From £9.99) [ view in store ]
Tennis table covers are available for your table tennis table. In almost every case, the covers are designed to fit over a folded table in the vertical position. They help to protect your outdoor table against rain or sun damage.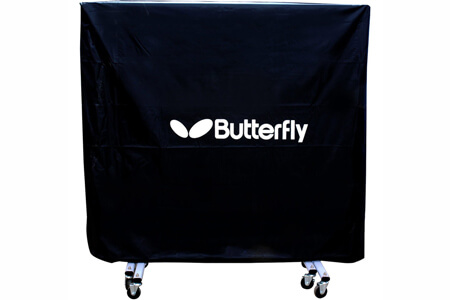 A Butterfly table tennis cover. (From £79.99) [ view in store ]
If you're a serious player who needs to do a lot of practice, you might want to consider a table tennis robot. These ingenious machines fire table tennis balls at the player for them to return, often with adjustable or randomised power, speed and direction, to keep the player guessing. You can see a selection of table tennis robots here.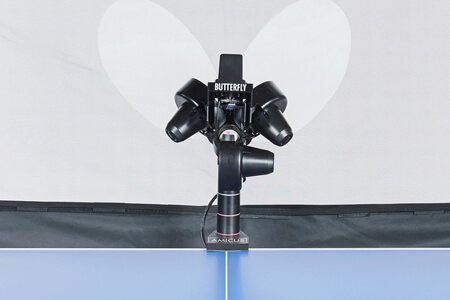 An Amicus table tennis practice robot. (From £1399.00) [ view in store ]
Delivery & Construction
Delivery methods vary from manufacturer to manufacturer, but it will always be delivered carefully to your door by teams experienced in handling these items. Sometimes installation is available, either included or optional. If you need to have the table installed for you, you should check before you buy.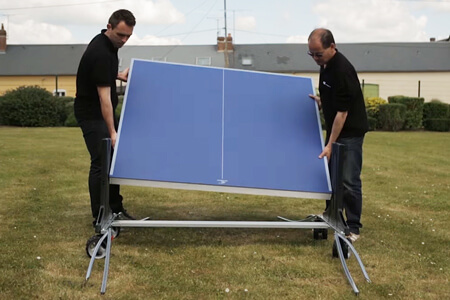 A Cornilleau 500M outdoor tennis table being assembled. (From £659.00) [ view in store ]
Lead times also vary, depending on the stock situation of the model in question. You should check the individual listing for estimated delivery times and more information on how delivery is organised.
What is the ITTF?
The ITTF is the International Table Tennis Federation. It is the governing body of competitive table tennis around the world and issues regulations on the size, materials and features of tournament-standard tables.
To be approved by the ITTF, the tables must meet or exceed all regulations required for tournament play. If you need a table for professional practice, then look for ITTF approval before you buy.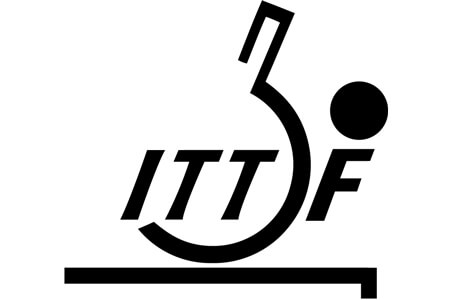 Summary
You should first decide whether you want an indoor or outdoor table,and ensure that it will fit in your space. Then decide what level of gameplay you want and what thickness of play surface you will need to provide this. Then offset this against your budget, the weight and ease of handling of the table.
Check for special features that you might need before making your decision. Check which accessories come with your table and consider upgrades if you think you'll need them.
This article was written by Liberty Games staff member

Sales Executive at Liberty Games. Specialises in foosball tables and table tennis equipment. He's a keen footballer and fitness enthusiast, and recently completed the Brighton Marathon.